Amanda Rae
Age:
23,
United States
Meet the very beautiful glamour model Amanda Rae from Fort Lauderdale, Florida. Amanda juggles modeling and being a real estate agent in South Florida and by the looks of it I'm guessing the housing market is coming back. Who wouldn't want to buy a home from this perfect 10 bikini model? Amanda is very focused and doesn't let anyone or anything get in her way. She is down to earth and loves to have a good time. She has a great deal of professional experience and has done projects with companies such as Maxim and Playboy. Amanda is simply stunning with a beautiful face, perfect boobs and petite yet curvy frame. Her sunrise photoshoot at the Fort Lauderdale Pier was an interesting one while during the shoot I turned around to witness about 15 retired grandpas pointing their high-tech camera phones directly at the beautiful beach bombshell. Can you blame them? I guess they will be posting them to Facebook.
Basic Profile
Name: Amanda Rae

Gender: Female

Age: 23,

Country: United States
Appearance
Body: Thick

Ethnicity: White

Weight: 105kg (231 lbs)

Height: 166cm (5'5")

Hair Length: Long

Hair Color: Black

Eye Color: Brown

Orientation: Straight
Amanda Rae – 100lbs of Perfection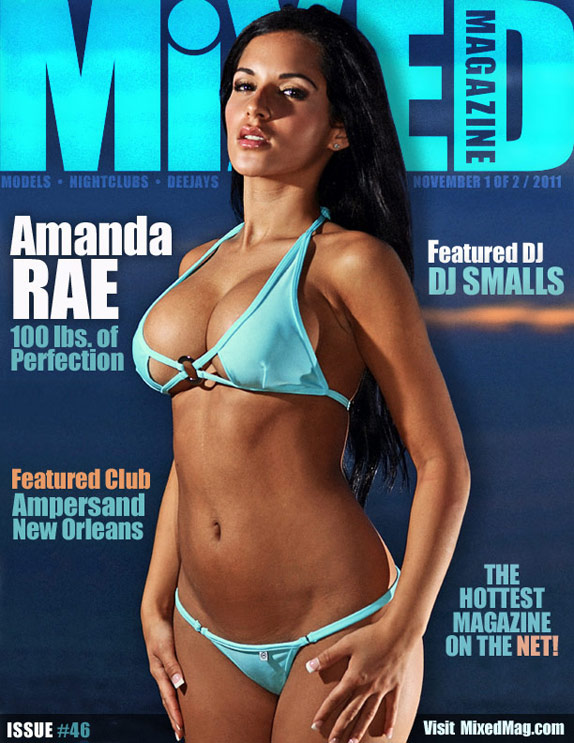 An interview with Amanda Rae:
Where were you born, and how was life growing up?
I was born and raised in a one-stoplight farm town in Ohio. Life growing up on the farm was very peaceful and beautiful. Springtime on the farm is my absolute favorite; everything is so fresh and the plants and trees are covered in blooms.
What nationality are you?
Puerto Rican & Italian.
Do you go to college?
Nope.
What would the average person say about you?
"That chick can eat!!" And that I'm a total goofball.
Are you a good dancer?
Hell yeah!!!! I grew up dancing and doing competitive cheer leading and gymnastics. Not to toot my own horn or anything, but I'm pretty darn coordinated!! LOL!!!
Do you like the nerdy type, UFC fighter guy or the regular joe?
I like the smart, muscular type… wink wink ;)
What is your favorite club in Miami?
I always go to LIV or Mynt.
Do you have any secret weaknesses or guilty pleasures?
My weakness is anything sweet. But it's not much of a secret…. everyone that knows me knows that I'm a total fatty.
What kind of music do you like?
House, house, house!!! And anything that I can shake my booty to.
What's your biggest turn on?
Chivalry.
What's one thing about yourself that everyone should know?
That I can quote "Family Guy" like there's no tomorrow.
What do guys compliment you most on?
Honestly? The whole package. And a lot of guys mention my "cute, little feet…."
Do you consider yourself more of a "giver" or a "taker"?
A little bit of both.
If you could have any car you wanted, what would it be?
A Rolls-Royce Ghost.
Do you have any hidden talents?
I can do all sorts of back flips and tucks…. I was big into gymnastics.
What do you like best about being a model?
Getting my hair & makeup done.
What would you consider your strongest attribute?
That I'm very down-to-earth and loyal.
What do you normally sleep in?
Depends on my mood: Sometimes an oversized T-shirt, sometimes booty shorts, sometimes nothin' but a smile.
If you could go anywhere in the world, where would you go and who would you take with you?
This may sound bad, but I would go to Paris with my dog. I'm so in-love with him and he's the perfect companion. LOL!!!
What is your favorite food?
Beef Carpaccio, Tuna Tataki, and Hot & Sour Soup.
What do you do for fun?
I read a ton… I love to read. Memoirs are my favorite… usually the dark stuff.
What are your dreams and goals?
To write a book of my own.
How does someone contact you for a modeling project?
You can find me at:
https://www.modelmayhem.com/2286932
https://www.onemodelplace.com/member.cfm?ID=455685
Or you can email me at:
Rdy2Pnce86@gmail.com