Maria Espinoza
Age:
18,
United States
Maria Espinoza is the 2010 One Year Anniversary Cover Model for Mixed Magazine. She is the ONE you dream about, the ONE love songs are written for, the ONE who everyone jaw drops for, the ONE the who makes you stutter, and especially the ONE who makes you a better person. Maria Espinoza is number ONE!

We work very hard at Mixed Magazine to find you the very best models and it shows. With a little bit of luck mixed with hard work and diligent scouting we found the incredible Maria Espinoza. This young woman is is just amazing on every level but the one thing completely sets her over the top from other models is her beautiful personality. She is just a total sweetheart and it was obvious in the first few seconds of seeing her. She carries great morals and is nice to everyone around her. The one thing I found while working with her is her amazing ability to bring out the best in everyone. One can simply not say enough about Maria. She currently lives in Miami where she grew up. She is relatively new to the modeling world and takes it very seriously. Maria does runway fashion shows, bikini contest and models anything that is beautiful and sexy.
Basic Profile
Name: Maria Espinoza

Gender: Female

Age: 18,

Country: United States
Appearance
Body: Normal

Ethnicity: Hispanic / Latina

Weight: 127kg (280 lbs)

Height: 162cm (5'3")

Hair Length: Long

Hair Color: Black

Eye Color: Brown

Orientation: Straight
Maria Espinoza – One Year Anniversary Cover Model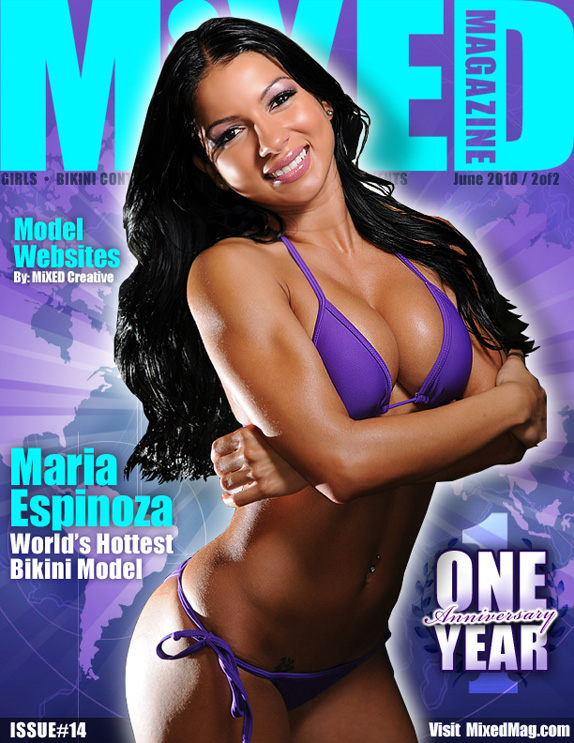 An interview with Maria Espinoza:
Where were you born, and how was life growing up?
It had it's great moments and wonderful memories but there were also many trials and tribulations along the way. All in all I'm greatful for everything because it's made me who I am today.
What nationality are you?
I am Latin/Hispanic
What would the average person say about you?
They'd say I'm a very friendly and outgoing person with a very big heart!
Do you go to college?
Yes I do but I've decided to take this summer semester off and give myself sometime to have fun in the sun
Are you a good dancer?
yes
Do you like the nerdy type, UFC fighter guy or the regular joe?
Any type but No matter what type, fresh breath and smelling great is a MUST!!!
Do you have any secret weaknesses or guilty pleasures?
YES! JUNK FOOD! Yuuuummmm!!!!
What's your biggest turn on?
Personality wise: a combination of brains and humor ; Physically: a nice smile
What's one thing about yourself that everyone should know?
I'm EXTREMELY complicated! Lmao!
What do guys compliment you most on? My smile
Do you consider yourself more of a "giver" or a "taker"? 50/50 I balance myself perfectly well
If you could have any car you wanted, what would it be? A beautiful 2010 white 4 door BMW! I'm not too good on specifics or exact car model but something along those lines!
Do you have any hidden talents? I can play Guitar Hero on Expert mode
What do you like best about being a model? EVERYTHING!!!!
What would you consider your strongest attribute? My intelligence!
If you could go anywhere in the world, where would you go and who would you take with you? I'd love to go traveling around Europe with my significant other!
What is your favorite food? I can't pick just one! I think a shorter list would be, what isn't my favorite food! Haha! In which case, anything with beets! Yuck!
What do you do for fun? I love dining out and trying different restaurants in addition to hanging out with friends
What are your dreams and goals? To keep it simple- Generic: To earn my degree, buy a home, and hopefully start a family one day.
How did you get your start in modeling? My first start in modeling was when I started working at Hooters. I was approched to do the Hooters calendar and everything else just started happening ever since!
Myspace or Facebook? I actually only have a Facebook account, so, Facebook!
Favorite Sports Team: I love all my Miami teams! But I am more of a football fan and an avid fantasy football player
Favorite Comedian: Chelsea Handler, I love her!!
First Job: At thirteen I used to help out at a flea market selling shoes on the weekends and make $40 a day for helping out for 10- 12 hours!