Nicole Snow
Age:
24,
United Kingdom
Finally! Nicole Snow graces the cover! Wahoooo. This super beauty babe from the United Kingdom has been on the top of the list for over a year now. The second I landed foot in London I couldn't wait for Nicole to arrive for her shoot and we she arrived at the hotel lobby it was surreal. She was as sexy in person as she is on the computer monitor. Nicole is a glamour model that spends most of her time camming online. She loves being in front of the camera and turning men on with her incredible looks and sweet personality. She just might be the nicest girly girly you will ever meet. I'm pretty sure I proposed to her over 20 times during the shoot. Nicole is definitely one of a kind with her jet black hair, tan skin and phat booty. Things work a little differently in the UK because some of the hottest models don't have a large following on Instagram but I'm sure if she was in America she would have millions of followers. She is a photographers dream come true because she is super nice, ultra sexy and very easy to work with. You will be seeing more of this beauty because she is one of the favs!!! Get ready world…
Basic Profile
Name: Nicole Snow

Gender: Female

Age: 24,

Country: United Kingdom
Appearance
Body: Thick

Ethnicity: Mixed

Weight: 122kg (269 lbs)

Height: 165cm (5'4")

Hair Length: Long

Hair Color: Black

Eye Color: Brown

Orientation: Straight
Nicole Snow – U.K.'s Babe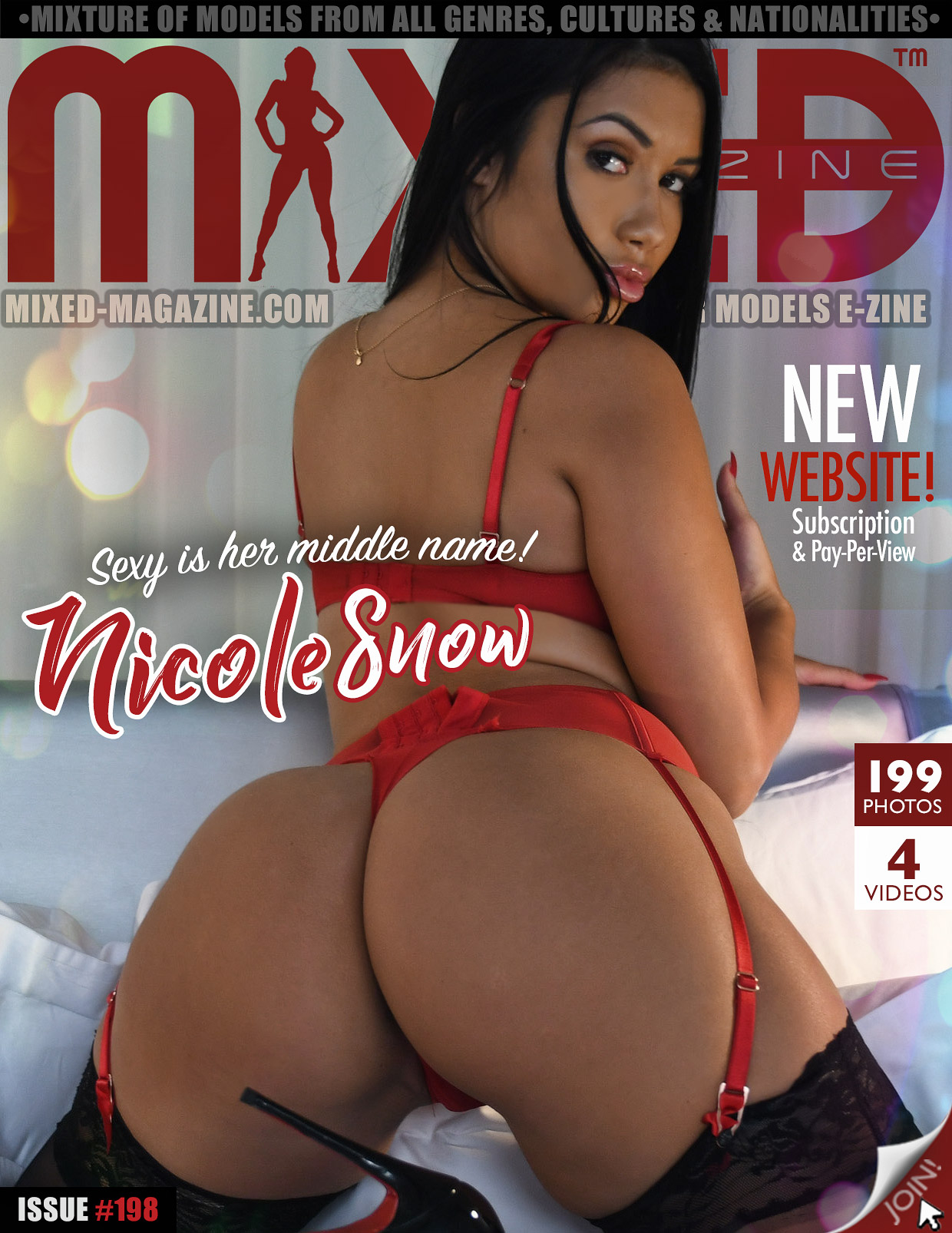 An Interview with Nicole Snow:
Where were you born, and how was life growing up? I was born in Leeds, uk. I had a nice childhood, met lots of friends that I'm close to this day. I moved to Thailand when I was 16 for a few years. I loved the adventure and the fun of growing up out there.
How did you get your start in modeling? I actually modelled for a friend at first but I've always loved being infront of the camera. Ever since I was a baby I was in contests and loved it.
Favorite Sex position? Probably doggy or cowgirl
Have you ever kissed a girl? Of course
What has been your most memorable experience as a model? Probably the amazing people I've met over the past few years really. I've got to meet some of my closest friends through modelling.
What would the average person say about you? That I'm dopey haha. I always say the most random things.
Describe your most embarrassing moment. I always have embarrassing moments, I think I'm prone to them. The latest one would probably be my dress flying up with my hands full so I couldn't even pull it down.
What's your biggest turn on? Kindness, that's a massive turn on for me. When I see someone genuinely kind to people. Also ambition is a big turn on for me, someone with big goals.
What do guys compliment you most on? Funnily enough my hair & my bum
What do you sleeping in? Usually just a little top
If you could go anywhere in the world, where would you go? Maldives for sure
We know you're a model and all, but you must have a favorite food. What is it? I love food, i love nearly everything I'm not a picky eater. I do love cheese abit too much and seafood.
What are your dreams and goals? To be an international model & to also have my own business
Would you prefer a guy to pursue you, or do you like to be the aggressor? It depends, sometimes I like the chase but I prefer men to pursue me.
First Job: Selling apartments Receptionist
How does someone contact you for a modeling project? Through my email on my social media
What is the largest gift offered to go out on a date with you? I don't really take gifts off people for dates, if I like you I'll go on a date with you, I don't I don't.
Would you date a guy that you met on social network? Sure, why not
Do you have a passport? Yes