GiGi La Modela
Age:
19,
United States
GiGi La Modela is the sexy New Jersey Latina model with the perfect booty that spends most of her time behind her books studying to be a fashion designer. She is so busy that we had to hit the Jersey turnpike to photograph her in her college door room. I can think of worse situations which is anything that does not involve photographing GiGi in her dorm room wearing thong booty shorts. GiGi is an extra special model because she is very creative and extremely sexy making her easy to work with. Her personality is super cute and she smiles constantly. GiGi has been featured in several magazines, websites, tv and radio. She is also trilingual speaking English, Spanish, & Italian. There is no doubt that we found a dream girl here and we know that she will continue to blow people away with her awesome personality and killer curves. Make sure you check out hundreds of her sexy high resolution photos and the sexiest video yet behind the scenes.
Basic Profile
Name: GiGi La Modela

Gender: Female

Age: 19,

Country: United States
Appearance
Body: Petite

Ethnicity: Mixed

Weight: 105kg (231 lbs)

Height: 170cm (5'6")

Hair Length: Long

Hair Color: Dyed (Other)

Eye Color: Brown

Orientation: Straight
GiGi La Modela – School Girl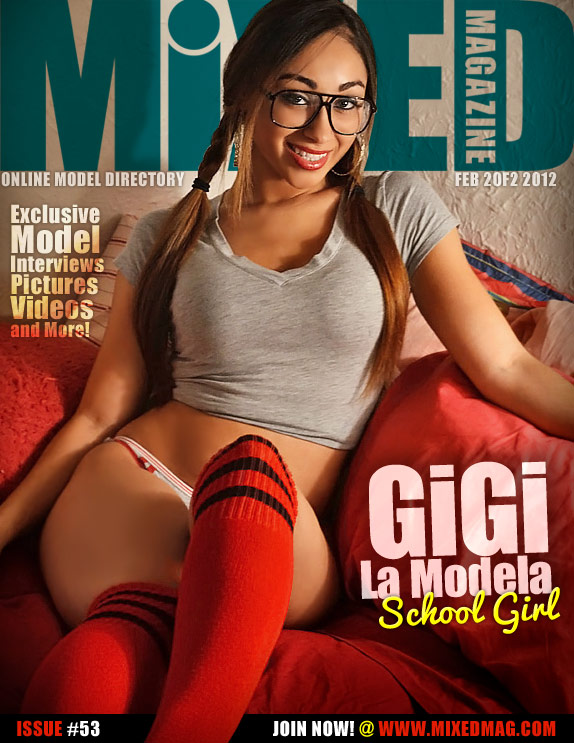 An Interview with GiGi La Modela:
Where were you born, and how was life growing up?
I'm a Jersey girl =) I definitely can't complain about my life growing up. I come from an amazing family that I wouldn't trade anything for and they're the ones who blessed me with the great life that I have.
What nationality are you?
Puerto Rican and Trinidadian.
Do you go to college?
Yes I do. I graduate in May and plan to get my MBA right after.
What would the average person say about you?
I'm a down to earth girl who likes to have fun.
What do you normally sleep in?
T-shirt and boy shorts.
Are you a good dancer?
I wouldn't say I'm the best, but I think I'm good.
What kind of guys are you attracted to?
I'm not sure why, but I always go for the "bad boys." But overall, I like someone who's tall, fit, and can make me feel comfortable when I'm with them.
Do you have any secret weaknesses or guilty pleasures?
Dark Chocolate and Gummy Bears.
What's your biggest turn on?
Honesty and someone that I can connect well with.
What's one thing about yourself that everyone should know?
I put family and school first before ANYTHING!!!! I LOVE football and I do enjoy playing COD and Gears on Xbox! =)
What do guys compliment you most on?
Face, body, attitude, style, personality. Pretty much everything!
Do you consider yourself more of a "giver" or a "taker"?
I would say I'm both depending on the situation.
If you could have any car you wanted, what would it be?
Black and yellow camero.
Do you have any hidden talents?
It's hidden for a reason…lol
What do you like best about being a model?
I love being in front of the camera, networking, and meeting new people.
What would you consider your strongest attribute?
My confidence and determination.
If you could go anywhere in the world, where would you go and who would you take with you?
If I was with my boo, I would love to travel all around Europe, but if I was with my girls than definitely somewhere warm and tropical!
What is your favorite food?
I love everything!!! I'm the definition of a skinny fat ass..
Can you cook?
Yes I can and I love baking!
What do you do for fun?
Hanging out with my girls.
What are your dreams and goals?
Well unlike a lot of models today, modeling is temporary for me (esp. this kind of modeling), definitely a side hustle. I'm graduating school in May with a high gpa, after that, I will get my MBA and become successful in the fashion industry. I've been VERY lucky with jobs and contacts in this industry as well and I'm very thankful for that.
How did you get your start in modeling?
Modeling is something I've been doing since I was younger, but I've been in the "Sexy Urban" scene for a couple of years now.
Who is your favorite Mixed Magazine Model? Jasmin Cadavid
First Job: Retail.
How does someone contact you for a modeling project?
Twitter.com/GiGiLaModela