Alessandra Lopez
Age:
25,
United States
Alessandra Lopez is the beautiful model from Miami, Florida. This 24 year old model is mixed with Peruvian, Argentinian and Italian. When working with Alessandra you quickly learn that she is fun, cooperative, sweet, reliable, spontaneous, ambitious and sexy. She has danced professionally as a dancer/cheerleader and also been modeling for 7 years. She has been featured on televison, music videos, print work, magazines and much more. She is dialed in throughout Miami as she is best friends with the hottest models and she gets the VIP treatment all day every day where ever she goes. Alessandra makes photographers jobs easy because she has a beautiful face, perfect smile and a curvy flawless body. Make sure you join our member section where you can see her exclusive Mixed Magazine photo and video shoot by clicking here now!
Basic Profile
Name: Alessandra Lopez

Gender: Female

Age: 25,

Country: United States
Appearance
Body: Petite

Ethnicity: Mixed

Weight: 58kg (128 lbs)

Height: 170cm (5'6")

Hair Length: Long

Hair Color: Dyed (Other)

Eye Color: Brown

Orientation: Straight
Alessandra Lopez – Cutie Pie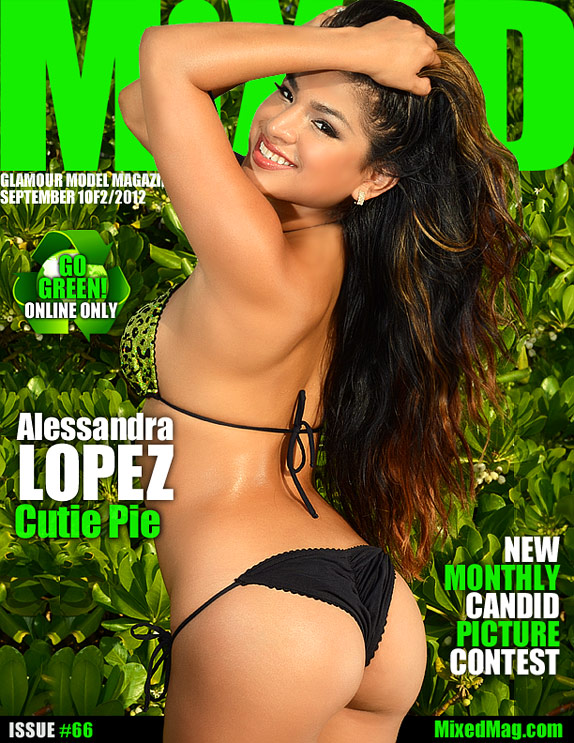 An interview with Alessandra Lopez:
Where were you born, and how was life growing up? I was born in Peru and came to Miami as a baby. My family was always making sure I wasnt missing anything , I'm an only child so im a little spoiled
What nationality are you? Peruvian Argentinian Italian
Do you go to college? Yes graduated with my bachelors in education
What would the average person say about you? Im cute as a button ;p
What do you normally sleep in? My underwear
Are you a good dancer? Most definitely
What kind of guys are you attracted to? Succesful confident guys with a beautiful mind, heart, and smile
Do you have any secret weaknesses or guilty pleasures? I love red velvet cupcakes? Lol
What's your biggest turn on? Succesful ambitious mature men
What's one thing about yourself that everyone should know? I am the sweetest and best friend you can ever have, but if you betray me its done.
Who is your favorite Mixed Magazine Model? My childhood friend Maria Espinosa
What do guys compliment you most on? My eyes and hair
Who is your favorite photographer? Daniel from Mixed Magazine
Do you have a favorite club you would like to give a shout-out to? LIV at the fountainebleau they always treat me like a princess :)
Do you have a favorite DJ you would like to give a shout-out to? Kaskade ladies love him!!!
Do you consider yourself more of a "giver" or a "taker"? Im gonna admit im a taker in the beggining but if they are worth it i definitely give.
If you could have any car you wanted, what would it be? The Audi R8 black with red interior fully stocked. Thanks :)
Do you have any hidden talents? im a really good dancer
What do you like best about being a model? Its a fun and easy job that comes naturally and love to do.
What would you consider your strongest attribute? I am nobodys fool and a woman of my word.
If you could go anywhere in the world, where would you go and who would you take with you? Fiji and i would prob take my kitty lol hmm…
What is your favorite food? Peruvian italian mediterrenean food!
Can you cook? Nope but soon I will learn :)
What do you do for fun? I hang with my friends grab a drink , boating, work out, and pamper myself of course.
What are your dreams and goals? To be a succesful woman within my career and be the best mother I could ever be one day…
How did you get your start in modeling? I started dancing professionally for Time Hardways ABA florida basketball team, and thats when i networked and it just came along :)
Favorite Comedian: kat williAms
First Job: sales at retail store
How does someone contact you for a modeling project?
Email me AlessandraLopez@me.com. Xoxo