Emily Rodriguez
Age:
21,
United States
Emily Rodriguez is the thick package from Connecticut. Her cute face and big booty have both women and men complimenting her in the streets. People often stop her to ask her if she is a famous singer, actress or model. Her captivating sweet personality keeps her very humble though. She is quite new to modeling but she lives close to New York which allows her to make an easy commute. She just recently made the cover of Spicy Magazine which is not an easy task. A girl with a pretty face and big booty can't loose in today's world and when you add her captivating sweet personality then you have a superstar in the making. Emily was discovered by Miami Veteran Photographer Angelo Lumas who shot her for the cover of Issue #110 in his West Palm Beach Studio. Mixed Magazine was on the scene to capture the whole shoot on video.
Basic Profile
Name: Emily Rodriguez

Gender: Female

Age: 21,

Country: United States
Appearance
Body: Thick

Ethnicity: White

Weight: 124kg (273 lbs)

Height: 154cm (5'0")

Hair Length: Shoulder Length

Hair Color: Black

Eye Color: Hazel

Orientation: Straight
Emily Rodriguez Studio Shoot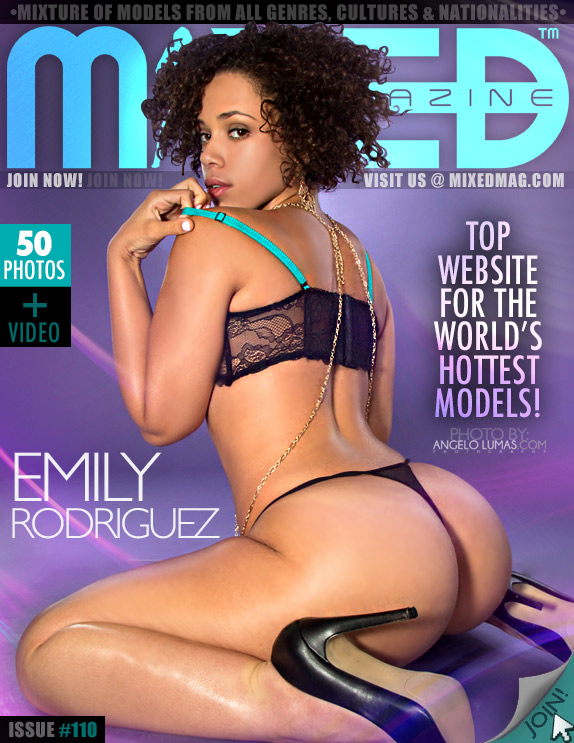 An Interview with Emily Rodriguez:
Where were you born, and how was life growing up? I was born and raised in Hartford, Connecticut in a project. Life was pretty fun growing up. I was always hanging out with the neighborhood kids.
How did you get your start in modeling? When I turned 18 I decided to just go for it. Modeling was always something I was interested in. I traveled to New Jersey to do my first photoshoot and from then on have been pursuing it.
What has been your most memorable experience as a model? My most memorable experience as a model was traveling to Florida to shoot with Angelo Lumas for the cover of Mixed Magazine!
What would the average person say about you? They would say I am an easy going, people person who doesn't let anyone or anything stop her grind,
Describe your most embarrassing moment. My most embarrassing moment as of recently was when I accidentally kicked a light at a photoshoot and it fell and broke.
What's your biggest turn on? A sense of humor and nice lips.
What's one thing about yourself that everyone should know? I'm can brutally honest sometimes
What do guys compliment you most on? My eyes
What do you normally sleep in? Underwear or naked. I hate being hot when I sleep.
If you could go anywhere in the world, where would you go? Greece! it's number 1 on my bucket list. I'd love to go just to learn about the ancient Greek history.
We know you're a model and all, but you must have a favorite food. What is it? Two foods I can never put down is french fries and chocolate.
What are your dreams and goals? My dream is to make it as far as I can go in the modeling industry. But whatever I end up doing I want to travel the world. I plan to major in Journalism and write for a magazine.
Would you prefer a guy to pursue you, or do you like to be the aggressor? Either way is fine as long as someone is being aggressive ;)
Do you have a website? Yes. Check out some of my portfolio on shemarvels.com
First Job: Sales Associate at "Eblens, Clothing and Footwear" when I was 16.
How does someone contact you for a modeling project? They can inquire by clicking the "contact" button on my website.
What is the largest gift offered to go out on a date with you? A shopping spree
Would you date a guy that you met on social network? I actually already have.
Do you have a passport? Nope. I plan to get one soon.
Who is your favorite photographer? Angelo Lumas