Cherry Novego
Age:
21,
Netherlands
Cherry Novegois the beautiful new model from the Netherlands. When Cherry came to visit Miami, Florida in September with her best friend for 3 weeks she made it a priority to shoot with Mixed Magazine. It's obvious when you first meet Cherry that she is a very sweet girl and loves to be sexy in front of the camera. Her light colored green eyes will put you in a trance along with her attractive smooth tan skin and natural curvy body. She explained that models in the Netherlands are very conservative and simply do not model in thong bathing suits and that they let their internal beauty become the sexiest part of themselves. She says it leaves more room for imagination and she proved this to be true in her case. Cherry was very easy to work with and she moved into poses very well during her photo / video shoot. Cherry plans to be a dentist someday and is in school in Holland while modeling on the side. She has plans to move to Miami after her schooling if finished. Can you imagine walking into the dentist office and seeing this smart and vibrant woman at your side?! You will probably think that you are already on some local anesthesia.
Basic Profile
Name: Cherry Novego

Gender: Female

Age: 21,

Country: Netherlands
Appearance
Body: Normal

Ethnicity: Mixed

Weight: 110kg (243 lbs)

Height: 165cm (5'4")

Hair Length: Long

Hair Color: Dyed (Other)

Eye Color: Green

Orientation: Straight
Cherry Novego – Holland Hottie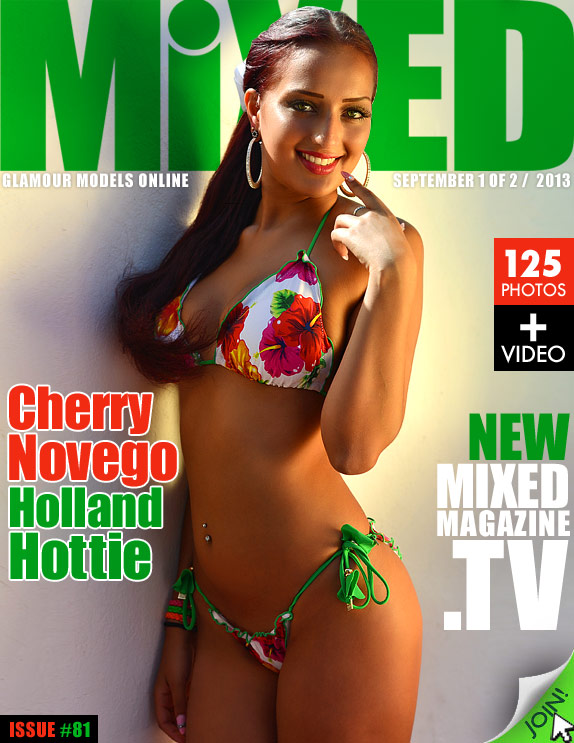 An interview with Cherry Novego:
Where were you born, and how was life growing up? I'm was born in the Lebanon City called Beirut. I have always loved my life! My family and I have always traveled to different countries until we finally decided to stay in the Netherlands so I grew up mostly in Holland with great friends around me !
What nationality are you? My father is from Colombia and my mum is from Libanon
What would the average person say about you? I think people can tell quickly that I'm a very nice and honest person.
Are you a good dancer? I love to dance that makes me always very happy! I love to dance is Bachata, Salsa and Reggaeton.
Do you like the nerdy type, muscle guy or the regular joe? I think if a guy knows how to talk and how to be handsome to me I can fall in love with him, and of course he must also be a hot! hihihi :$
Do you have any secret weaknesses or guilty pleasures? wow that's a really hard question! i think everybody has weaknesses, and mine is probably that I'm too honest and sometimes it is better to say not to much
What has been your most memorable experience as a model? I think to be in Miami and to shoot with you, i had a great time with you!
What's your biggest turn on? A man with confidence and creativity
What's one thing about yourself that everyone should know? That I can do more than only be beautiful on pictures, I am a very fun person to be with.. hehe
What do guys compliment you most on? I think guys really loves my personality, my eyes and hair.
Do you consider yourself more of a "giver" or a "taker"? I am a giver, I love to give people things and do things for other people, and of course it is fun to get something back but I love to give more :)
If you could have any car you wanted, what would it be? Fiat 500
Do you have any hidden talents? No I don't think so, i think evrybudy have something that they are good with… but a realy talent..i think i don't have that
What do you like best about being a model? I love to pose for the camera and feeling beautiful, and after that to see the pictures of course
What would you consider your strongest attribute? I think my eyes
If you could go anywhere in the world, where would you go and who would you take with you? I would love to see Australia, it is a big Country with beautiful city and a lot of nature and I really want to see the aboriginals
We know you're a model and all, but you must have a favorite food. What is it? Hahaha you know… i love a lot of food! but the most I love is seafood
Besides modeling, what do you do for fun? Dancing, Shopping and to spend time with my mum and watch tv. I also really love to travel!
What are your dreams and goals? My dream is that my family and I will stay healthy and happy. I also really want to have good job, a lovely husband and kids.
Would you prefer a guy to pursue you, or do you like to be the aggressor? I think a man must be the man of the house, but he must also listen to me and take care of me
How did you get your start in modeling? They asked me a lot of times for a shoot, I decided to take a shoot one day and I loved it!