Andreina Simet
Age:
20,
United States
Meet the beautiful Andreina Simet. She is originally from Pennsylvania but recently moved to Boca Raton, Florida. Andreina is extremely sexy and also very eccentric. She loves to be by herself and is very independent. She is very intelligent and knows what she wants out of life. She is a part time model and is very particular who she shoots with. Andreina is a dream come true because she is not only beautiful from head to toe but she is also a joy to be around. She is very sweet and kind to others. Her lady like ways make her the absolute dream woman. We were lucky enough to get her to shoot for the cover in Miami where she wore a pretty pink lingerie outfit that couldn't look better on anyone else. We captured all of her sensual & sexy curves in photo and video. You must see the full shoot inside!
Basic Profile
Name: Andreina Simet

Gender: Female

Age: 20,

Country: United States
Appearance
Body: Thick

Ethnicity: White

Weight: 120kg (265 lbs)

Height: 162cm (5'3")

Hair Length: Shoulder Length

Hair Color: Black

Eye Color: Brown

Orientation: Straight
Andreina Simet – Sexy & Eccentric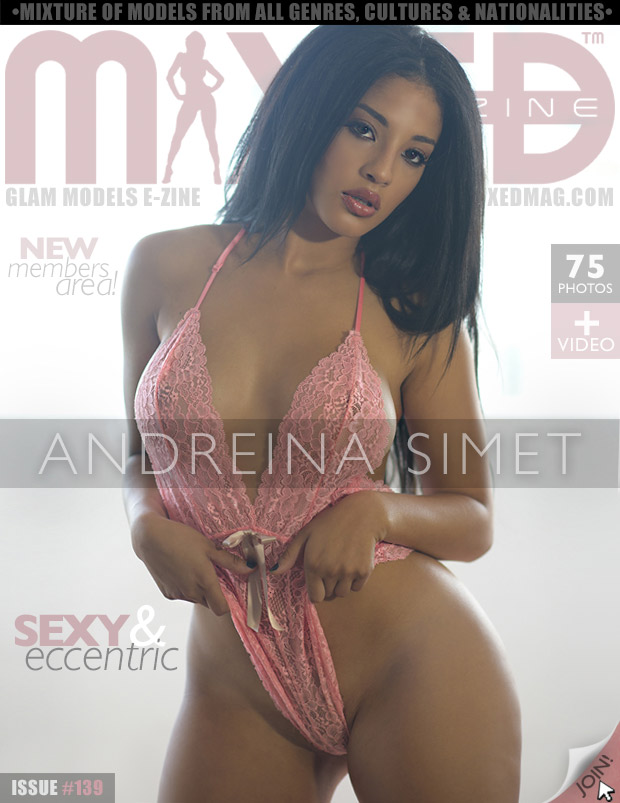 An Interview with Andreina Simet:
Where were you born, and how was life growing up? Born in Manhattan and raised in queens. Then moved to Pennsylvania during middle school and high school and began competitive cheerleading.
How did you get your start in modeling? I've always been the center of attention and someone contacted me on social network
Favorite Sex Position? I like it all
Have you ever kissed a girl? Yes
What has been your most memorable experience as a model?
What would the average person say about you? That I'm very mysterious and nice
Describe your most embarrassing moment. I was trying to show off one time on the treadmill for some guy and put it on the highest speed and fell.
What's your biggest turn on? When a man is smart
What do guys compliment you most on? Eyes
What do you normally sleep in? Naked
If you could go anywhere in the world, where would you go? Greece
We know you're a model and all, but you must have a favorite food. What is it? All Seafood
What are your dreams and goals? To be happy
Would you prefer a guy to pursue you, or do you like to be the aggressor? I like to be the aggressor
First Job: Catering company for weddings
How does someone contact you for a modeling project? Simetangraina@gmail.com
What is the largest gift offered to go out on a date with you? Cars, bills, ya know the usual but I've declined all of them
Would you date a guy that you met on social network? Never
Do you have a passport? Yes