Lexi French
Age:
20,
United States
Happy New Year with Lexi French who is the newest glamour model on the scene at 20 years of age who is from West Palm Beach, Florida. We always seem to be in the right place at the right time. Lexi French simply took our breaths away when we first laid eyes on her. She is the perfect model because she is so well rounded. She knows how to pose and gets into each and every photoshoot to fullest. She has the perfect face and her body is absolutely flawless and natural. Her sex appeal is just oozing off of her from the second she wakes up til she goes to bed. Not only does Lexi fit perfectly as a glamour model but she is also a successful webcam model. Yes, we said it! "A webcam model!!!" Lexi is completely open and comfortable with her sexuality and admits she loves the ladies just as much as the guys. If you thought you were dreaming before from all of our top models, well then now you will think you had died and went to heaven when you see Lexi French do her thang! Join the member section now to witness this model almost getting arrested on the Fort Lauderdale Beach for her incredibly sexy thong photoshoot made out of seashells and twine.
Basic Profile
Name: Lexi French

Gender: Female

Age: 20,

Country: United States
Appearance
Body: Petite

Ethnicity: White

Weight: 127kg (280 lbs)

Height: 168cm (5'6")

Hair Length: Long

Hair Color: Black

Eye Color: Brown

Orientation: Straight
Lexi French – Straight Perfection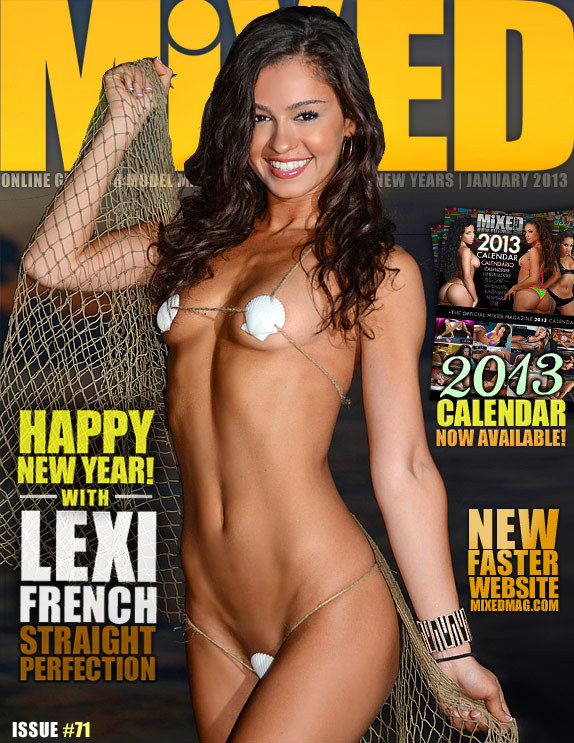 An interview with Lexi French:
Where were you born, and how was life growing up? I was born in NJ, but moved to Florida when I was a baby. Life growing up was amazing. I grew up playing sports like basketball, softball, swimming, and cheerleading. I always loved being very competitive!
What nationality are you? Puerto rican, Czech, Austrian, Italian
What would the average person say about you? I'm free spirited, bold and ambitious
What do you normally sleep in? Bra and panties
Are you a good dancer? Yes I Love dancing!!!
What kind of guys are you attracted to? Guys that have nice bodies and know how to cook
Do you have any secret weaknesses or guilty pleasures? Treat me, take me shopping, take me to expensive restaurants, show me off to the world
What's your biggest turn on? Men with power
What's one thing about yourself that everyone should know? I'm on my way to the top!!!
Who is your favorite Mixed Magazine Model? Iesha mariee
What do guys compliment you most on? My booty
Do you consider yourself more of a "giver" or a "taker"? I'm a giver.. and a taker
If you could have any car you wanted, what would it be? Maserati
Do you have any hidden talents? I love singing
What do you like best about being a model? Positive feedback from friends and fans What would you consider your strongest attribute? My will power and ambition
If you could go anywhere in the world, where would you go and who would you take with you? Hawaii.. I would take my family with me
What is your favorite food? Sushi! So healthy and delicious
Can you cook? Yes, I love cooking it's very relaxing
What do you do for fun? Retail therapy.. I love shopping!
What are your dreams and goals? Moving to LA building my image, and becoming famous
How did you get your start in modeling? Webcam modeling Check me out at www.webcamglam.com
Favorite Comedian: Dane cook
First Job: Strathmore bagels Jewish deli