Claudia Sampedro
Age:
21,
United States
The name is Claudia Sampedro! There is definitely something in the water in Miami. This bikini/lingerie model is no joke. Her body is so smoking hot that I had to take her to a nudist colony so that regular people wouldn't swarm her photoshoot with gawking, whistles and cell phone picts. Even still there was a few stragglers who couldn't believe their eyes and decided to watch the shoot like it was a baywatch episode. In fact the lifeguard made up 3 bogus excuses to come around during the shoot so that he could deploy his corny pickup lines that drifted right into the onshore breeze. Claudia is so right in all the right places and has the sexiest voice and sweetest personality ever. She was so easy to work with that I found myself falling in love by the second. Claudia is the all around 21 year old model who also works for one of Miami's top plastic surgeons. Her modeling career is just getting kick started and within just weeks of having some basic photos placed online, she now has every agency and photographer in town going googoo-gaga over her. So get ready to see her here, there and everywhere! If you had any smarts at all you would be high tailing your butt into the member section to witness Claudia's sexiest ever exclusive HD pictures and video shot by Mixed Magazine!
Basic Profile
Name: Claudia Sampedro

Gender: Female

Age: 21,

Country: United States
Appearance
Body: Normal

Ethnicity: Hispanic / Latina

Weight: 85kg (187 lbs)

Height: 173cm (5'8")

Hair Length: Long

Hair Color: Blonde

Eye Color: Brown

Orientation: Straight
Claudia Sampedro – Crème de la Crème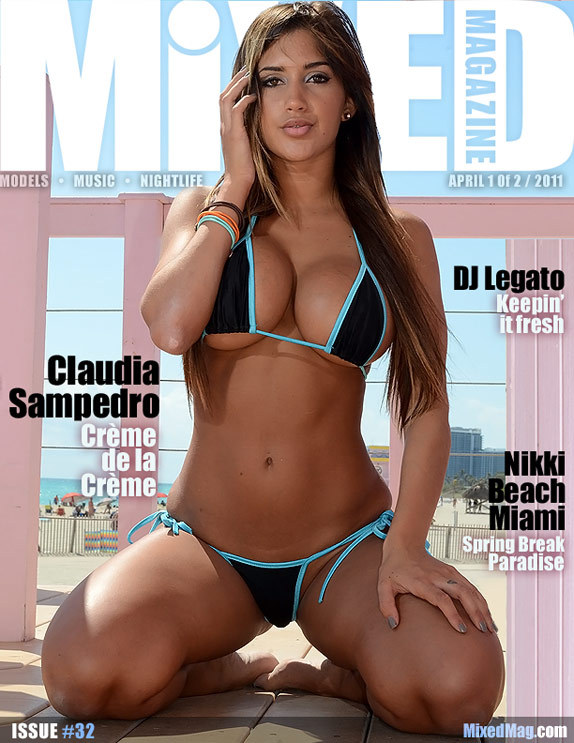 An interview with Claudia Sampedro:
Where were you born, and how was life growing up? I was born in Havana, Cuba. I lived there until i was six years old and then came to Miami. Life growing up was interesting to say the least. Moved around a lot and made many transitions but it's made me who I am today and I am blessed to have had my family by my side every step of the way.
What nationality are you? Cuban

How long have you been modeling? off and on for about 2 years but becoming busier now
Do you go to college? I went to school for cosmetology and am currently looking into a career in nursing.

What would the average person say about you? I dont know, people have a lot to say now-a-days, but my friends say im sweet and down to earth with a little spunk added (laughs) :))
Are you a good dancer? I love to dance! Dont want to toot my own horn, you can be the judge (laughs)
How often does your phone ring with people trying to book you for modeling gigs? All day
Do you like the nerdy type, UFC fighter guy or the regular joe? hhmm (laughs) i really dont have a type, personality usually wins me over. But i like a guy with a good head on his shoulders who is driven and knows what he wants in life. Broad shoulders and easy on the eyes wouldnt hurt either (laughs)
What do you like most about being in Mixed Magazine? The exposure and being in the elite field of beautiful models
Do you have any secret weaknesses or guilty pleasures? CHOCOLATE! (laughs) and sweets!
What do you think is the sexiest thing about a woman? her ability to have an overall sexiness while staying sweet and caring to others

What's your biggest turn on? Confidence. I love a guy that is secure and shows it!
What's one thing about yourself that everyone should know? Wouldnt you like to know (laughs)
That i have a beautiful daughter, Keana Skye!
What do guys compliment you most on? how charming I can be! (laughs)

Do you consider yourself more of a "giver" or a "taker"? I try to balance my giving and taking skills as much possible!
If you could have any car you wanted, what would it be? a '67 Shelby Mustang!
Do you have any hidden talents? i'm actually pretty athletic, and i'm a darn good shower singer (laughs)
What do you like best about being a model? I love being able to portray a sexy alter ego in front of the camera. Not to mention all the traveling, great experiences, opportunities and amazing people that ive encountered along the way.
What would you consider your strongest attribute? My drive and determination!
If you could go anywhere in the world, where would you go and who would you take with you? I would go to Fiji with my daughter and parents for a fun family vacation :))
What is your favorite food? I love Italian food and Japanese food! I should be saying salads (laughs) definitely not good for my diet!
What do you do for fun? What isnt there to do for fun in Miami? This place is like being on a permanent vacations!
What are your dreams and goals? I aspire to secure a future for my daughter and myself. Most of all i want to make her proud and be a great mother and role model for her in life.
Myspace or Facebook? Facebook
Do you have a website? I used to have one but I let it expire
Favorite Sports Team: Miami Heat! Have to represent
Favorite Comedian: Kevin Hart!
First Job: Doctors assistant
How does someone contact you for a modeling project? https://www.twitter.com/claudiasampedro