Kristen Live
Age:
24,
United States
Kristen Live is the new model from Miami, Florida that has everybody picking up their jaws from the ground. She has one of the most amazing naturally healthy bodies that you will ever see on a woman. She is also the nicest person you will ever meet. Simply put she is wifey material. We found Kristen on instagram and immediately contacted her to be our next cover model. Two days later we were in Miami dodging horrible thunder storms until the sky opened up for about 40 minutes. Everything became shockingly calm and the sky started turning different colors as the sun dropped behind the Miami skyline. It was Kristen's first beach photoshoot but you would have thought she had been modeling for years. Every pose was spot on and her body radiated through the camera lens as the photographer repeated "OMG" over and over until the sun finally vanished. Kristen Live is an absolute dream come true and consider yourself a very lucky person to witness this incredible model. Read more about her below and make sure you join the member section to witness the 15 minute exclusive video and photoshoot by clicking here.
Basic Profile
Name: Kristen Live

Gender: Female

Age: 24,

Country: United States
Appearance
Body: Normal

Ethnicity: Black

Weight: 61kg (134 lbs)

Height: 168cm (5'6")

Hair Length: Very Long

Hair Color: Black

Eye Color: Hazel

Orientation: Straight
Kristen Live – Hello Heaven!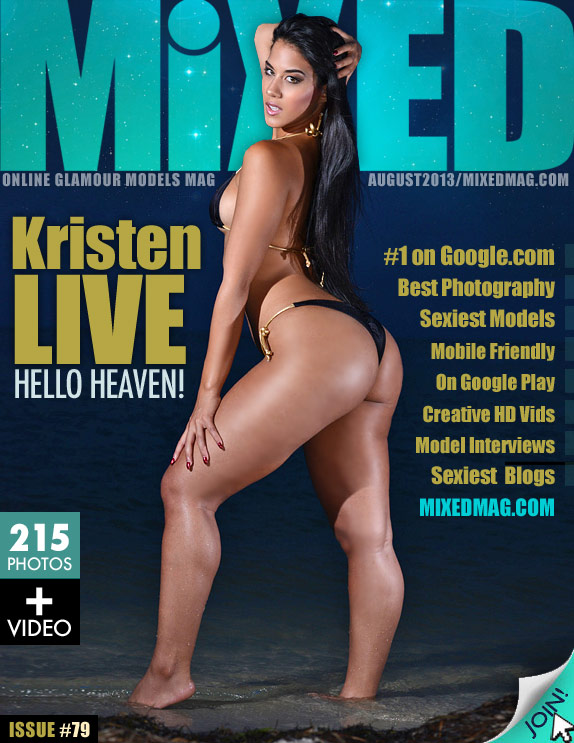 An interview with Kristen Live:
Where were you born, and how was life growing up? I was born in Miami, raised in Fort Lauderdale which is more quiet and family oriented
What nationality are you? American, Jamaican and Peruvian ethnicity
What would the average person say about you? I'm extremely down to earth/ girl next door
Are you a good dancer? yes, I enjoy learning new styles of dance as well
Do you like the nerdy type, muscle guy or the regular joe? A mixture of all
Do you have any secret weaknesses or guilty pleasures? I've got the biggest sweet tooth. Couldn't diet if I tried
Describe your most embarrassing moment. I got into someone else's car realizing it was a terrified family and not my own lol
What has been your most memorable experience as a model? Dodging the rain for a photoshoot
What's your biggest turn on? Confidence
What's one thing about yourself that everyone should know? I'm intelligent, Always been a straight A student
What do guys compliment you most on? to my face they say eyes but behind my back they say my booty lol
Do you consider yourself more of a "giver" or a "taker"? Giver, I feel uncomfortable taking sometimes
If you could have any car you wanted, what would it be? A black on black bentley continental gtc
Do you have any hidden talents? I play the drums
What do you like best about being a model? the spontaneity
What would you consider your strongest attribute? My mind, I'm very calculated in my decision making
If you could go anywhere in the world, where would you go and who would you take with you? I'd love to go to Greece for my honeymoon with my future husband
We know you're a model and all, but you must have a favorite food. What is it? Steak!
Besides modeling, what do you do for fun? I'm very family oriented and a stay at home and chill type of girl. But if I'm out I like to go to the beach or the pool
What are your dreams and goals? I'm still in school pursuing my career. I plan to get my doctorate and have my own practice one day.
Would you prefer a guy to pursue you, or do you like to be the aggressor? I'm old fashioned, the man should always take control
How did you get your start in modeling? I did some modeling when I was a kid and took a break until Mixed Magazine approached me
What is your favorite social network? Instagram
What's the craziest thing you've ever done? Jumped off a cliff in Jamaica
Do you have a website? www.thefirmmia.com Relationship Status: Taken
Favorite Sports Team: Miami Heat
Favorite Comedian: Katt Williams and Kevin Hart
First Job: Cashier at a movie theater
Piercings/Tattoos (How many? Where?): One tattoo on my rib cage, a belly button piercing and my two ears
What fun fact or talent should guys know about?: I'm all natural
How does someone contact you for a modeling project? by email kristenlivemgmt@gmail.com