Kerri Waters
Age:
24,
United States
Meet the South Carolina hidden gem Kerri Waters. Now you guys know I would lie to you about a model that we feature on our cover and this time I have to tell you that we found another needle in the haystack. This all natural beauty just came out of nowhere. We met her in Miami from one of our model scouts. We were shooting at one of the five star hotels in Miami and in came Kerri and her presence in the room had everyone floored. The first hour with her was filled with questions about where the hell she has been hiding and it turns out she just started on the modeling scene and has been in South Carolina her whole life. As you probably already know South Carolina is not the modeling meca of the world so it all made sense. So why is this model so Extraordinary? Well let's just go down the list. First of all she is all natural with perfect everything and has killer green eyes. Then she has her own swag with her very different hair style and very open personality. Her sexy appeal and ability to model is right up there with the best of them and she tops it all off with being very easy to work with and is not mean to anyone. She is simple the complete package. All raw and nothing is fake about this model and I'm sure I missed out a bunch of amazing attributes but I'm sure you will be able to see just from looking at her. If you are a company and need a professional model then you are welcome! Check out her website also at thewatersaffect.com
Basic Profile
Name: Kerri Waters

Gender: Female

Age: 24,

Country: United States
Appearance
Body: Normal

Ethnicity: White

Weight: 57kg (126 lbs)

Height: 153cm (5'0")

Hair Length: Short

Hair Color: Blonde

Eye Color: Blue

Orientation: Straight
Kerri Waters – EXTRAordinary!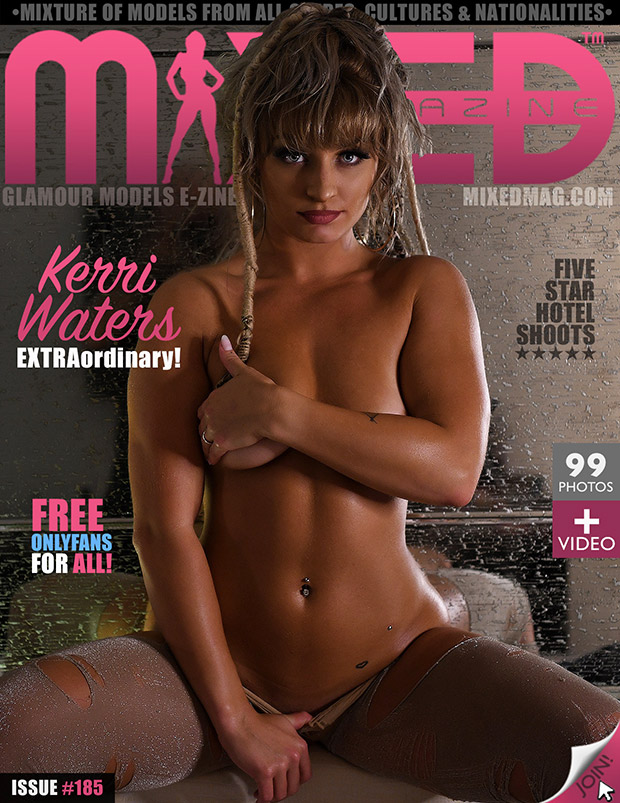 An Interview with Kerri Waters:
Where were you born, and how was life growing up? South Carolina and life was amazing. We had all the toys and traveled everywhere.
How did you get your start in modeling? I lost my job and my friend asked me to webcam and I did a test shoot and got hooked and learned my love for modeling
What has been your most memorable experience as model? The people I meet
What would the average person say about you? That I have a good soul
What's your biggest turn on? A man who is in charge
What do guys compliment you most on? Eyes
What do you sleep in? Boxers and T-shirt
If you could go anywhere in the world, where would you go? Costa Rica
We know you're a model and all, but you must have a favorite food. What is it? Cuban food steak rice and beans
What are your dreams and goals? To be Famous model
Would you prefer a guy to pursue you, or do you like to be the aggressor? Neither I feel like it should be mutual
First Job: Waitress at sushi restaurant
What is the largest gift offered to go out on a date with you? A Car
Would you date a guy that you met on social network? Yes
Do you have a passport? Yes