Piper Anne
Age:
25,
United States
Meet the bootylicious Piper! You know a girl with a name like Piper will have that "IT" factor and this Idaho hottie proves just that. It's always relieving when a fresh face model comes into the game and is free with her body and knows how to pose like the best of them. Piper is a true professional and knows exactly how to get the party poppin. Her ass is crazy! Her body is all natural and she has that girl next door look with big bright eyes and freckles. She knows exactly how to get that ass in all the right angles. She just makes a photoshoot feel like a photoshoot should. She let's the photographer create his art with her curves. In this photoshoot at the five star hotel she threw that booty all over the place. If she wasn't twerking on the bed she was doggy style in the hot tub. Piper moved to Miami recently from Seattle and is making the best out of it. She is modeling constantly any everyone can't get enough of her. This model is on the rise so better put your stock in her now! Make sure you join to see the amazing photo/video shoot! Click here to join!
Basic Profile
Name: Piper Anne

Gender: Female

Age: 25,

Country: United States
Appearance
Body: Thick

Ethnicity: Mixed

Weight: 61kg (134 lbs)

Height: 160cm (5'2")

Hair Length: Long

Hair Color: Black

Eye Color: Brown

Orientation: Straight
Piper Anne – The Idaho Hottie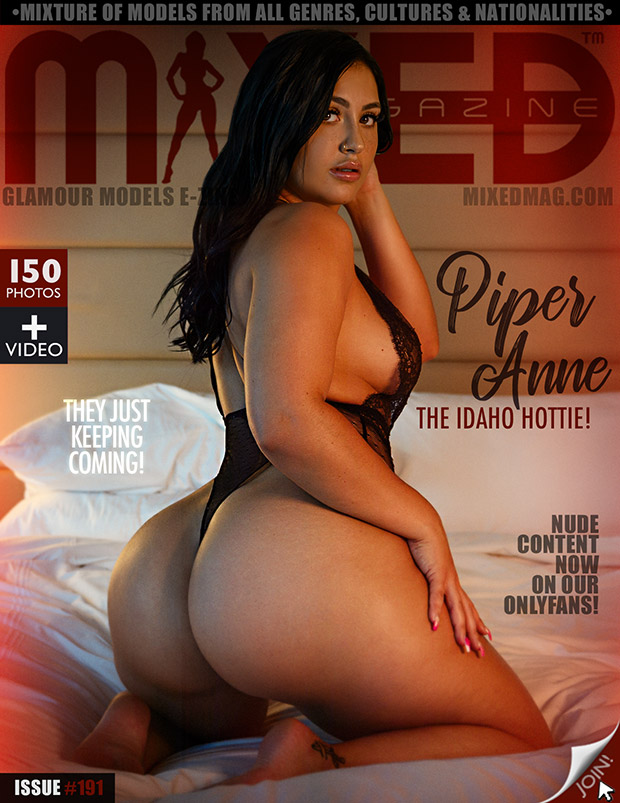 An Interview with Piper Anne:
Where were you born, and how was life growing up? I was born in Idaho, which was a very quiet and conservative place to grow up. I spent a lot of time outdoors!

How did you get your start in modeling? I can't say I remember 100% accurately but I started modeling several months after I started doing bikini coffee when photographers would reach out to me via my instagram.

Favorite Sex position? I don't pick favorites.

Have you ever kissed a girl? I normally don't kiss and tell, but yes. Many.

What has been your most memorable experience as a model? I can't say I have just one, but the 21 Laws shoot in Vegas was insane. I'd love to give more details, but what happens in vegas…

What would the average person say about you? That I'm smarter than I look and that i have a decent sense of humor. And that I look a lot taller online.

Describe your most embarrassing moment. I don't find myself feeling embarrassed often. I ripped my pants at a club once but I wasn't embarrassed lol

What's your biggest turn on? I love feeling a genuine connection with someone that I can actually hold a conversation with. Good sense of humor and a sexy smile.

What do guys compliment you most on? Definitely my ass lol.
What do you sleep in? I sleep naked mostly lol

If you could go anywhere in the world, where would you go? Right now, I'm missing Greece.

We know you're a model and all, but you must have a favorite food. What is it? Thats a really hard question. I'm not a picky eater.

What are your dreams and goals? Definitely to travel more.

Would you prefer a guy to pursue you, or do you like to be the aggressor? I have no preference here! It depends on the person and the situation!

First Job: Administration Assistant (aka a desk job filing papers and making phone calls)

How does someone contact you for a modeling project? Feel free to email me at piperrranne@gmail.com

What is the largest gift offered to go out on a date with you?

Would you date a guy that you met on social network? Depending on the circumstances surrounding how we met on social media, I'd be open to it.

Do you have a passport? Yes! I love to travel!