Eva Lovia
Age:
20,
Algeria
Eva Lovia is the webcam queen from South Carolina. We wanted to feature her because we believe she just stands out in an amazing way. She has flawless skin, perfect breast and some junk in the trunk but most importantly she knows how to work it and work it well. Eva has absolutely no problems with being open with her sexuality which is why she flaunts it all over the world on her trusty HD quality web camera. She believes, if you got it – Flaunt it! She is mixed with nationalities of Japanese and Spanish and is only 20 years of age. Eva is also very intelligent and is cruising through college all while working on her many goals. She is starting her own cam website for models, she has a lingerie line she is working on and many other projects that involve smoking hot girls like herself. She told us that she started modeling doing various glamour shoots and then as time went on she gravitated towards nude modeling where she felt most comfortable. One thing about Mixed Magazine is our strong diversity of featuring the most beautiful women from all modeling genres and Eva Lovia is by far one of the sexiest webcam models of today. Check out her amazing photoshoot on the beaches of Miami while she past through for 2012 Exxxotica.
Basic Profile
Name: Eva Lovia

Gender: Female

Age: 20,

Country: Algeria
Appearance
Body: Petite

Ethnicity: Hispanic / Latina

Weight: 120kg (265 lbs)

Height: 172cm (5'7")

Hair Length: Long

Hair Color: Black

Eye Color: Brown

Orientation: Straight
Eva Lovia – Webcam Queen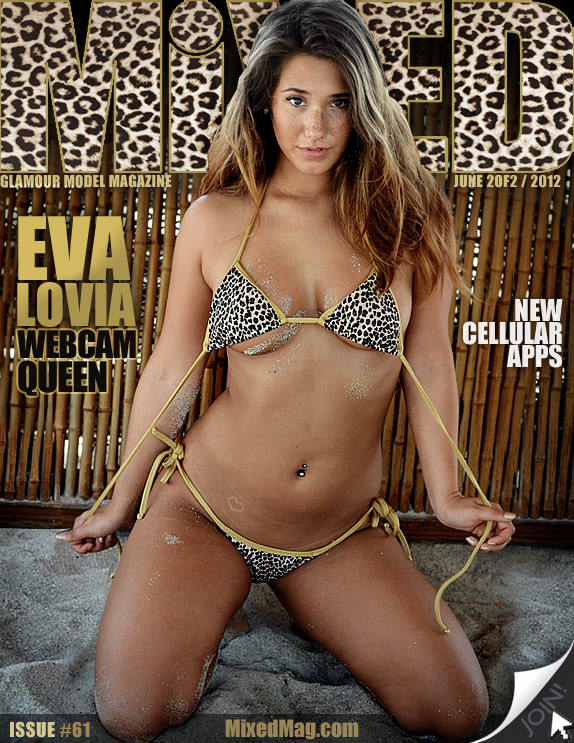 An interview with Eva Lovia:
Where were you born, and how was life growing up? La, I was an outdoorsy girl with lots of male friends and a few great girl friends
What nationality are you? Japanese and Spanish

What would the average person say about you? Im funny, surprisingly down to earth and sweet but I have a firey side

Are you a good dancer? Very
Do you like the nerdy type, UFC fighter guy or the regular joe? I love muscles so Ill go UFC or Nerd because I love a smart man

Do you have any secret weaknesses or guilty pleasures? No weakness here, guilty pleasures too many to count

Describe your most embarrassing moment. I dont get embarrassed

What's your biggest turn on? A strong smart confident man that knows what chivalry is

What's one thing about yourself that everyone should know? Im just your girl next door that likes to get naked

What do guys compliment you most on? A tie between my freckles and my eyes

Do you consider yourself more of a "giver" or a "taker"? depends on my mood but normally a giver
If you could have any car you wanted, what would it be? bugati

Do you have any hidden talents? im double jointed in both elbows and thumbs

What do you like best about being a model? The travel

What would you consider your strongest attribute? My attitude

If you could go anywhere in the world, where would you go and who would you take with you? Id love to go to Greece, and with my boo

We know you're a model and all, but you must have a favorite food. What is it? I eat A LOT, but fav would be mexican or pasta
Besides modeling, what do you do for fun? work out, hit the beach, kayak, the basics

What are your dreams and goals? to become a brand and have my name all over

Would you prefer a guy to pursue you, or do you like to be the aggressor? what girl doesnt like being chased?

How did you get your start in modeling? Hooters baby

Twitter or Facebook? Twitter hands down

What's the craziest thing you've ever done? streaked in a snow storm

Do you have a website? EvaLovia.com

Relationship Status:I do what I want
Favorite Sports Team: Im a UFC girl Bones Jones

Favorite Comedian: kathy Griffen

First Job: target

Piercings/Tattoos (How many? Where?) ears (3), belly button, back of my neck I have an elephant and cherry blossoms

What fun fact or talent should guys know about? I can suck the nails out of a head board

How does someone contact you for a modeling project? Missevalovia@yahoo.com