Alyssa Jerry
Age:
21,
United States
Ok now, first of all, this is really happening! This is not a dream. You are witnessing the finest female alive. Meet Alyssa Jerry from San Diego, California! This 21 year old model is mixed with 50% African American and 50% caucasian. She is all natural and has probably the best butt we have ever seen at Mixed Magazine. Whenever you think about the perfect woman, most guys dream of something unrealistic like an exotic look, perfect face, all natural body and a bubble butt for days as if it was drawn on like a cartoon. Alyssa is all of that and more. She has the most incredible personality to match her exterior. She is as cool as they get. She loves to laugh constantly, she's as humble as they come, she doesn't judge anyone and the list goes on and on. She is currently single and spends a great deal of her time with her extremely sexy crew of girlfriends that are equally as beautiful. Alyssa Jerry is the diamond in the rough and a gold mine wrapped into one. Her modeling career is new but it won't be for long after this feature publishes. Spending time with Alyssa in San Diego for her photoshoot was a memorable one. After shopping with Alyssa and her friend Suzy Parra at the Hustler Lingerie Store, we walked past Suge Knight on the downtown streets and even he stared as if he saw a martian walking by as both models were wearing black spandex pants and very high heels! Shooting at the Hard Rock Hotel's penthouse suite made for the perfect backdrop. Alyssa was joy to work with and really brought together a perfect 2011 year at Mixed Magazine. Maybe there is a Santa after all!
Basic Profile
Name: Alyssa Jerry

Gender: Female

Age: 21,

Country: United States
Appearance
Body: Normal

Ethnicity: Mixed

Weight: 110kg (243 lbs)

Height: 168cm (5'6")

Hair Length: Shoulder Length

Hair Color: Dyed (Other)

Eye Color: Brown

Orientation: Straight
Alyssa Jerry – Merry Xmas!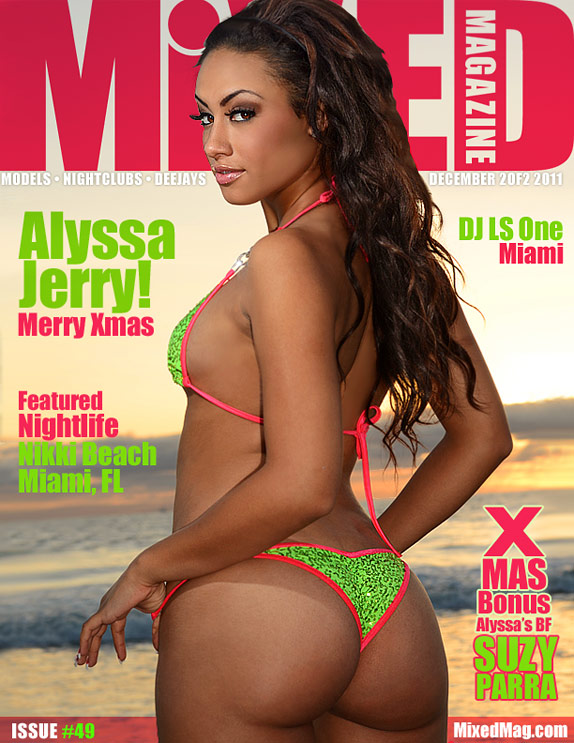 An interview with Alyssa Jerry:
Where were you born, and how was life growing up?
I was born in San Diego! I grew up just me and my mom which makes me who I am! I strong independent woman ;)!!
What nationality are you?
Black and white
Do you go to college?
Nope!
What would the average person say about you?
That I'm funny and crazy and a girl that's loves to have a good time!
What do you normally sleep in?
Booty shorts and a tank top or sports bra!
Are you a good dancer?
Yes! I love dancing!
What kind of guys are you attracted to?
Honestly I am the least Shallowest person I can honestly say that I go for personality first and someone that can make me laugh and of course looks don't hurt either!;)
Do you have any secret weaknesses or guilty pleasures?
My weakness Is food! I LOVE to eat! It's like my hobby! Lol if I'm mad at u just take me somewhere yummy and I will most likely forgive u!
What's your biggest turn on?
A guy that has a lot of swag u dont even have to be that fine, if u have swag and are confident that to me is the biggest turn on.!
What things would you like to get out of being in Mixed Magazine?
More opportunities like this!
Who do you think is the sexiest Mixed Magazine model? Suzy Parra & Kelly Nicole
What's one thing about yourself that everyone should know? I always love to have a great time laughing and playing.
What do guys compliment you most on?
Everything!
Do you consider yourself more of a "giver" or a "taker"?
I think I'm right in the middle cause I always offer things & if someone offers me something I wouldn't deny it if I wanted it! So I think I'm both!
If you could have any car you wanted, what would it be?
A baby pink Bentley with white interior
Do you have any hidden talents?
Well they wouldn't be hidden if I told u:)!!
What do you like best about being a model?
U get to express yourself in different elements and it's fun and a great experience.
Do you see yourself getting married and having a family?
One day no time soon. I'm doin me right now! But in the future defiantly!
If you could go anywhere in the world, where would you go and who would you take with you?
I would want to go to Jamaica or Brazil! Some where tropical and beautiful and foreign! I would take all my girls we would have so much fun it would be out of control!
What is your favorite food?
Mexican for sure then Italian! Mmm!!
Can you cook?
Yup I can make some bomb spaghetti!! I love baking to!
What do you do for fun?
Hang out with friends party
What are your dreams and goals?
I would love to become a successful well paid model but besides that somewhere in the medical field.
How did you get your start in modeling?
People have just always told me I should model so it just stuck and I'm moving forward with it.
Favorite Comedian: Dave Chappelle
First Job:
Hooters in pacific beach. Started as a hostess at 16.
How does someone contact you for a modeling project?
https://twitter.com/AlyssaJerry