Alyssa Blue
Age:
22,
United States
Alyssa Blue is the sexy fitness model from Las Vegas, Nevada. When Mixed Magazine was in Miami we were lucky enough to run into Alyssa while she was doing other photoshoots and paying a visit to her home town. Her body is absolutely flawless and she is proof that working out and taking care of yourself pays off. She is a graduate from the University of Miami with an engineering degree where she also was varsity cheerleader. She spent most of her life as a gymnast and sports junkie because it just came natural to her. She nows spends her time traveling and working for sexy events in Las Vegas. Yes she is eye candy but she also a very intelligent and respectful lady. It was a pleasure working with Alyssa because she is super sexy and fun to work with. Her photoshoot wasn't planned and took place in her friends apartment but because she is so perfect the images came out to look like it was in a million dollar studio.
Basic Profile
Name: Alyssa Blue

Gender: Female

Age: 22,

Country: United States
Appearance
Body: Normal

Ethnicity: Mixed

Weight: 110kg (243 lbs)

Height: 167cm (5'5")

Hair Length: Long

Hair Color: Dyed (Other)

Eye Color: Brown

Orientation: Straight
Alyssa Blue – Fitness Chick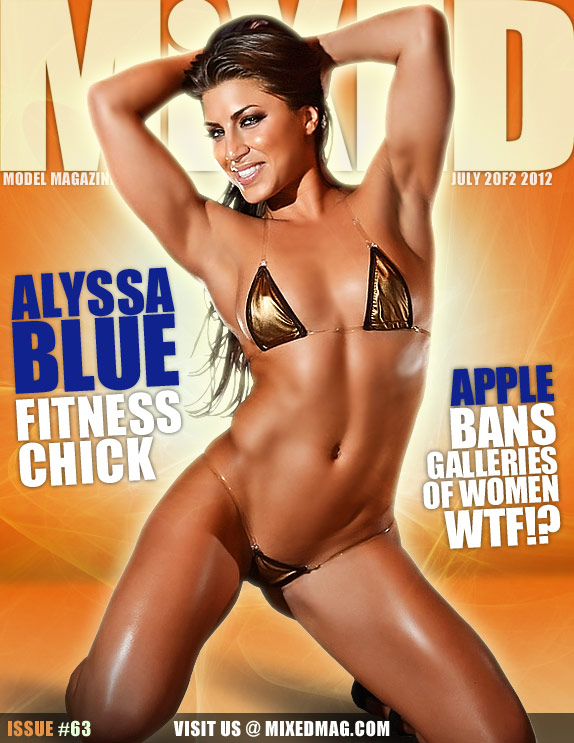 An interview with Alyssa Blue:
Where were you born, and how was life growing up? Troy, Michigan. I was raised in south Florida though.I had a Great childhood. I am an only child, raised by my mom.
What nationality are you? Chaldean and German
Do you go to college? I graduated from university of Miami
What would the average person say about you? I am a Fitness junkie and a social butterfly
What do you normally sleep in? Boy shorts and a sports bra
Are you a good dancer? If by good you mean shaking my butt…yes!
What kind of guys are you attracted to? I'm little, but I love tall men and it's a given, I like athletic builds…abs are a must!
Do you have any secret weaknesses or guilty pleasures? Maybe, but I'm not telling
What's your biggest turn on? Intellect
What's one thing about yourself that everyone should know? I have leg pressed 8 times my body weight…yea I'm proud of being known as quad-zilla
Who is your favorite Mixed Magazine Model? The list is long, so many gorgeous women how could I choose one?
What do guys compliment you most on? If they are being respectful they compliment my hazel eyes
Who is your favorite photographer? Oh boy…not going to incur the wrath of a photog scorned by answering that one
Do you have a favorite club you would like to give a shout-out to? I've built great relationships with many venues I've partied at and worked at, can't single out just one
Do you consider yourself more of a "giver" or a "taker"? Depends on the situation. I like giving, but definitely not an altruist.
If you could have any car you wanted, what would it be? I grew up around import cars and have a passion for all things with an engine, choosing one is tough, but always admired the engineering of the Aston Martin. DB9 has the perfect balance of luxury and speed.
Do you have any hidden talents? Being a former gymnast I can still throw a few flips and do a split if I'm in a fun mood.
What do you like best about being a model? The versatility of styles, looks and locations that I get to experience and create makes modeling fun and fresh, it never feels like work when you love what you do!
What would you consider your strongest attribute? I consider myself easy to talk to. I have the ability to talk to just about anyone.
If you could go anywhere in the world, where would you go and who would you take with you? Wow…I want to see every corner of the world. Top priority is to take my mom on a safari in south Africa. Something we talked about since I was a kid.What is your favorite food? Tough I love food, but cannot live without good Mediterranean cuisine
Can you cook? I make a mean grilled chicken and spinach salad
What do you do for fun? Avid hiker and rock climber, self proclaimed culinary explorer, definitely have the travel bug I love learning about different culture and history
What are your dreams and goals? Run a successful innovative athletic apparel company
How did you get your start in modeling? My mom took me to a hallmark card casting when I was a toddler
Favorite Comedian: Dane Cook still has my top spot, been quoting his stuff since freshman year of college and still cracks me up.
First Job: I was a hostess at a little neighborhood restaurant
How does someone contact you for a modeling project? Email: msalyssablue@gmail.com Facebook.com/AlyssaBluefitness Twitter @msalyssablue