Iryna Rodionova
Age:
24,
Russian Federation
Meet Iryna Rodionova! One thing Russia is good for is producing fine women. This Russian model moved to sunny South Beach, Florida recently so she can expand her modeling career. She feels completely at home in Florida because she loves the freedom and the heat. She is very independent and has one of the sweetest personalities. When she first arrived to the photoshoot I thought it was a Pamela Anderson look-a-like at first with her blonde hair and beautiful face. Her pretty smile lit up the room and we immediately started shooting without any real preparation because every picture was perfect right out of the camera. Her energy and sex appeal just created the ambience needed to create a perfect cover shoot. She is a true professional and fits into any modeling style with her versatile look and ability to pose. We highly recommend working with Iryna because she is the true canvas to paint on for any photographer. Learn more about her below.
Basic Profile
Name: Iryna Rodionova

Gender: Female

Age: 24,

Country: Russian Federation
Appearance
Body: Petite

Ethnicity: White

Weight: 51kg (112 lbs)

Height: 162cm (5'3")

Hair Length: Shoulder Length

Hair Color: Blonde

Eye Color: Brown

Orientation: Straight
Iryna Rodionova – Russian Babe!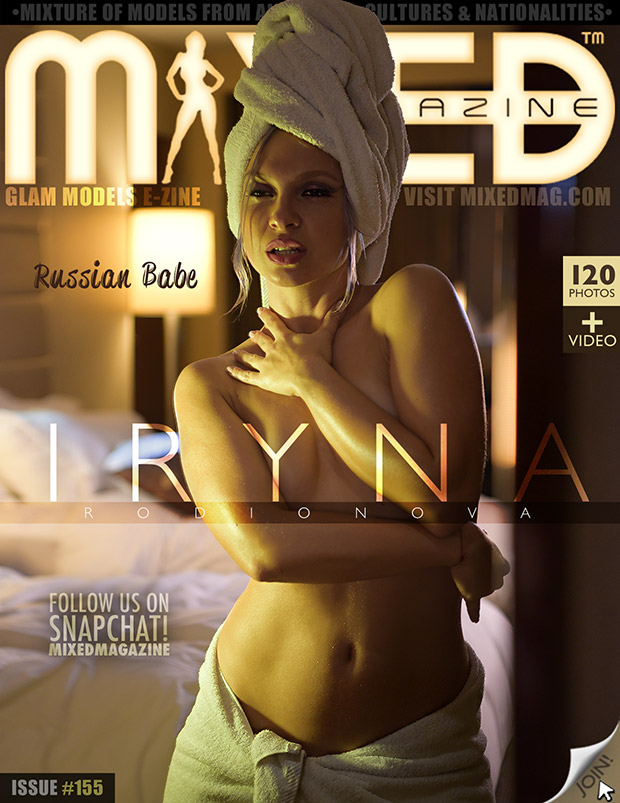 An Interview with Iryna Rodionova:
Where were you born, and how was life growing up? I was born in USSR, and live all my conscious life in Ukraine, Donetsk. I moved to Miami 2,5 years ago
How did you get your start in modeling? I LOVED being in front of the camera since I was 2 years old. Ive been modeling in Ukraine mostly for fun back in my home country. Im doing modeling in USA for more than 2 years now. And I love it!:D
Favorite Sex position? Sex for me is not about positions , its about chemistry and game :)
Have you ever kissed a girl? I think every mentally healthy girl have done that :)
What has been your most memorable experience as a model? I'm 17 years old participating in a beauty photo contest, huge crowd at the main square of my city yelling my name and supporting me. I think that was a moment when I understood the power of my energy and it was awesome :)
What would the average person say about you? I don't know what the average person say because there are so many people and so many opinions. People only see what they project. If you want to know how will I describe myself I would say funny, sexy, intelligent, spiritual.
Describe your most embarrassing moment. Nothing can embarrass me lol
What's your biggest turn on? Being manhandled
What do guys compliment you most on? Butt and lips
What do you sleeping in? Naked
If you could go anywhere in the world, where would you go? I'm always going where I wanna go
We know you're a model and all, but you must have a favorite food. What is it? I love food and peruvian Shrimp Mofongo is among my favorites
What are your dreams and goals? Keep up the good work with modeling career and enjoy life. Being able to work as a life coach and trainer to help people to find their happiness:)
Would you prefer a guy to pursue you, or do you like to be the aggressor? It depends on situation. If its in bed I like to switch roles.
First Job: Laywer LOL
How does someone contact you for a modeling project? You can contact me on IG @irynamiami or send me an email scorpy@inbox,ru Im working on my website right now
Would you date a guy that you met on social network? Yes, I dont put limits on the world how to bring an interesting person into my life