Janis True
Age:
21,
United States
Janis True is the mixed Chinese & Vietnamese model from Seattle, Washington who met up with Mixed Magazine during the 2013 ASP World Tour Surfing event located in the North Shore of Hawaii, The Pipeline Masters who was won by American Pro Surfer Kelly Slater. It was an epic couple of days in Hawaii and Janis True truly pulled it all together with her sexy photoshoot right on the sexy sunny beaches covered with volcanic rock as the water bounced off them behind her to make some of the most exotic photos we have every shot. Janis's Asian decent was the perfect look for this Aloha setting as she wore coconuts for a bikini top with a cute pink flower delicately placed in her hair. She has been modeling for a few years and has a rather extensive portfolio. She is widely known for working in the car show world where she obtains most of her fan base. She is a total sweetheart also. Janis loves her fans and always makes sure to show her appreciation by signing autographs and tagging fans on instagram.
Basic Profile
Name: Janis True

Gender: Female

Age: 21,

Country: United States
Appearance
Body: Petite

Ethnicity: Mixed

Weight: 105kg (231 lbs)

Height: 154cm (5'0")

Hair Length: Shoulder Length

Hair Color: Black

Eye Color: Brown

Orientation: Straight
Languages spoken
English, Chinese, Vietnamese
Janis True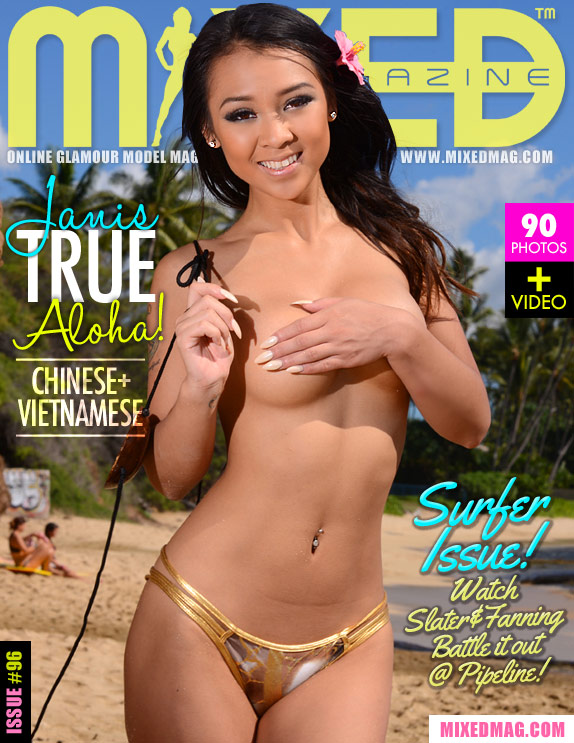 An Interview with Janis True:
Where were you born, and how was life growing up? In Portland, OR. It was pretty rough… parents went through divorce and I was struggling to find myself every day… I hung out with the wrong crowd and got myself in small trouble, but glad to have grown out of it.
What would the average person say about you? Probably my how silly and chill I am to meet!
Are you a good dancer? I'd say so :)
Do you like the nerdy type, muscle guy or the regular joe? Can I have all 3 in 1? :P
Do you have any secret weaknesses or guilty pleasures? Coffee…. chocolate…
Describe your most embarrassing moment. There's too many…. but one time I was introducing myself and got so nervous that I said my name was "Elizabeth", which is my best friends name who was standing next to me.. lol
What has been your most memorable experience as a model? Definitely Hot Import Nights Hawaii… it really showed I've gone a long way to be where I am at to have my booth surrounded by amazing fans!
What's your biggest turn on? A perfect smile
What's one thing about yourself that everyone should know? I'm just a normal person… models aren't as stuck up as they seem!
What do guys compliment you most on? My SMILE :)
Do you consider yourself more of a "giver" or a "taker"? Giver
If you could have any car you wanted, what would it be? Any luxurious Lexus car……
Do you have any hidden talents? I can lick my elbow
What do you like best about being a model? Meeting and networking with new people in this industry
What would you consider your strongest attribute? Determination
If you could go anywhere in the world, where would you go and who would you take with you? China and Vietnam.. I'd take my parents and siblings
We know you're a model and all, but you must have a favorite food. What is it? Anything with chicken… seriously
Besides modeling, what do you do for fun? Travel, party with my girls, shop, volunteer
What are your dreams and goals? Graduate college to become a computer engineer, have a successful life and healthy family
Would you prefer a guy to pursue you, or do you like to be the aggressor? Pursue me :)
How did you get your start in modeling? My tattoo artist Peter Paun introduced me into the scene as his model for his company
What is your favorite social network? Instagram!