Little Ti
Age:
24,
United States
Little Ti is the super sexy baddie from Miami! There are not that many models that know how to pose like Little Ti. She is a super natural model and she has a little bit of a bad side. She loves to hang out with friends and enjoy the good life in Miami. You can always catch her turning up on a yacht party and twerking. She has the most potential out of any of the models that we see new in the game. Some of the industries biggest photographers have embraced her because she is photogenic and is very easy to work with. She is new to the game so get ready to see more of Little Ti coming soon. Check out her sexy photos and videos from her shoot below.
Basic Profile
Name: Little Ti

Gender: Female

Age: 24,

Country: United States
Appearance
Body: Petite

Ethnicity: White

Weight: 105kg (231 lbs)

Height: 157cm (5'1")

Hair Length: Shoulder Length

Hair Color: Brown

Eye Color: Brown

Orientation: Straight
Little Ti – Big Things Small Package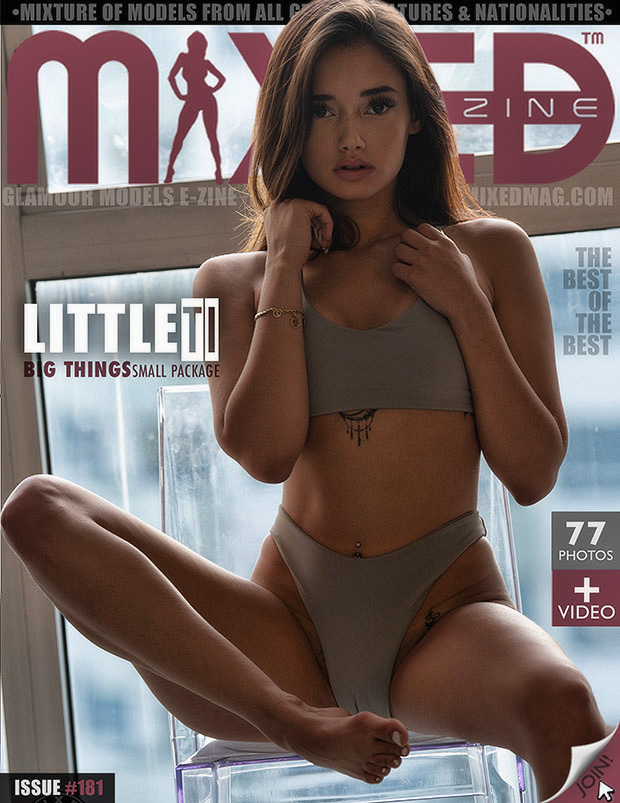 An Interview with Little Ti:
Where were you born, and how was life growing up? I was born in Miami and I loved growing up here because there is always a party to go to.
How did you get your start in modeling? I started twerking on a yacht and when I saw myself I knew it was my destiny to twerk.
Favorite Sex position? Doggy
Have you ever kissed a girl? Yes
What has been your most memorable experience as a model? Shooting with Mixed Magazine in Miami was amazing because. The photographer knows how to make things fun!
What would the average person say about you? That I'm a chill
Describe your most embarrassing moment. I don't normally get embarrassed, I laugh things off myself as they happen.
What's your biggest turn on? Someone who is real
What do guys compliment you most on? my eyes
What do you sleeping in? Nothing.
If you could go anywhere in the world, where would you go? Bali
We know you're a model and all, but you must have a favorite food. What is it? I love seafood!
What are your dreams and goals? Happiness forever.
Would you prefer a guy to pursue you, or do you like to be the aggressor? Pursue me 100%
First Job: Ice cream server
Would you date a guy that you met on social network? maybe