Angelina Ivy
Age:
26,
United States
Angelina Ivy is the busty pin-up model who was born and raised in California. She has quickly risen on the scene by gracing the covers of top national magazines. Her looks are unlike any other model with her big blue eyes and her extremely voluptuous curves. She is not covered with wild and crazy tattoos and maintains flawless skin. She specializes in doing pin-up style modeling because she has a unique vintage look about her. She is very versatile and being sexy comes natural to her. She is also very fun to chill with and when she is not modeling she is recording music to become a rapper. She has already created several tracks but she is still awaiting that big break so if you are a producer that wants to make some music with a perfect 10 model sitting beside you then Angelina Ivy is ready to go to work. Recently she has been noticed by some of the biggest rappers and has been in music videos with Snoop Doggy Dogg, Too $hort, 2 chains and many others. We were lucky enough to have Angelina model for us in Miami as she swept through like a hurricane leaving everybody leveled when they saw her at the club with her skin tight black cat suit with her cleavage in the eye of the storm. Check out Angelina's ultra sexy photoshoot and video as she flaunts a sexy slingshot bikini inside our exclusive member section
Basic Profile
Name: Angelina Ivy

Gender: Female

Age: 26,

Country: United States
Appearance
Body: Thick

Ethnicity: Mixed

Weight: 150kg (331 lbs)

Height: 165cm (5'4")

Hair Length: Long

Hair Color: Black

Eye Color: Hazel

Orientation: Straight
Angelina Ivy – Rappers Delight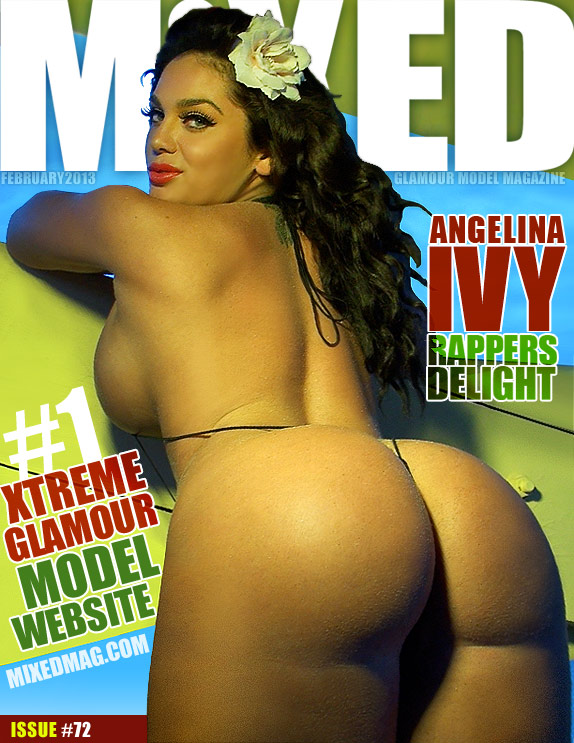 An interview with Angelina Ivy:
Where were you born, and how was life growing up? San Diego Cali. I was surrounded with a large family as a child and we always had an awesome time.
What nationality are you? Swedish & Chilean
What would the average person say about you? That I am very sweet
Are you a good dancer? Yes of course
Do you like the nerdy type, UFC fighter guy or the regular joe? It really doesn't matter to me. It's mostly about chemistry
Do you have any secret weaknesses or guilty pleasures? I love spanish food
Describe your most embarrassing moment. I went skinny dipping in Hawaii and later learned I was in front of a whole restaurant
What has been your most memorable experience as a model? When I was teenager I was on set with Luke Perry which drove me to want to succeed more.
What's your biggest turn on? Cologne and aggressive hands
What's one thing about yourself that everyone should know? I love to rap
What do guys compliment you most on? my eyes
Do you consider yourself more of a "giver" or a "taker"? giver
If you could have any car you wanted, what would it be? Lambo
Do you have any hidden talents? I'm a professional hula hooper lol
What do you like best about being a model? I love to view the final outcome of each photoshoot
What would you consider your strongest attribute? I'm an overall strong person and I'm very persistant
If you could go anywhere in the world, where would you go and who would you take with you? Jamaica and take my bf Alexia
We know you're a model and all, but you must have a favorite food. What is it? Spanish and Thai
Besides modeling, what do you do for fun? I love to write music
What are some of your influences? Too $hort, Eminem, Dr. Dre
What are your dreams and goals? to continue success in what I am currently doing now, rapping and modeling
Would you prefer a guy to pursue you, or do you like to be the aggressor? I like guys to talk to me. I'm a little shy ;)
How did you get your start in modeling? My mother was a model and started me out in pageants and signed me to an agency at 3 months old
What's the craziest thing you've ever done? I bungi jumped once
Do you have a website? yes angelinaivy.com
Relationship Status: single
Favorite Comedian: Dave Chappelle
First Job: Modeling job. I did a barbie doll commercial
How does someone contact you for a modeling project? booking@angelinaivy.com