Mandy Leon
Age:
25,
United States
Check out the beautiful model from Lancaster, Pennsylvania, Mandy Leon! She has the prettiest face, flawless curvacious body with no tattoos or markings and a complete set of morals that make her the perfect professional model to work with. There is a lot of great qualities to this young woman. She is filled with ambition. She is a self taught graphic artist, she loves fashion and is constantly thinking of ways to become a successful business woman. We find this to be a very rare set of qualities especially to be all wrapped into just one model which really makes this model shine. Lancaster, Pennsylvania is mainly known for Amish culture which means that sexiness and hot models really don't exist much there. Mandy does not let that stop her from being one of the sexiest models in America. Mandy is very excited to travel to see some of the hot spots like LA and Miami. She is open for all new modeling projects and treats each one with the highest level of professionalism and respect. This young woman was clearly raised correctly. Mandy has already been in countless music videos, bikini contest, car show modeling and many other projects. Mandy also has sister who is a makeup artist and a hair stylist. I guess you can say this family is ready to change the world into a more beautiful place with all of their talents and skills. It's a real pleasure to have worked with such a model like Mandy Leon and you will surely be seeing more of Mandy Leon at Mixed Magazine in the near future. Read her full interview below and make sure you join the member section to witness the sexiest video behind the scenes along with high resolution images
Basic Profile
Name: Mandy Leon

Gender: Female

Age: 25,

Country: United States
Appearance
Body: Normal

Ethnicity: Mixed

Weight: 117kg (258 lbs)

Height: 165cm (5'4")

Hair Length: Long

Hair Color: Black

Eye Color: Brown

Orientation: Straight
Mandy Leon – Doll Face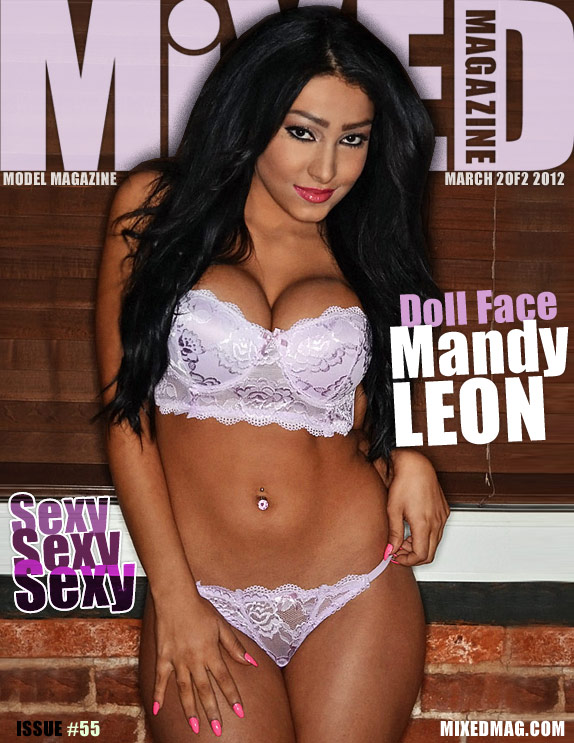 An Interview with Mandy Leon:

Where were you born, and how was life growing up?
I was born in Brooklyn, NY but mainly raised in Lancaster, PA. Life growing up was great, everyone faces struggles throughout their lives and I had my share but I had my family with me through thick and thin and had an awesome childhood.
What nationality are you?
I am mostly Puerto Rican/Cuban but I am Italian/French as well.
Do you go to college?
If everything works out with modeling and my castings for acting, I will be attending college part time with Business/management as my Major. Looks don't last you a lifetime, so you always need a plan B. Education is important.
What would the average person say about you?
The average person would probably describe me as a classy, outgoing, friendly, honest, and loyal young woman who is fearless and has a strong backbone…never allowing anyone to cross or disrespect me.
What do you normally sleep in?
Short shorts and tank top
Are you a good dancer?
Yes!
What kind of guys are you attracted to?
I think looks are important, but personality in a guy attracts me more. I believe that a guy's personality can change his looks fast.
Do you have any secret weaknesses or guilty pleasures?
Candy! I love sweets, give me a bag of Swedish Fish or Reese's Peanut Butter Cups and we'll be best friends!
Describe what sexy means to you.
Sexy to me is how people carry themselves, having an outgoing personality, MORALS, and knowing what you want in life and chasing after it until you succeed.
What's your biggest turn on?
Jared Leto. lol. If not him…A guy that has his head straight and is focused and doesn't allow anyone to dim his shine.
What's one thing about yourself that everyone should know?
I keep it 100% real and am a strong believer in having morals. Not too many girls do nowadays.
What would be the dream career?
My dream career…one day I want to own one of the biggest/most popular, glamorous clubs on the east coast.
What do guys compliment you most on?
I get complimented on everything, but I find I get most compliments on my eyes before anything else.
Do you consider yourself more of a "giver" or a "taker"?
I find myself to be more of a giver, I love helping others and making people smile.
If you could have any car you wanted, what would it be?
A Pink Audi R8 or a Pink Bentley Continental
Do you have any hidden talents?
I was blessed with a lot of talents
What do you like best about being a model?
The one thing I like the most about being a model is all the exciting places I get to go to and all the awesome people I get to meet.
What would you consider your strongest attribute?
My strongest attribute would be being able to handle hectic situations while on any serious job assignment and being able to keep focused until that job is done and I gave 100%.
If you could go anywhere in the world, where would you go and who would you take with you?
If I could go anywhere in the world, it would be Bora Bora. I would take family with me, I love spending time with them.
What is your favorite food?
I LOVE Spanish and Italian food! Rice and beans with chicken or Pasta…I can eat them both everyday!
If you could meet any famous person who would it be?
JARED LETO! =)
Can you cook?
Yes! I'm a great cook!
What do you do for fun?
Go out an party with my girls! I know all the promoters in NY and in Philly so we always go out and have crazy nights.
What are your dreams and goals?
My dreams/goals right now are to continue my modeling career as well as my acting career while also attending classes part time to graduate with a Business degree. Along with that, I hope to grace the covers of more magazines and continue be an idol to everyone out there who supports me. I basically plan to take over the world one day =D
How did you get your start in modeling?
I starting modeling at very young age. I began doing a lot of hair shows and fashion shows for local salons and fashion designers in my area. I stopped for awhile to get focused on my school work, but once I graduated I started modeling instantly and building a portfolio. I have been blessed enough to have offers and people in the industry contact me for work. You have to start out small to make it big, and that is exactly what I did. Here I am today making it big!
Favorite Comedian?
Kevin Hart
First Job?
Auto Sales