Theresa Erika
Age:
22,
United States
Meet Theresa Erika! This LA super fitness model has everything you would think an LA model would have. She has toughness, sexiness, swag and she is super cool. We first recognized Theresa because of her incredible muscular body and of course her booty. We knew she was the full package so we rushed her to Miami and she totally rocked her photoshoot. Her sex appeal obviously comes naturally and she poses with the best of them. She loves being in front of the camera and is always professional. She was on time even after a really long flight. If all models were as awesome as Theresa the world would really be cooking. She works side by side with her management company who books several models all over the world. She is a team player and we highly recommend this baddie all day every day.
Basic Profile
Name: Theresa Erika

Gender: Female

Age: 22,

Country: United States
Appearance
Body: Normal

Ethnicity: Hispanic / Latina

Weight: 61kg (134 lbs)

Height: 165cm (5'4")

Hair Length: Long

Hair Color: Dyed (Other)

Eye Color: Brown

Orientation: Straight
Theresa Erika – Sexy in Pink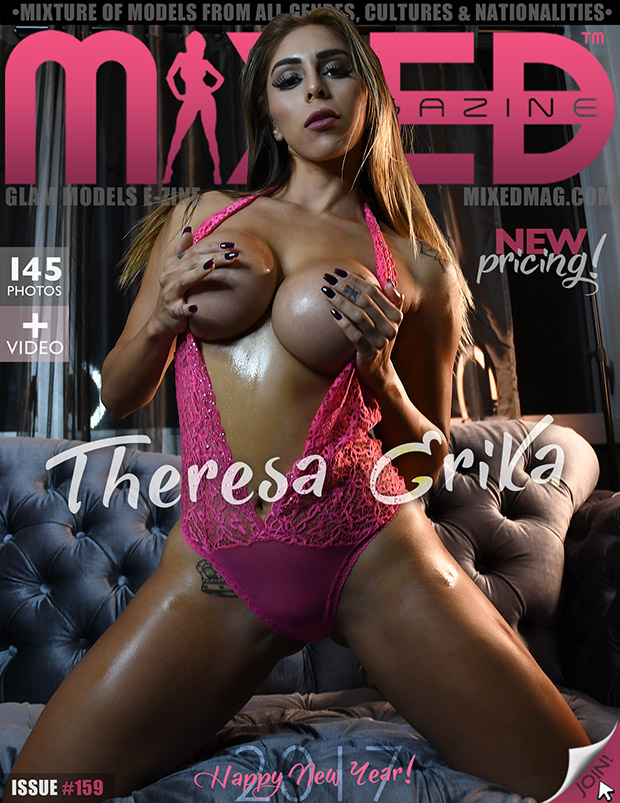 An Interview with Theresa Erika:
Where were you born, and how was life growing up? I was born in California, life growing up was great it was the ideal childhood. All my neighbors were around my age group so we always did everything together and became best friends.
How did you get your start in modeling? Funny story my sister actual was at the park with my nephew when she saw a photographer shooting, she then asked for his card and from there that was the beginning. We contacted each other and did my first shoot which was a pin up theme.
Favorite Sex position? I love being in control and being on top but on some days I also like it doggy style nice and rough with some hair pulling and some slaps on the ass.
Have you ever kissed a girl? Actually, yes I have maybe one or two. I went through a experimental phase and swore I was lesbian in high school. I even went to prom with my girlfriend.
What has been your most memorable experience as a model? Honestly the entire process of building a name for myself and becoming an inspiration and motivation for all my followers. If I'd have to choose an experience I would have to say attending extreme auto fest to be seen and then working with Forgiato right after my first car show I attended.
What would the average person say about you? From all the feedback I receive I know they would say I'm humble and determined to make anything possible if I dream it.
Describe your most embarrassing moment. I was booked for a gogo gig and we all know gogo's only have a little gogo box to dance on. Someone spilled their drink on the box and when I went back up to twerk and shake I fell off and was so embarrassed.
What's your biggest turn on? I love, love, love, some nipple action!
What do guys compliment you most on? My well structured body and of course my booty all day long.
What do you sleeping in? I go back and fourth with this, I either sleep naked or in a big tee with some booty shorts.
If you could go anywhere in the world, where would you go? Bora Bora is definitely on my list to visit. I seen it on TV a few times where celebrities love to go on vacation there and it looks extremely beautiful.
We know you're a model and all, but you must have a favorite food. What is it? I love food! I'm a personal trainer and fitness is my life so it's difficult to keep all the yummy food out my mouth. But, when I do give in I have a major sweet tooth for anything sweet like cookie, froyo, ice cream etc.
What are your dreams and goals? My dream and is to have my own gym and my own brand of fitness gear. My goal is to help anyone who wants to live a happier and healthier lifestyle.
Would you prefer a guy to pursue you, or do you like to be the aggressor? I'd prefer a guy to pursue me but if he isn't my type I definitely shut it down! If I'm interested and he hasn't pursued me then I don't mind being the first to make a move.
First Job: My first job was a little girl spa called Glam Girls, it was so fun. It was my senior year of high school and it was my best friend's sisters shop so we all got to work together and hangout.
How does someone contact you for a modeling project? You can contact me by emailing my booking manager at yngbrokeandtalented@gmail.com.
What is the largest gift offered to go out on a date with you? Louis Vuittons
Would you date a guy that you met on social network? Actually yes I would if he doesn't seem like a creep.
Do you have a passport? Indeed and I want to have every page stamped!