Bella
Age:
23,
United States
BELLA, The incredibly voluptuous Cuban Model from sunny Miami, FL. When the editor first noticed this girl he instantly knew that she was the one that would set the world on fire. Bella now residing in Orlando, FL where she attends a college working towards her bachelor degree. With curves, attitude and sex appeal Bella brings men to a halt every time that get a glance at her especially when she is cruising in her sexy new Mercedes Benz. She is clearly the reason why Florida is the place to live. Check out more of Bella in our soon to come members section where you can see exclusive picts shot by Rich Photo in Cocoa Beach, FL.
Basic Profile
Name: Bella

Gender: Female

Age: 23,

Country: United States
Appearance
Body: Thick

Ethnicity: White

Weight: 121kg (267 lbs)

Height: 167cm (5'5")

Hair Length: Long

Hair Color: Dyed (Other)

Eye Color: Brown

Orientation: Straight
Bella – Issue #1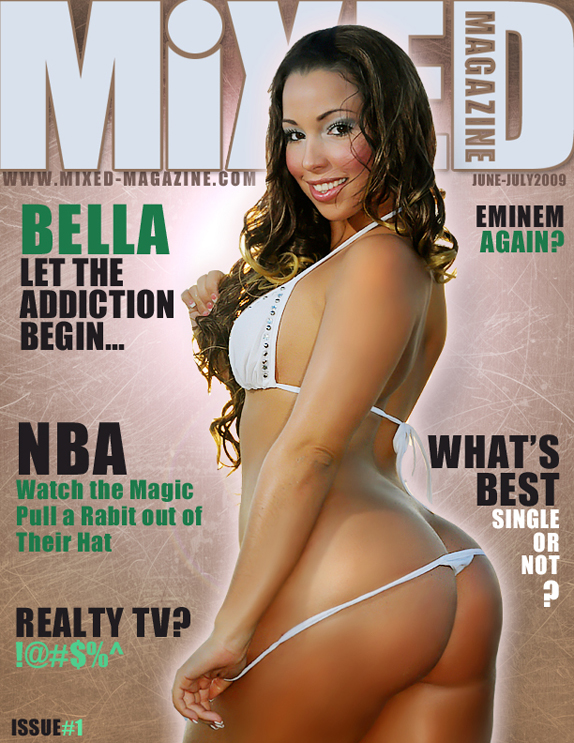 An Interview with BELLA:
How does a girl like you get involved with modeling? By a good friend of mine who photographed models.
Where are you from?I grew up in a small town called Naples , FL.
Where do you see yourself in 10 years? I see myself as a productive individual who has achieved a great career in modeling.
What kind of car do you drive? Mercedes Benz clk320
What is the secret to success? Not to give up and strive for success and the best.
What is in store for the future? I want to be able to take my modeling career to the next level and to succeed were few women have never made it.
What is your plan B job? Probably a registered nurse I love to take care of people!
What's the wildest thing you've ever done? Sex on the beach in the middle of the night.
What's the wildest thing you ever saw? I saw two individuals having sexual intercours in City Walk Orlando,Fl in front of hundreds of people.
So, do looks mean a lot to you when you're looking at the opposite sex? No, I love a man with a sense of humor and a great personality.
What type of man do you like? A man who bows down to my every desire and need.
Are you the laid back type or are you a wild child? I am a wild child especially in the bedroom.
Turn ons: An honest man who is self-confident
Turn offs: Bad hygene
What do you like to listen to? I like all genres of music.
What's in your CD player now? Usher
What did you listen to growing up? Alot of R&B and Hip Hop
What's your favorite gadget? My iPhone
Are you a designer label type of girl? Yes I love designer wear
Are you a hard worker? Yes I work for everything I have.
Is there anything that really pisses you off? No I am a pretty collective person and I don't let things get to me.
What are some of your favorite songs? You know a girl like me loves some soul. Check out some of my favorite songs below.
What makes you the most happy? Being around my friends and family and people who love me.
What do you do for fun when you're not modeling? Love tanning on the beautiful beaches of Florida.
Thong or Granny Panties? Thongs
Sex or Shopping? Sex first shopping later
Thank you Bella and much success!