Joanna Shari
Age:
24,
United States
Joanna Shari – PHENOMINAL! After noticing Joanna Shari a couple years ago I instantly knew that she was "The One" This Italian/American is the full package with all natural curves, brains and creativity. Mixed Magazine was lucky enough to finally shoot with her in sunny Miami on one of the nicest days of the year. Joanna 23 years young, and was born and raised just outside of the Newark area of New Jersey. She is a true New Jersey girl with confidence and style. Joanna has an amazing talent where she is a graphic designer. She says being a graphic designer helps her tremendously by being able to design all of her modeling promotional material from posters, logos and even her very own website. She considers herself a graphic designer first and model second. Joanna says she loves to hang with her friends, shop, listen to some r&b and get some home-cooked Italian food. Sounds like the perfect girl to me! You will never be able to get enough of this model so we packed in as many videos and pictures as possible this issue of the beautiful and unforgettable Joanna Shari.
Basic Profile
Name: Joanna Shari

Gender: Female

Age: 24,

Country: United States
Appearance
Body: Thick

Ethnicity: Mixed

Weight: 135kg (298 lbs)

Height: 162cm (5'3")

Hair Length: Long

Hair Color: Blonde

Eye Color: Brown

Orientation: Straight
Joanna Shari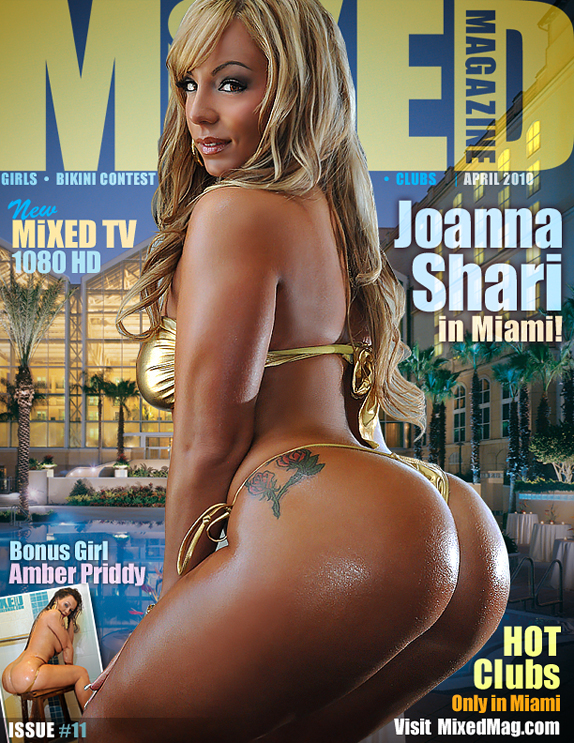 Interview with Joanna Shari:
How did you get into modeling?
Truthfully, I never aspired to be a model. I was contacted to design a couple models' websites for an agency and was eventually convinced to a try a test shoot myself. I was happy with the results and became eager to take on the modeling industry. I was lucky enough to be found by a manager and agency I can trust and worked from there.
Where were you born, and how was life growing up? I was born and raised in Northern New Jersey. Life for me growing up was pretty normal. I have great parents who did the best they could for my sister and I. They didn't give me everything, but just enough to know what it means to work for something.
What advice would you give to someone trying to break into modeling?
First I would suggest getting some professional pictures done and creating your own modeling portfolio. Make yourself known online though an official website, modeling website, or any type of networking community. Be careful who you do business with, choose selectively. A lot of people in this industry are rip offs.
What are you mixed with?
I'm 100% Caucasian. I'm mostly Italian (specifically Sicilian & Napledon), mixed with a little Irish & Polish. I was raised with my Italian-American culture, though. People keep asking me what kind of last name is Shari and that it doesn't sound Italian. That's because Shari isn't my last name, it's my middle name. My Italian last name is not quite catchy enough for modeling
How do you stay in shape?
I spend 3-4 days a week at the gym doing weight training and cardio. I do a lot of leg work. I've always had strong legs, so I like to keep them strong and toned. I stick to a pretty healthy diet, but it's impossible for me to stay away from pasta! I don't shy away from carbs, it keeps me thick the way I like. I just keep consistant at working out.
Is your body real?
My body is all-REAL! It's common nowadays for models to be fake but I'll be the first to tell you, I'm not one of them. My figure is the result of genetics and working out.
Do you do any adult work?
Absolutely not! I do not pose nude for any type of reason, nor am I an exotic dancer.
What nationality are you? I'm mostly Italian, also mixed with Polish and Irish.
What would the average person say about you? An average person that knows me would say I'm a cool, down to earth chic.
Are you a good dancer? I definitely know how to work my hips.
What's one thing about yourself that everyone should know? That I'm much more than just a pretty face and toned body.
What do guys compliment you most on? My curves
Do you consider yourself more of a "giver" or a "taker"? A taker
If you could have any car you wanted, what would it be? A brand new Maserati would be lovely.
Do you have any hidden talents? I'm a great swimmer
How did you get your start in modeling? I always liked to take nice pictures. I had my first photo shoot and was happy with the results. I took it a step at a time from there.
Myspace or Facebook? I used to be all for Myspace and not so much into Facebook, but times have changed! I'm kind of addicted to Facebook.
What's the craziest thing you've ever done? I'm not a big risk-taker or anything, but I must say it was pretty crazy of me to have my boy pierce my nose with safety pin! It was back in high school and I really wanted my nose pierced. I was prepared already with piercing solution so it was kept clean and healed perfectly. The piercing is still in today and looks great.. but if it ever closes up, I'm getting it professionally done!
Do you have a website? Yes, I have an official website as well as other social networks. Visit www.JoannaShari.com or follow me on Twitter.com/JoannaShari, Facebook.com/JoannaShariFanpage, Myspace.com/JoannaShari, Youtube.com/JoannaShari
Relationship Status: I'm not married.
Favorite Sports Team: I don't follow sports like that. I'm a girly girl. My twin sister is more into sports than I am – she's an Eagles fan, so since that's my twin I guess I'll go with that.
Favorite Comedian: Mike Epps, Lisa Lampinelli, and even though he's an actor – I love Vince Vaughn, he's always hilarious.

First Job: My first job was working at an urban clothing store in the mall. At first it was cool because I loved the clothing discount, but I hated the job. I hated working retail and the people were phony.
Piercings/Tattoos (How many? Where?): Six piercings. Two in each ear, a nose ring, and belly ring. I have two tattoos. One on my lower back of my name and another on my left hip of two roses intertwined into a heart.
How does someone contact you for a modeling project? I can be reached at bookings@joannashari.com
What do you like best about being a model? Having the chance to travel is the best thing about modeling for me. I love visiting new cities and meeting new people around the country. I've yet to travel the world.
What would you consider your strongest attribute? My integrity. The last thing I am is fake or phony -can't stand people like that so I try my best to be the opposite.
If you could go anywhere in the world, where would you go and who would you take with you? I've never been to Italy, and neither have my parents. It's one of my dad's dreams to go there someday and if I could take him there, that would be amazing.
We know you're a model and all, but you must have a favorite food. What is it? I have many favorites, especially when it comes to Italian food. I love Penne a la Vodka!
Do you like the nerdy type, UFC fighter guy or the regular joe? My type could be any of those, but I'd probably go for the regular joe if he's hot, and a sweetheart :)
Do you have any secret weaknesses or guilty pleasures? Chocolate or ice cream! I loooove it!
Describe your most embarrassing moment. Probably when my family first found out about my modeling. My uncle called up my dad and told him I was doing porn or something, and to log-on to my website. It scared the hell out of them until they actually checked out my site. They're not too crazy about the thongs and booty shots, but they were relieved to know it was NOT porn and I was covered up. I knew eventually they'd find out, but having my uncle call them up and tell them it was porn was pretty embarrassing.
What has been your most memorable experience as a model? It was my first official magazine shoot in Jamaica for Smooth Magazine. It was also my first trip out of the country. Jamaica was beautiful and I ended up coming back to the same resort last year because I loved it so much.
What's your biggest turn on? A guy that loves to please his woman without wondering what he's getting in return. I truly think that makes a man a real man!
Besides modeling, what do you do for fun? Go shopping, out to eat, out to a movie, even just relaxing at home on the couch with my favorite movie.
What are your dreams and goals? To live a long, happy life and have a loving husband and family. Family is an important thing to me – I'm looking forward to being a great mom someday.
Would you prefer a guy to pursue you, or do you like to be the aggressor? I prefer the guy to be the aggressor. I'll give little hints and eye contact to let him know it's OK to make the move, but I'm usually never the aggressor. I love being pursued.