Disneydi de la Concepcion
Age:
22,
United States
Meet the energetic Cuban model Disneydi de la Concepcion. This sweet and sexy 22 year old Miami babe is turning heads on a regular basis. She currently works as a Hooters girl and frequents bikini contests mostly in Florida. Her perfect physique leads her to win almost every bikini contest she joins. Disneydi is also a very talented actress and is pursuing her career in between her busy schedule. Her personality is loved by many when they quickly find out that she is very sweet and caring person. She is pure Cuban and loves everything about her culture from the dancing to the food. This model is very energetic and excited about the future as she has huge dreams. Make sure you keep an eye on this growing model/actress.
Basic Profile
Name: Disneydi de la Concepcion

Gender: Female

Age: 22,

Country: United States
Appearance
Body: Normal

Ethnicity: Hispanic / Latina

Weight: 125kg (276 lbs)

Height: 166cm (5'5")

Hair Length: Long

Hair Color: Black

Eye Color: Brown

Orientation: Straight
Disneydi de la Concepcion – Bikini Contest Champ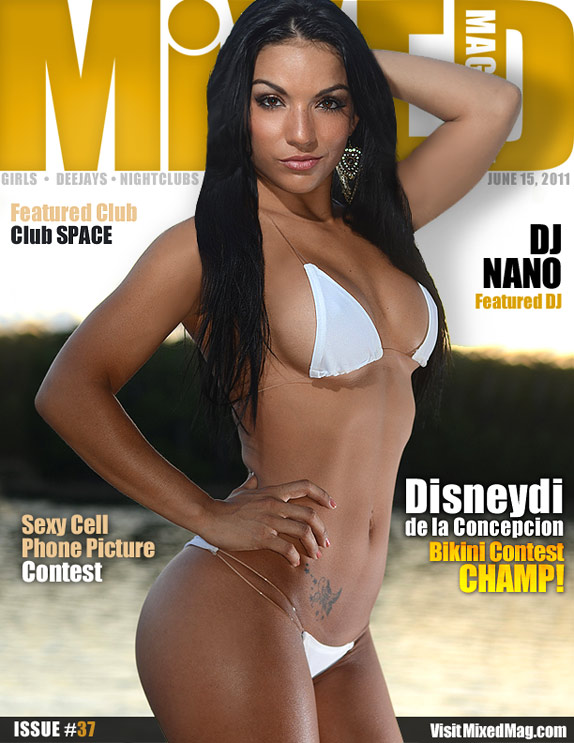 An interview with Disneydi de la Concepcion:
Where were you born, and how was life growing up?
I was born and raised in the beautiful island Cuba, in a small town called La Fortuna. My life growing up was a blast, I did what all kid wants to do, played barefoot outside in the street with other kids, jumped in clear and refreshing rivers, played with friends under the rain, just remembering that it makes me wanna go back to my childhood……
What nationality are you? Well Im cuban 100%
Do you go to college? Yes I do. Im attending Itt-Tech, my major is Health Information Technology. I also take acting classes.
What would the average person say about you? I think the average person would say about me that Im a very quiet girl but really fun and loud when you get to know me. People say that Im very serious and that I need to smile more often, but for some reason I cant but I don't think that makes me a mean girl and actually a very happy girlt. Also they would say that Im very trustworthy and a good friend :D
Are you a good dancer? Well yeah!!!! Im a great dancer I can say that, I have the salsa on my veins :D
Do you like the nerdy type, UFC fighter guy or the regular joe? I'm a regular girl so Im more into a regular joe… I like guys that make me laugh, very sweet , handsome and on perfect shape :)
Do you have any secret weaknesses or guilty pleasures? I really don't have any secret weaknesses but I do have a guilty pleasure and that is……. curly fries with cheese sauce from Hooters hahaha! lmao
What is the best part about being a model? The best part about being a model is that you get to know a lot of people, specially very talented photographers.
What's your biggest turn on? Is a secret
What's one thing about yourself that everyone should know? I could say that I'm a pretty good actress

What do guys compliment you most on? I get a lot of compliments on eyes and my hair.
Do you consider yourself more of a "giver" or a "taker"? Definitely a "giver"
If you could have any car you wanted, what would it be? A red Ferrary
Do you have any hidden talents? I could say I'm pretty good actress.The best part about being a model is that you get to know a lot of people, specially very talented photographers.
What would you consider your strongest attribute? I would consider my strongest attribute " my look"
If you could go anywhere in the world, where would you go and who would you take with you? I would go to Cuba right now and I will take my entire family ..
What is your favorite food? This is a really hard question, I love food but i would say mexican is my favorite, but I try to eat healthy so I try to not eat it very often …
What do you do for fun? Well for fun I would go to a Club with a group of friends but Id prefer to be at the beach by myself ….I just love the sounds of the waves, I don't think there's anything better than that!!!
What are your dreams and goals? Woa I have a lotttt of dreams and goals so many that I don't think this space will be enough, I will share them with you guys but like my moms says if you want a dream to come true don't share it with nobody :D
How did you get your start in modeling? All started up by doing bikini contest and that eventually developed into modeling
What do you use more facebook or twitter? I don't have any preference I use both twitter and Facebook =-)
How does someone contact you for a modeling project? You can contact me eather via email disneydi17@yahoo.com or by my modelmayhem page www.modelmayhem.com/disney123