Corinne Cherry
Age:
25,
United States
Meet Corinne Cherry! Our model scout found this busty babe walking in South Beach and couldn't resist to ask her to model. She easily accepted the offer and the next day she was in the South Beach studio showing off her perfectly tan busty body. The camera was clicking pictures so fast I think it started to sweat. Corinne brought all the right stuff. Her personality allows her to try new things and she loves meeting new people. She is very bubbly and she owes it all to her country of Italy. She says that the city of Rome is very magical and the people are extremely friendly. Corinne is a dream come true for sure. She loves to travel the world and she always seems to find time to work out. She is very positive about life and her new modeling career. She already stormed off to Ibiza where she is a well known party animal. Corinne is the real deal and we will be flying her back to Miami to show off her incredibly voluptuous body. Learn more about her below!
Basic Profile
Name: Corinne Cherry

Gender: Female

Age: 25,

Country: United States
Appearance
Body: Thick

Ethnicity: Hispanic / Latina

Weight: 130kg (287 lbs)

Height: 175cm (5'8")

Hair Length: Long

Hair Color: Brown

Eye Color: Brown

Orientation: Straight
Corinne Cherry – World Traveler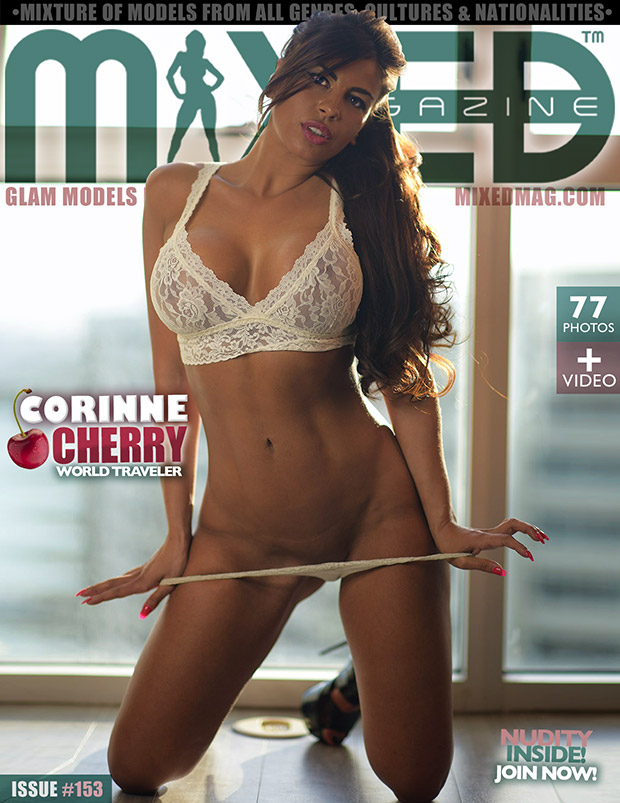 An Interview with Corinne Cherry:
Where were you born, and how was life growing up? I was born in Rome ITALY, I've always been the rebel kid at the school and the black sheep in the family. Growing up in a city like Rome is handsome and full of magic! :)
How did you get your start in modeling? This can sound like the movie story lol , but the first day I arrived in miami I was walking around South Beach and the talent scout of Seven talent agency ,Kelvin (my manager) he was driving his car and saw me cross the road in front of him so he turn and stopped me and he asked me if I was interested modeling for his agency. I felt to trust him. I have been right because he always protects me and cares about me.Then I have been introduced to @Richphoto305 and we collaborated on the first photoshoot and now here we are….
Favorite Sex position? all fours
Have you ever kissed a girl? many…
What has been your most memorable experience as a model? when i set a 80 dollars bamboo towel on fire during a candle photoshoot lol
What would the average person say about you? people use to say that I'm a sweetheart
What's your biggest turn on? unfortunately I like jerks with tattoos
What do guys compliment you most on? the honest one speak about my boobs and booties the liars about my smile lol
What do you sleeping in? nothing ;)
If you could go anywhere in the world, where would you go? right now would love to go Thailand …and visit singapore too
We know you're a model and all, but you must have a favorite food. What is it? sushi defently
What are your dreams and goals? actually Ijust dream to be happy and travel the world. I"m Rich enough to be independent. I would like to Buy a house next to the sea and Have a lovely family
Would you prefer a guy to pursue you, or do you like to be the aggressor? I will for them to purse me…but i always end up being the aggressor i'm a hunter
First Job: selling books on the streets in Rome
How does someone contact you for a modeling project? My now manager Kelvin stopped me in the streets of South Beach and got me interested :)
What is the largest gift offered to go out on a date with you? a lot of money …but I refused it. I was really young I get offended. lol
Would you date a guy that you met on social network? yes, you never know and actually now social network is the easiest way to meet new people.
Do you have a passport? sure I have a passport and I want to collect stamps as much as I can