Alexis Fallon
Age:
25,
United States
Meet the incredible Alexis Fallon. This Baton Rouge babe was hiding for a little while until she was noticed by our model scouts and a couple of photoshoots later and she is blowing up the scene in Hollywood, California. They always say smoke rises to the top and there is no holding down this smoke bomb. Alexis is one model that has a little bit of everything. She has an incredible body, a beautiful face, piercing green eyes and a fiery personality to bundle it all together. She has big dreams and they are quickly coming true. As soon as she moved to Los Angelas she has been approached by all the top companies and now works full time as a model. It took her no time at all to make new friends and lock in jobs. She enjoys the good life of getting paid to be pretty. Learn more about her below and don't forget to join to see her exclusive content.
Basic Profile
Name: Alexis Fallon

Gender: Female

Age: 25,

Country: United States
Appearance
Body: Thick

Ethnicity: White

Weight: 140kg (309 lbs)

Height: 170cm (5'6")

Hair Length: Shoulder Length

Hair Color: Black

Eye Color: Green

Orientation: Straight
Alexis Fallon – Bad & Pretty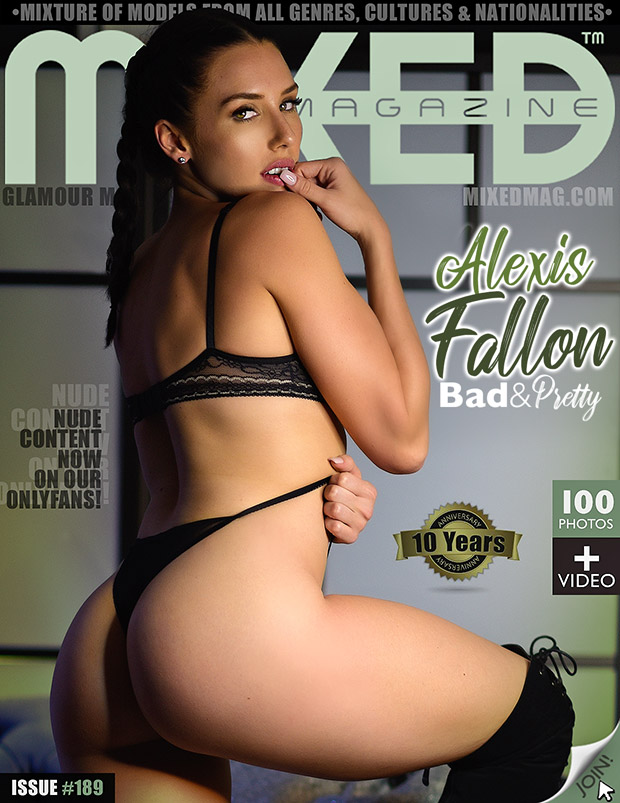 An Interview with Alexis Fallon:
Where were you born, and how was life growing up? Baton Rouge, Louisiana,. Live was close knit, conservative and cajun
How did you get your start in modeling? I got serious about it through social media on instagram
Favorite Sex position? Doggy Style
Have you ever kissed a girl? Yes College fun
What has been your most memorable experience as a model? Now coming to Miami to shoot.
What would the average person say about you? That I'm outgoing, silly and humble
What's your biggest turn on? Someone who can make me laugh and confidence
What do guys compliment you most on? My eyes and booty
What do you normally sleep in? Nothing
If you could go anywhere in the world, where would you go? Costa Rica so I can be in the jungle with the monkeys lol
We know you're a model and all, but you must have a favorite food. What is it? Sushi
What are your dreams and goals? I want to be a successful model
Would you prefer a guy to pursue you, or do you like to be the aggressor? I would rather be pursued
First Job: working at a summer camp
How does someone contact you for a modeling project? alexisfallon.fit@gmail.com
Would you date a guy that you met on social network? no
If somebody wanted to book you abroad do you have a passport? Yes