Aidan Nycole
Age:
25,
United States
Aidan Nycole is the curvy sexy babe from Miami, Florida. Her spunky personality puts her in a league of her own. She has spent several years working in the glittery clubs in the Miami nightlife scene and just recently started to take a shot at modeling because so many people have told her to get into modeling. The modeling world always welcomes fun and professional girls. Aidan was born to be sexy and she brings 110% to each photo shoot. Her body is screaming with curves from her boobies to her bootie and her face can't get any prettier. Her ability to pose for the camera and work with photographers has veteran style. Anyone wanting to shoot with Aidan will not be disappointed. Mixed Magazine was lucky enough to shoot her for the cover. We shot the whole shoot using just a video camera and captured some extremely sexy scenes of her in lingerie, implied nudity, shower scenes and more.
Basic Profile
Name: Aidan Nycole

Gender: Female

Age: 25,

Country: United States
Appearance
Body: Normal

Ethnicity: White

Weight: 124kg (273 lbs)

Height: 154cm (5'0")

Hair Length: Long

Hair Color: Honey Blonde

Eye Color: Hazel

Orientation: Straight
Aidan Nycole is the Undercover Lover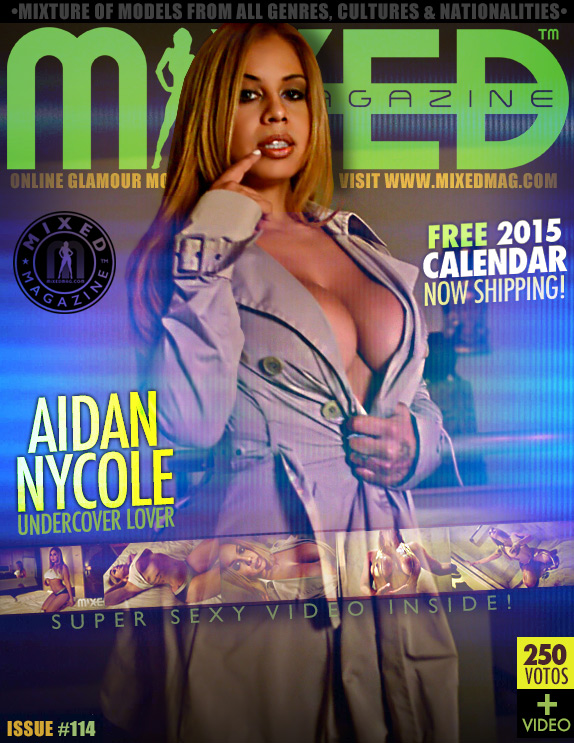 An Interview with Aidan Nycole:
Where were you born, and how was life growing up? New Orleans and I grew up with Football, hot sauce and Hot Boyz. Life was great and I grew up in a catholic school.
How did you get your start in modeling? I got involved from Seven Talent Agency
What has been your most memorable experience as a model? My photoshoot with Mixed Magazine. They had the Hennessy ready to go.
What would the average person say about you? That I completely love you or I keep on driving oh and I give really good lap dances.
Describe your most embarrassing moment. I had a guy pants me during catholic school in 7th grade.
What's your biggest turn on? Spontaneious sex
What do guys compliment you most on? Personality
What do you normally sleep in? Nothing
If you could go anywhere in the world, where would you go? Scuba Diving in the Red Sea
We know you're a model and all, but you must have a favorite food. What is it? Craw fish with a lot of hot sauce
What are your dreams and goals? To have kids
Would you prefer a guy to pursue you, or do you like to be the aggressor? I like to pursue
First Job: Hostess at an Italian Restaurant
How does someone contact you for a modeling project? aided.nycolemgmt@gmail.com
Whats the nicest thing someone has done for you? My little sister got sick once before and I gentleman payed for the doctor's bill.
Would you date a guy that you met on social network? yeah
Do you have a passport? Yes
Who is your favorite photographer? Mixed Magazine photographer because I felt so sexy during the whole shoot