Ednyr Marie
Age:
22,
United States
Meet the March 2010 Mixed Magazine Cover Model Ednyr Marie. This curvy sexy latin beauty is from Puerto Rico, USA. Ednyr is no newbie to the scene of sexy bikini and lingerie modeling. In fact she has been a model for several years and has had the opportunity to tour with some of the hottest latin models in the world by the names Joanna Pena, Pam Rodriguez, Jessica Burciago and Melissa Marie just to name a few. She is clearly amongst the top elite latin models in America. She wins bikini contest regularly and she is hosting parties at the finest clubs. She currently resides in Orlando, Florida. Edynr Marie is an extremely laid back and cool model with a fun personality. She loves to keep it sexy as she drives her choice of her Mercedes Benz or Lexus.
Basic Profile
Name: Ednyr Marie

Gender: Female

Age: 22,

Country: United States
Appearance
Body: Thick

Ethnicity: Mixed

Weight: 111kg (245 lbs)

Height: 164cm (5'4")

Hair Length: Long

Hair Color: Black

Eye Color: Brown

Orientation: Straight
Ednyr Marie – Latin Beauty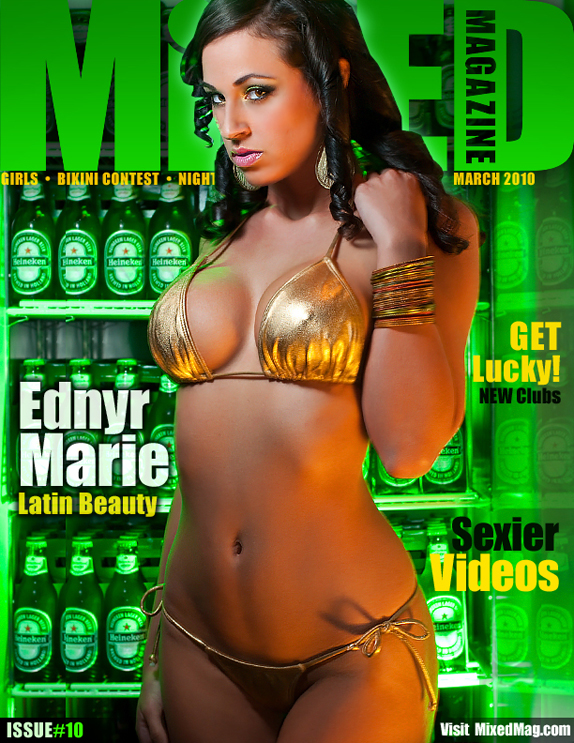 Interview with Ednyr Marie:
Where were you born, and how was life growing up? I was born in the beautiful island of Puerto Rico, then moved to sunny Florida where i've happily lived ever since.
What nationality are you? Boricua baby!
What would the average person say about you? She's so sweet :)
Are you a good dancer? humm… ask my boyfriend. lol
Do you like the nerdy type, UFC fighter guy or the regular joe? Well, you have to have a great personality, be detailed and have a good sense of style, and honest!
Do you have any secret weaknesses or guilty pleasures? I love food!!!! Shh…. i'm on a diet. lol
Describe your most embarrassing moment. Wow, which one???? Too many to just pick one.
What has been your most memorable experience as a model? Modeling is so much fun and you meet so many great people on the way. I think that every moment experience is a memorable one, whether its a good one or a bad one.
What's your biggest turn on? a guy who can drive fast!
What's one thing about yourself that everyone should know? I'm a twin!
What do guys compliment you most on? My smile…. and behind my back…. my butt :)
Do you consider yourself more of a "giver" or a "taker"? giver
If you could have any car you wanted, what would it be? Skyline GTR
Do you have any hidden talents? Bartender!
What do you like best about being a model? traveling
What would you consider your strongest attribute? my personality and confidence
If you could go anywhere in the world, where would you go and who would you take with you? Dubai, Bora Bora, Fiji…. its hard to choose but I would bring a special person in my life named "Izzy"
We know you're a model and all, but you must have a favorite food. What is it? Everything!!!! Spanish, Italian, Sushi, and the list goes on.
Besides modeling, what do you do for fun? What a girl does best…. SHOPPING!
What are your dreams and goals? To be a successful business owner while being a hot wife and mom. lol
Would you prefer a guy to pursue you, or do you like to be the aggressor? pursue me please
How did you get your start in modeling? at a car show I went to
Myspace or Facebook? Why choose when you can have both!
What's the craziest thing you've ever done? Humm…. if I tell you, I have to kill ya
Do you have a website? Waiting on Gawlik to get on it! lol
Relationship Status: Happily Taken
Favorite Sports Team: GO MAGIC!
Favorite Comedian: Dane Cook
First Job: Themed dinner show photographer
Piercings/Tattoos (How many? Where?): No thanks
What fun fact or talent should guys know about?: I can ride motorcycles!
How does someone contact you for a modeling project? www.modelmayhem.com/ednyrmarie or ednyralequin@aol.com