Anne Cathrine
Age:
28,
United States
Meet the fitness model from Norway named Anne Cathrine! This fresh face model was spotted walking on South Beach with some sexy little booty shorts by one of our top model scouts. She was quickly approached to shoot photos and the next day she showed up with her bikini and the rest is history. Her thick tan booty was on fleek with the sun beaming down on her as she posed very sexy like she had been modeling for years. It was easily apparent that this babe had been wanting to showcase her talents in front of the camera for a long time. Her sex appeal was everywhere. It was impossible to shoot a bad image of this babe. Her hard work had definitely paid off. Her booty was so sexy that she ran the battery to zero percent very quickly. Anne is from Norway and has recently moved to Miami in February of 2018. She had always wanted to model but could never find the right situation in her country but Miami welcomes all sexy babes with open arms. She is very professional and full of life. Her dreams and goals are to be a successful fitness trainer while modeling and becoming a large brand with millions of fans worldwide. I'm confident this model will achieve nothing but success with her strong will to succeed and that crazy booty she is walking around with. Learn more below and purchase her exclusive content!
Basic Profile
Name: Anne Cathrine

Gender: Female

Age: 28,

Country: United States
Appearance
Body: Petite

Ethnicity: Pacific Islander

Weight: 55kg (121 lbs)

Height: 165cm (5'4")

Hair Length: Long

Hair Color: Blonde

Eye Color: Green

Orientation: Straight
Anne Cathrine – Norwegian Fit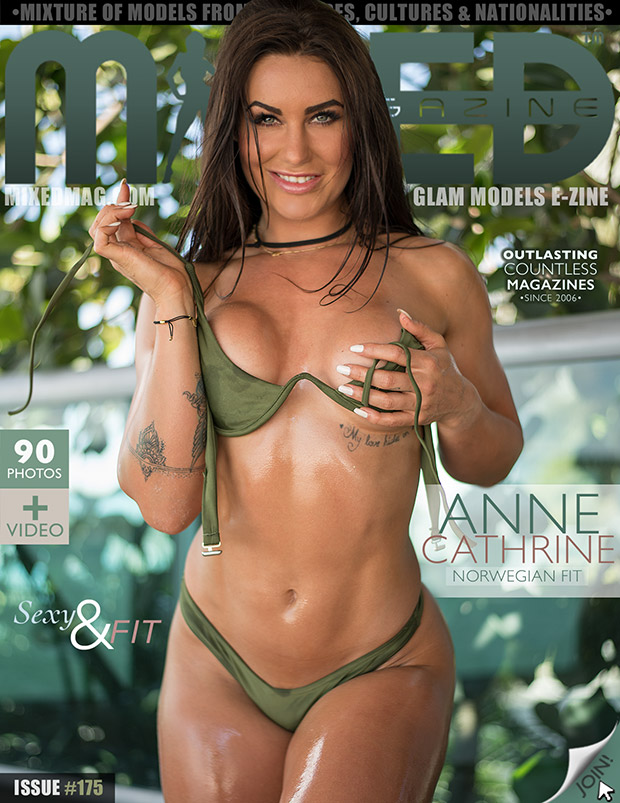 An Interview with Anne Cathrine:
Where were you born, and how was life growing up? My life har been a hard journey, and nothing has comes easy in my life. I have always been working twice as the other to get on the same level, step by step, day by day, specially in school. I grow up on a farm in a little place called 3050 Mjøndalen and I'm visiting the farm as often as I can. I grew op with a great atmosphere of love from my parents, sisters and the animals on the farm. I'm a big animal lover, and would never ever imagine a life without animals, they are so supporting and love you no matter what.
How did you get your start in modeling?
I had my first shoot when I was 18. I have always loved to be in front of the camera, specially when the results turn out well, as they always do.
What has been your most memorable experience as a model?
This so far definitely. I'm so glad I moved to Miami! But I hope it doesn't stop here eather. I love shooting and modeling. I would never imagine that my journey would start on a sidewalk. My history is crazy, I hope someone will write a book about it one day, it would be a really good one. Lol
What would the average person say about you? I really dont know, but I hope it's nice. Ofc i do care a lot about what people think of me, but what I don't care about is when they try to tell me "don't do that". When I think after, I have never told a person do not do something a person really want. If you want something, you have to f****** work for it, and DO it! I know it's hard, but hopefully one day it pays off, they all say it dose.
What do guys compliment you most on?
I actually get a lot good comments about my personality witch I think is awsome. Accept from that I hear I have beautiful eyes and a great figure.
What do you sleeping in?
I usaltet sleep in a sports brah snd hotpants, ready for gym the day after.
If you could go anywhere in the world, where would you go?
I like Miami tho, would probably just stay here. But as a vecay it would be cool to check out Bali, Dubai and a safari in Africa.
We know you're a model and all, but you must have a favorite food. What is it? Omfg, yes! I Love food! I usually never eat on restaurants because I always make better food on my own. I have s huge weakness for chocolate and coconut, and ice cream! And as a meal I love chicken satay with peanuts. But my diet is always the healthiest worsen, and I'm very strict with my macros for the day.
What are your dreams and goals? My dreams are my secret, and my goals are unbelievable. I will never ever tell anyone before it's done
Would you prefer a guy to pursue you, or do you like to be the aggressor? I need an alpha, for shure.
First Job: Hahaa this is fun. My first job was actually on my fathers farm in Norway. I have worked at the farm sins I couldn't walk. And i really appreciate everything he has been teaching me. I never went to kindergarten because I always was working with my mom and dad, and surrounded by good energy from all the lovely animals at the farm. I think the first ring I ever did was to pack salad in plastic bags and do ready for delivery to the stores, I think I was 4 years old.
How does someone contact you for a modeling project? They can contact me on Instagram @anne_cathrine_fit But only professionals please! Usually I get stopped on the street and that's ok to
What is the largest gift offered to go out on a date with you? To be the person that takes my attention is the biggest and best gift, and it's very hard to find
Would you date a guy that you met on social network? Absolutely! A lot of people meet on sosial media today. I think thats a great opportunity to know the person better before meeting. When you see other people's stories on Instagram and Snapchat you kind of make your self a picture about how the other person are and what he do as a lifestyle.
Do you have a passport? Yes