Marlene Mendez
Age:
22,
Dominica
Marlene Mendez of the Bronx, New York is in a league of her own and she loves to be in front of the camera. This 22 year old Dominican model is flawless from head-to-toe and her love for modeling is obvious as she displays countless poses to showcase her incredible natural curves. She has modeled for several big named photographers and has recently made the cover of Spicy Magazine and is a World Star Hip Hop iCandy Model. Marlene loves to explore the art of modeling and she has a very keen eye for excellence and creativity. She is tattoo free because she wants to allow photographers to work with a clean canvas without any limitations. Marlene takes professional modeling very seriously and hopes to be a famous model one day. She loves to be versatile and can fit in almost every setting.
Basic Profile
Name: Marlene Mendez

Gender: Female

Age: 22,

Country: Dominica
Appearance
Body: Normal

Ethnicity: Hispanic / Latina

Weight: 122kg (269 lbs)

Height: 167cm (5'5")

Hair Length: Long

Hair Color: Black

Eye Color: Brown

Orientation: Straight
Marlene Mendez Wearing Fishnet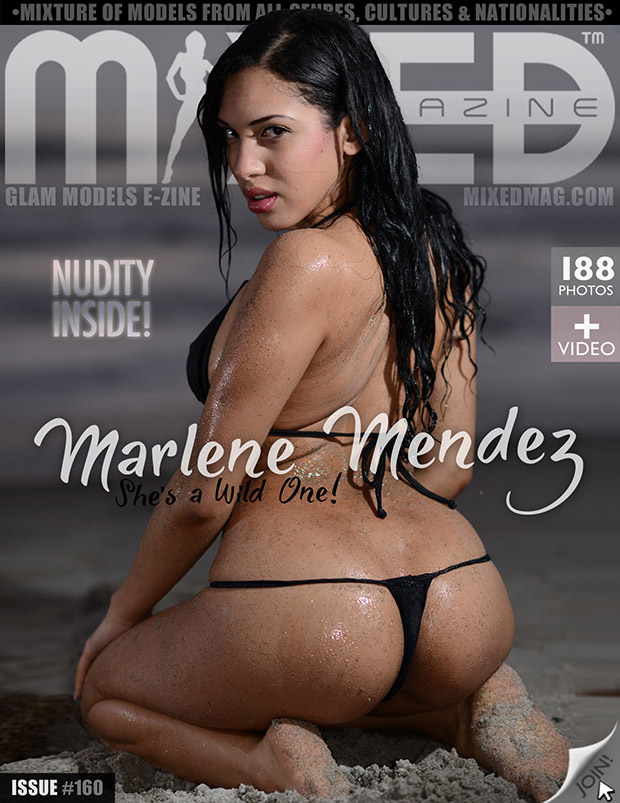 An interview with Marlene Mendez:
Where were you born, and how was life growing up?
I was born in Washington heights and raised in a Queens. Growing up I was a big tom boy and all I did was play sports and hang with the boys.
What nationality are you?
I'm 100% dominican.
What would the average person say about you?
The average person would say that I'm free-spirited and comfortable in my own skin.
Are you a good dancer?
I'm dominican of course I'm a good dancer. I can probably dance circles around you.
Do you like the nerdy type, muscle guy or the regular joe?
Honestly I like the nerdy type I think it's so cute.
Do you have any secret weaknesses or guilty pleasures?
Yes I love puppies, chocolate ice cream, and jello shots!
Describe your most embarrassing moment.
An embarrassing moment would probably be when I was hosting an event and the microphone stopped working. It was so unprofessional and it made me look like I didn't know what I was doing. Eventually people forgot about it and I just kept smiling.
What has been your most memorable experience as a model?
The day I modeled at the Exotics in times square event for charity. I got to meet great people and pose with beautiful exotic cars. I got to pose next to the Batmobile and I got to wear a bikini doing it.
What's your biggest turn on?
My biggest turn on is when a guy has manners and knows how to treat a lady. Chivalry is not dead guys.
What's one thing about yourself that everyone should know?
I don't have any tattoos.
What do guys compliment you most on?
Guys mostly compliment on my smile unless you've seen me naked.
Do you consider yourself more of a "giver" or a "taker"?
I'm definitely a taker but I'm generous once you butter me up.
If you could have any car you wanted, what would it be?
It would probably have to be a range rover.
Do you have any hidden talents?
Yes I can pop my booty like a stripper and move my boobs without touching them.
What do you like best about being a model?
What I like most about being a model is coming up with creative ideas to incorporate into the shoot and being able to be a part of the creative process.
What would you consider your strongest attribute?
My strongest attribute is being versatile. I can give you a really innocent look one second and the next I can pull of sexy and erotic. It's a gift from the gods!
If you could go anywhere in the world, where would you go and who would you take with you?
I would probably go to the Bahamas or Hawaii and I would take my puppy.
We know you're a model and all, but you must have a favorite food. What is it?
I really like fried plantains, fried shriimp and anything fried basically.
Besides modeling, what do you do for fun?
I go out clubbing with my friends, I go to the gym and out to dinners.
What are your dreams and goals? I want to be an established model and hopefully be published or featured in the best magazines. I want to do ad campaigns shoot for fashion designers. I also want to get my foot in the door with acting and be featured in a t.v show or movie.
Would you prefer a guy to pursue you, or do you like to be the aggressor? I would like a guy to pursue me because I don't want to be the one making the first move.
How did you get your start in modeling? I started modeling when I was 18 after doing my first photoshoot with an agency. I really enjoyed being in front of the camera so much and I've been doing it ever since.
What is your favorite social network? Twitter. Follow me @NYCMODELO
What's the craziest thing you've ever done? The craziest thing would probably be when I went skinny dipping after a photoshoot at the beach!
Do you have a website? No but I will have one very soon so stay tuned!
Relationship Status: Single.
Favorite Sports Team: The yankees.
Favorite Comedian: Kevin Hart.
First Job: Answering phones in an office.
Piercings/Tattoos (How many? Where?): I only have my belly pierced.
What fun fact or talent should guys know about?: I know how to ride a motorcycle!
How does someone contact you for a modeling project? You can contact me at Nycmodelo@gmail.com