Gabrielas Paradise
Age:
23,
United States
Gabrielas Paradise pretty much sums it up, because when working with Gabrielas is like having a moment in paradise. She immediately makes a connection with you as if you have known her for years. Her sweetheart ways make you want to do your best work for her and she gives the same back to you. As a model she is willing to do whatever it takes to get that perfect shot. She lets her booty do most of the work because it's hard to take focus off of her voluptuous perfectly round booty. Every person that meets this young fresh face model instantly falls in love with her. A models physical appearance is always important but having a great attitude is equally as important and Gabrielas Paradise possesses both. If you are looking for a model who is easy to work with for your next project then choose this professional model and you will feel like you are in Gabrielas's Paradise!
Basic Profile
Name: Gabrielas Paradise

Gender: Female

Age: 23,

Country: United States
Appearance
Body: Thick

Ethnicity: White

Weight: 130kg (287 lbs)

Height: 165cm (5'4")

Hair Length: Long

Hair Color: Black

Eye Color: Brown

Orientation: Straight
Gabrielas Paradise – Name says it all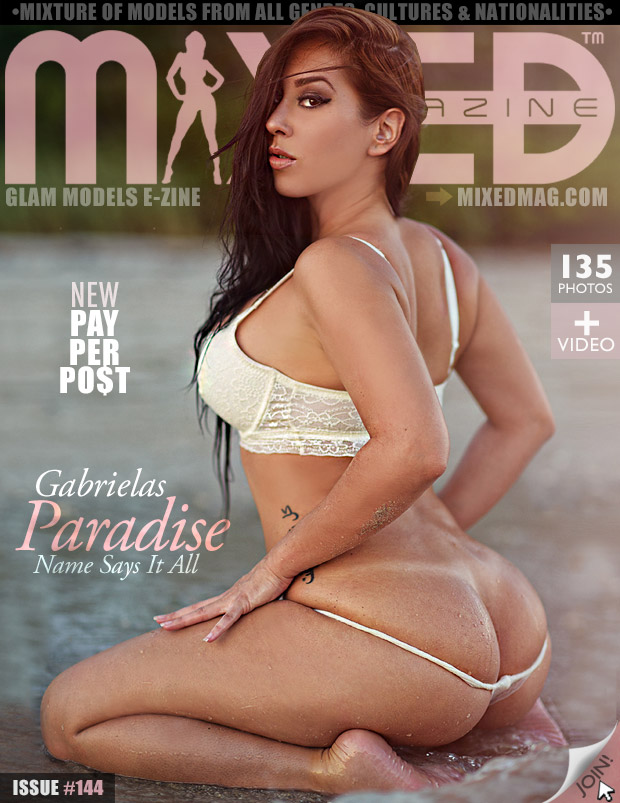 An Interview with Gabrielas Paradise:
Where were you born, and how was life growing up? I was born in Miami, Fl. I grew up around 8th st, a very latin community and my family was always very close. I don't have a big family but the few people in my family were always enough. I grew up in a neighborhood full of kids my age so I can say my childhood was full of memories
How did you get your start in modeling? Started taking professional photos in 2012 and began researching where I could be a model considering im not tall and skinny like the average model.
Favorite Sex position? Thats a secret :)
Have you ever kissed a girl? No
What has been your most memorable experience as a model? The time when I do music videos and have a team glam me up. I love the feeling every time
What would the average person say about you? I am fun to be around, down to earth, pretty intelligent and aggressive at times
Describe your most embarrassing moment. Really anytime I trip in public is always horrible. Especially with heals on and my ankle twists after taking a wrong step. Sooo emberassing
What's your biggest turn on? Confidence, intelligence and a great smile. Someone who knows how to be a real man.
What do guys compliment you most on? My eyes and butt
What do you sleeping in? Big t shirts and pantiesIf you could go anywhere in the world, where would you go? Egypt
We know you're a model and all, but you must have a favorite food. What is it? I have a few favorite foods. First, I love cuban food especially croquetas and pastelitos. Second, I love sushi. Third, burgers are usually a go to for cheat day.
What are your dreams and goals? I plan to open a business in the next few years
Would you prefer a guy to pursue you, or do you like to be the aggressor? I don't like people to bother me to go out with them.I like someone to be interested in me but also confident enough and respects themselves not to beg me to spend time with them
First Job: In the modeling industry my first job was a Gucci Mane music video for his song "Me" back in 2013
How does someone contact you for a modeling project? Email is the best way
What is the largest gift offered to go out on a date with you? I don't trade dates for gifts. I go out with someone if I like them
Would you date a guy that you met on social network? Yes, I have
Do you have a passport? Yes