Kiki Kayo
Age:
21,
United States
Meet Tampa Bay's Finest mixed model Kiki Kayo!

She is 50% caucasion and 50% african american. Her eyes are light green and her booty is just a dream. Shooting Kiki was like being in the wild with the most fiercest tiger as she pranced around with powerful yet delicate poses that set the camera on fire. Of course there was no short of whistles, hoots and hollars from the driving by crowd in Tampa, Florida during rush hour traffic. Kiki is the kind of girl you must treat with tender loving care or else. She is a strong 21 year woman with a clear path for success. She is relatively new to the modeling world but it won't take long for her to become one of the biggest names in the business. Kiki was flooded with compliments during the shoot and after until she left just to make sure there was no question that she is a true dime piece.

If you want to see some of the sexiest pictures and videos of this shoot just join the member section to continue the phenomenon. Click here to Join!
Basic Profile
Name: Kiki Kayo

Gender: Female

Age: 21,

Country: United States
Appearance
Body: Petite

Ethnicity: Black

Weight: 53kg (117 lbs)

Height: 166cm (5'5")

Hair Length: Shoulder Length

Hair Color: Black

Eye Color: Grey

Orientation: Straight
Kiki Kayo – Mesmerizing Beauty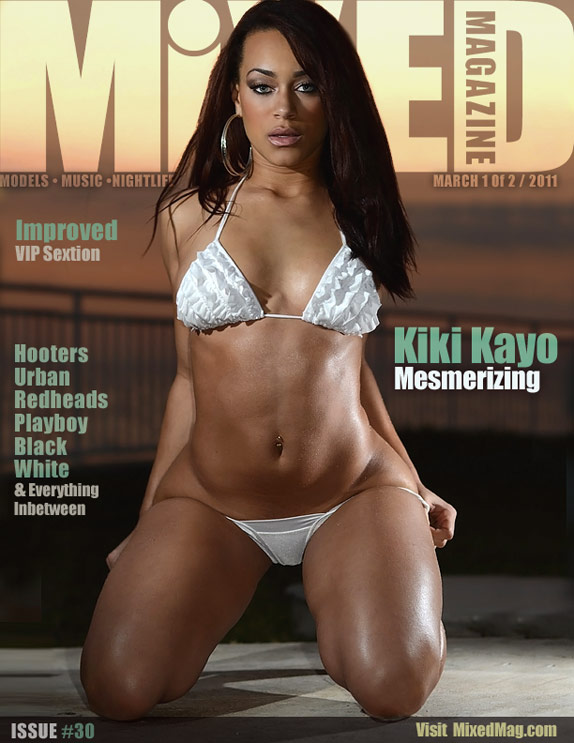 An interview with Kiki Kayo:

Where were you born, and how was life growing up? Tampa Florida baby! I'm the only child from my mom soo life was pretty good.
What nationality are you? blk|white
Do you go to college? yes
What would the average person say about you? You never know what's coming next…
Are you a good dancer? sure, I can shake my ass.. Can't every girl ?
Do you like the nerdy type, UFC fighter guy or the regular joe? Can I have all 3 wrapped in 1 ?
Do you have any secret weaknesses or guilty pleasures? Canned peaches and sex and the city
What's your biggest turn on? If You whisper in my ear its over
What do guys compliment you most on? My ass
Do you consider yourself more of a "giver" or a "taker"? Both
If you could have any car you wanted, what would it be? Flat black phantom
Do you have any hidden talents? lol. Their hidden
What do you like best about being a model? Dressing up and meeting new people
What would you consider your strongest attribute? Kindness
If you could go anywhere in the world, where would you go and who would you take with you? Egypt and my mom for sure
What is your favorite food? i love spanish food
What do you do for fun? anything new
What are your dreams and goals? To be of great value
How did you get your start in modeling? First photoshoot with hasan at Facetstudios
Twitter? twitter.com/kikikayo
Do you have a website? Coming soon
Favorite Sports Team: Boston Celtics
Favorite Comedian: Katt williams
First Job: dry cleaners
How does someone contact you for a modeling project?TSDagency@gmail.com