Jasmin Cadavid
Age:
21,
United States
You are probably asking yourself the question, "How does Mixed Magazine continue to find perfect bombshells week after week?" and to be truthful we don't know either. As you can see Jasmin Cadavid keeps the experience going. This latin/filipino Miami model is turning everyone's head with her perfectly beautiful face and her incredible all in the right place curves. Her sexy appeal is just oozing off of her in a way she can't even describe. Her smile melts everyone, men or women. She is basically what I like to call "PERFECT!" Jasmin is the total package. She is only 21 but handles her business. She goes to school full time, teaches dance classes, works out daily and models every other day. As you can see she brought out the heavens during her South Beach photoshoot with Mixed Magazine.

Make sure you Join the Members Section to see exclusive photos and videos of Jasmin by CLICKING HERE!
Basic Profile
Name: Jasmin Cadavid

Gender: Female

Age: 21,

Country: United States
Appearance
Body: Athletic

Ethnicity: Black

Weight: 45kg (99 lbs)

Height: 152cm (4'11")

Hair Length: Shoulder Length

Hair Color: Blonde

Eye Color: Brown

Orientation: Straight
Jasmin Cadavid – Fit and Fine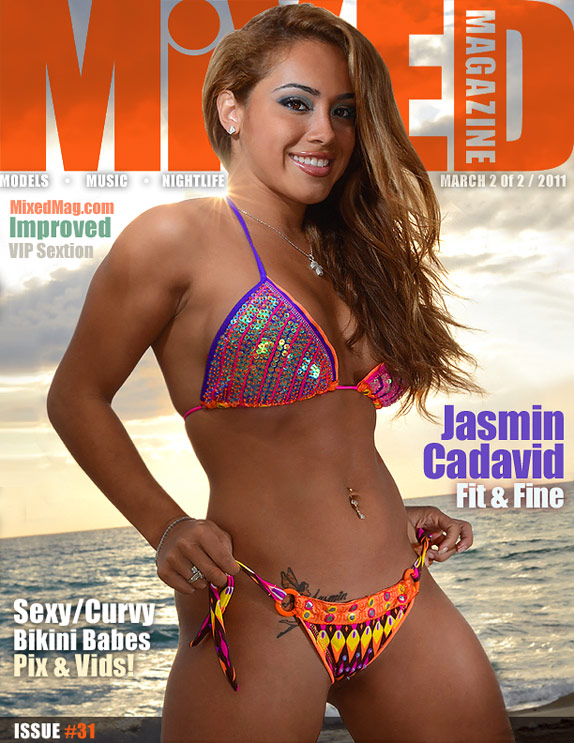 In interview with Jasmin Cadavid:
Where were you born, and how was life growing up?
I was born in Miami, FL. Born and raised, and my life was pretty good, MVP athlete, most attractive, gifted student.
What nationality are you?
Dad is Colombian, mom is Guatemalan
Do you go to college? Yes. I am on the Dean's List
What would the average person say about you? I am a very caring, passionate person who knows what she wants out of life.
Are you a good dancer? Yes, you can check out my YouTube videos.
Do you like the nerdy type, UFC fighter guy or the regular joe? I don't have a type. I like a man who knows how to take care of himself but more importantly knows how to take care of me.
Do you have any secret weaknesses or guilty pleasures? Yes, my dog Snoppy. He makes me melt every time I see him.
What's your biggest turn on? Honesty. That is such a hard trait to find in people.

What's one thing about yourself that everyone should know? I love life and live mine to the fullest.
What do guys compliment you most on? My eyes. I get a lot of comments on my eyes.

Do you consider yourself more of a "giver" or a "taker"? Giver but I am not against being a taker!
If you could have any car you wanted, what would it be? Bentley, the new 2011
Do you have any hidden talents? Yes, I am a accomplished singer. Currently working on my first CD.
What do you like best about being a model? Taking pictures. I love being in front of the camera.
What would you consider your strongest attribute? Confidence. I know I am capable of anything!
If you could go anywhere in the world, where would you go and who would you take with you?
Australia with my grandma mom and baby sisters
What is your favorite food? Stone crabs
What do you do for fun? Workout and spend time with my family.

What are your dreams and goals? To make it a a worldwide recognized model and singer.
How did you get your start in modeling? A photographer asked me to take some pictures and the rest is history.
Myspace or Facebook? FACEBOOK.COM/JASMINCADAVID

Do you have a website? www.jasmincadavid.com

Favorite Sports Team: Heat

Favorite Comedian: Kat Williams
How does someone contact you for a modeling project? bookings@jasmincadavid.com