Lexi Aree
Age:
29,
United States
Lexi Aree is the fresh face busty 18 year old model from Cincinnati, Ohio and is now the December Mixed Magazine cover model! Every Christmas issue is always packed full of busty beauties and this year we decided to go to our list of fresh face models to give you something nobody has every seen. Lexi just celebrated her 18th birthday a month ago and is now ready to take over the game. It's not every day you see a model with a beautiful face, huge boobs, big butt and enormous personality. We booked a full week long photoshoot with Lexi in sunny Florida and it was one of the most memorable experiences ever. Lexi is a total comedian as she joked around constantly and still is able to bring extreme heat to every photoshoot. When you are not laughing your ass off with Lexi Aree you are sweating your ass off. She has been waiting many years to turn of age and now she is here so get ready to see tons of Lexi Aree! She says she was well aware of her sexuality at a very young age. Everywhere we went people were stopping her to tell her how sexy she is while she loved every second of it but one of the most beautiful things about her is she is always so sweet to everyone no matter what. Make sure you join our exclusive member section where you can see her go to work on set for her Xmas cover shoot in her candy striped lingerie.
Basic Profile
Name: Lexi Aree

Gender: Female

Age: 29,

Country: United States
Appearance
Body: Thick

Ethnicity: White

Weight: 61kg (134 lbs)

Height: 166cm (5'5")

Hair Length: Long

Hair Color: Blonde

Eye Color: Brown

Orientation: Straight
Lexi Aree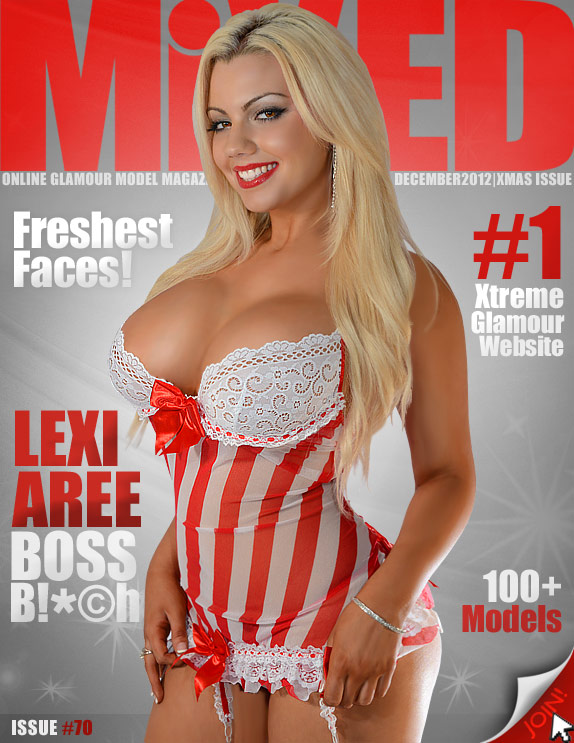 An Interview with Lexi Aree:
Where were you born, and how was life growing up? Cincinnati, Ohio. I grew up so fast that I feel like such a mature woman at only 18.
What nationality are you? Polish & French
What would the average person say about you? That I'm sweet, fun, outgoing, caring and very street smart.. oh and a little weird and crazy lol
Are you a good dancer? Yes
Do you like the nerdy type, UFC fighter guy or the regular joe? I love all types of men as long as their respectful and successful or on their way to success
Do you have any secret weaknesses or guilty pleasures? I love to spoil people
Describe your most embarrassing moment. My friends put a video of me on youtube falling off the bed when I was drunk lol
What's your biggest turn on in a man? An honest guy who isn't scared to say anything
What's one thing about yourself that everyone should know? I'm a very tough minded person
What do guys compliment you most on? Guys compliment me for being silly and cute
Do you consider yourself more of a "giver" or a "taker"? it's a two way street baby
If you could have any car you wanted, what would it be? Lambourgini
Do you have any hidden talents? I can do a guys belt with my toes
What do you like best about being a model? Being sexy
What would you consider your strongest attribute? I'm always sweet to everyone no matter what
If you could go anywhere in the world, where would you go and who would you take with you? Paris with my doggies
We know you're a model and all, but you must have a favorite food. What is it? My moms homemade white chicken chili
Besides modeling, what do you do for fun? I like to make funny videos
What are your dreams and goals? To be famous
Would you prefer a guy to pursue you, or do you like to be the aggressor? I want them to come to me but I end up having to go to them because typically guys are timid creatures
How did you get your start in modeling? A woman at the mall asked me to be a model so I pursued it from that point on
What is your favorite between Facebook, Twitter or Instagram? Instagram because it's so simple
What's the craziest thing you've ever done? My first hook up was a girl
Do you have a website? No
Relationship Status: Player
Favorite Comedian: Will Ferrell
First Job: El Rancho Grande Hostess with the mostess
Piercings/Tattoos (How many? Where?): I have two tattoos. Check out my photos and you will see
What fun fact or talent should guys know about?: I can make my eye brows jump back and forth