Alina Cabral
Age:
25,
United States
Alina Cabral is the brand new model from San Antonio, Texas. Alina grew up mostly in Boston but has recently moved to Texas and she loves it. It is safe say that today's day in age is all about beauty and booty and this Alina definitely fits that look like a glove. Her Dominican/Venezuelan 42″ booty can't be missed and when you see how beautiful she is you will be seeing hearts. She is very down to earth and is very family oriented. She currently holds a job as a mortgage broker while starting her new exciting career as a model. She is very professional and always strives for excellence no matter what it involves. She is willing to travel and you can book her by contacting her on her social networks. Make sure you check out her exclusive photos and videos now inside the sexiest member section on the net.
Basic Profile
Name: Alina Cabral

Gender: Female

Age: 25,

Country: United States
Appearance
Body: Thick

Ethnicity: Mixed

Weight: 145kg (320 lbs)

Height: 177cm (5'9")

Hair Length: Long

Hair Color: Blonde

Eye Color: Brown

Orientation: Straight
Alina Cabral – Hello from the Alamo!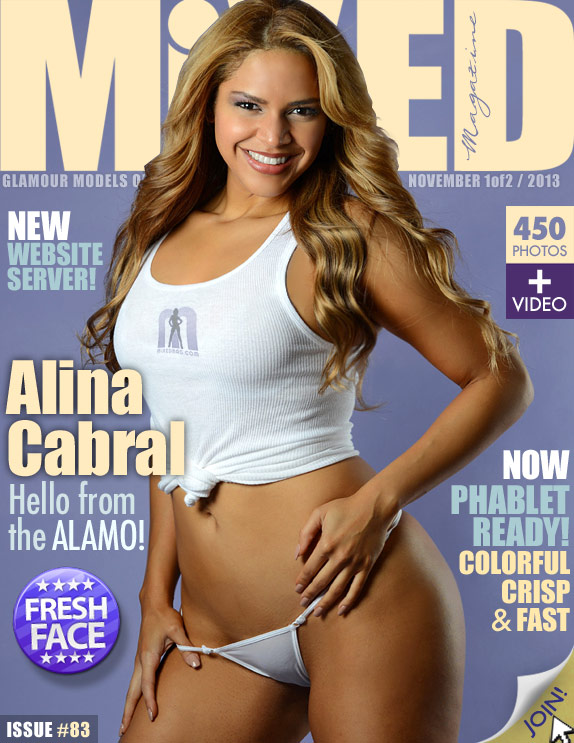 An Interview with Alina Cabral:
Where were you born, and how was life growing up? I was born in boston, ma. Raised by my aunt, times were tough but i was rich in love. I'm blessed to have a loving family.
What would the average person say about you? I come off serious and quiet at first.
Are you a good dancer? I would say i am to some degree. I grew up in dance classes. I would love to learn how to be a pro at salsa tho lol.
Do you like the nerdy type, muscle guy or the regular joe? No type, has to be down to earth, funny and smart guy. Has to have his priorities straight.
Do you have any secret weaknesses or guilty pleasures? Donuts and baked goods are my weaknesses.
Guilty pleasure reality shows
Describe your most embarrassing moment. Fourth of july, with all my friends went to a lake, decided to jump off a cliff. My turn comes along and me trying to be cute i jump off, and am the only one to hit a rock and scrapes my rib cage. Needless to say, i won't be jumping off of any cliffs anytime soon.
What has been your most memorable experience as a model? Actually being on this cover…SO Far hehe
What's your biggest turn on? Strong arms and nice lips.
What's one thing about yourself that everyone should know? I am a goof ball. I like to play practical jokes.
What do guys compliment you most on? I get complimented most on my lips and eyes but my booty gets most of the attention
Do you consider yourself more of a "giver" or a "taker"? Giver. I like to make people happy. I love seeing good reactions that i created.
If you could have any car you wanted, what would it be? Ferrari or Lotus.
Do you have any hidden talents? I am good at breaking into things. I.e. Phone codes and voicemails.
What do you like best about being a model? I like transforming. It's like i am playing different characters.
What would you consider your strongest attribute? I am very loyal
If you could go anywhere in the world, where would you go and who would you take with you? Egypt. I would take my aunt.
We know you're a model and all, but you must have a favorite food. What is it? Typical dominican meal, rice, beans, chicken and tostones. Yummmy.
Besides modeling, what do you do for fun? I like to hang out with friends. Amusement parks, anything that involves an adrenaline rush.
What are your dreams and goals? My dreams are to have a successful career as a model or have my own business and can take care of my family.
Would you prefer a guy to pursue you, or do you like to be the aggressor? Pursue me. Show me you're not lazy and a go getter.
How did you get your start in modeling? My cousin took the initiative to book me with one of her photographer friends. I was always scared to do it, but secretly really wanted too.
What is your favorite social network? Instagram
What's the craziest thing you've ever done? Shot up some houses with paintball guns late at night. (not good) lol
Do you have a website? Yes, coming soon! www.alinacabral.com
Relationship status: Single
Favorite sports team: Celtics
Favorite comedian: Kevin Hart
First job: Guess, inc.
Piercings/tattoos (how many? Where?): Tattoo on right foot. Says in latin "I walk by faith not by sight" Had piercings, but retired them. Only ears now.
What fun fact or talent should guys know about? I have a big sense of humor. I joke around a lot. But i can also be very very serious and sometimes ppl find me intimidating. Very ying and yang.
How does someone contact you for a modeling project? Alina@alinacabral.com