Carol Seleme
Age:
21,
United States
Happy New Year! Starting off the new year with Carol Seleme should give you an idea of what we have in store for 2012. Carol is the 21 year old Brazilian/Lebanese/Italian model residing in Los Angeles, California. She was born in Brazil and came to LA so she can study fine arts. One of her biggest struggles is trying to find time to model in between her intense studies. The modeling industry simply will not let her rest. Everyone from national publications to Snoop Dogg videos are begging for her to model for them. She has been featured magazines Smooth, Lowrider and more. She has been in countless music videos with the biggest names such as Tyrese, Lil' Jon, Snoop Dogg, Akon, R. Kelly and so many more which can be seen below. Having her face on your product will make any company stock rise. She has the most exotic look with incredible head to toe features. But one of the greatest things about Carol is the fact that she has a very interesting view on the world. She thinks outside of the box and does not follow the norm and to allow anyone to skew her direction in life. She is a very strong minded and creative person who has great business sense. But enough of her amazing personality, let's talk about her BUTT! This thing just doesn't make any sense. It's one of the most mesmerizing booties we've seen at Mixed Magazine which is saying a lot because we are home to the finest booties in the galaxy. Her Brazilian cut thong tan line always reminds you that she is from Brazil. It's has the right amount of thickness and round like a ball. She is a perfect 10 woman and we are grateful to have her on the 2012 New Years cover! Make sure you join the members section to see tons of Carol's exclusive sexy photos and mind blowing videos by clicking here!
Basic Profile
Name: Carol Seleme

Gender: Female

Age: 21,

Country: United States
Appearance
Body: Petite

Ethnicity: Hispanic / Latina

Weight: 63kg (139 lbs)

Height: 175cm (5'8")

Hair Length: Long

Hair Color: Black

Eye Color: Brown

Orientation: Straight
Carol Seleme – Pure Art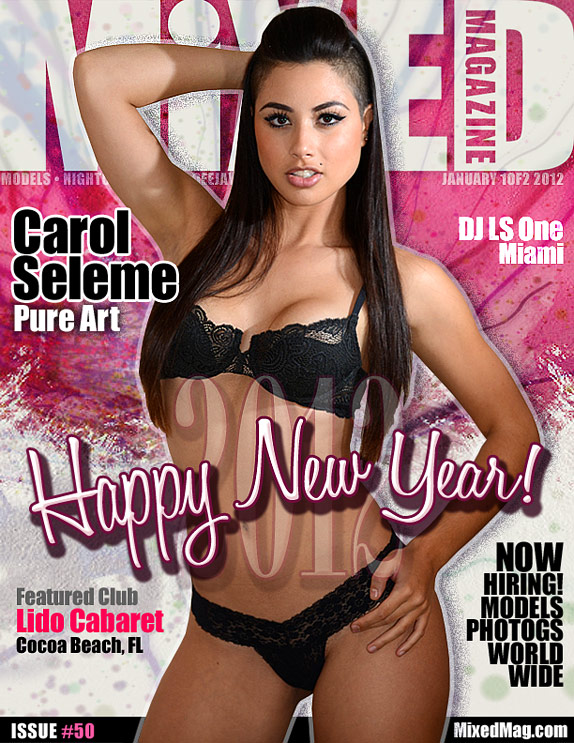 Interview:
Where were you born, and how was life growing up?
Curitiba, Brazil. Life was pretty crazy, I was raised in a farm and I was home-schooled until I was 12, then my parents inherited a great deal of money from a distant relative and we moved to the big city where I started attending a very upscale international school and learning english, I also started taking ice-skating lessons, I became very good at it and won a few competitions. I also loved to paint since I was little.
What nationality are you?
I'm Brazilian, but I also have Lebanese, Italian, and Siberian in me.
Do you go to college? If so, what are you studying?
Yes. I go to Otis College of Art & Design. I study Fine Arts which means I make all kinds of artwork from plexiglass mazes with colored oils in them to naked performance art.
What would the average person say about you?
"She's not an average person."
What do you normally sleep in?
Three drops of N° 5. Just Kidding, have you ever smelled that stuff? It smells like old people's home.
Are you a good dancer?
I suck, but that doesn't stop me from dancing like its the last time I'll ever dance baby.
Do you have a certain type of sexy photoshoot that you would like to do?
Yes, I have this idea for a concept shoot. I want to be completely naked wearing only lots of lube and my nipple rings, and then go inside a large card-board box and have the photographer tape the box shut, and shoot the box. My Lebanese great-grandmother would always say "You gotta leave something to the imagination."
Is there any famous person that you would like to meet?
Fulanito. People talk so much about him in Brazil.
What's your biggest turn on?
An androgynous person with braces, beautiful hands, and a Russian accent.
What do you hope to get out of all your modeling exposure and magazine features?
All my modeling is part of an artistic study on the objectification of women, I'm still not sure what kind of form the final product will take, but it will be good.
What's one thing about yourself that everyone should know?
I'm an Artist.
What do guys compliment you most on?
My huge collection of art-work of course. I feel like that's the only thing in men's minds today.
Do you consider yourself more of a "giver" or a "taker"?
Finding the balance between giving and taking is one of the greatest challenges in life.
If you could have any car you wanted, what would it be?
Batmobile, but fueled by solar energy of course. I'm very green.
Do you have any hidden talents?
Yes. I can lick my elbow.
What do you like best about being a model?
Attention.
What would you consider your strongest attribute?
Creativity.
Who do you think is the prettiest Mixed Magazine model currently?
I'd have to get to know all the Mixed Magazine models to answer that question, beauty is all in the attitude. Look at Madonna and Lady Gaga.
If you could go anywhere in the world, where would you go and who would you take with you?
I am going to the moon in 2047. I'm taking a man (or a woman what the hell) so we can have some out-of-this-world sex. Can't wait!
What is your favorite food?
Bolitas
Can you cook?
Cooking is for men.
What do you do for fun?
Live my life.
What are your dreams and goals?
We have an established artist give a speech every week at Otis, I am so thankful for how much they inspire me by speaking about and showing me their work. It would be most satisfying to know that I am triggering the same feeling on fellow humans. I can call that my main goal in life.
How did you get your start in modeling?
I modeled for the cover of an ice-skating magazine when i was 15 and got paid $1,000 bucks for it. That's the same amount I got when I won an ice-skating competition earlier that year, but for the competition I practiced for three months, for the cover shot I posed for three minutes. I decided modeling was more sustainable.
Favorite Comedian:
Lisa Lampinelli
First Job:
Milking cows at my family's farm
How does someone contact you for a modeling project?
Telepathically (I'm very spiritual) or if that doesn't work they can email me at carolseda@gmail.com