Luisa Olmos
Age:
25,
United States
The Colombian Princess Luisa Olmos! She is truly the finest bikini model who is staggering minds every where she walks with her incredible legs and booty. Not only is this model physically strong but she is mentally strong as well. She carries herself with incredible confidence and maturity and is only 24 years of age. Luisa is originally from Colombia and moved to Miami at the age of 20 and is already getting her bachelors degree from Florida Atlantic University in Palm Beach. She recently just started modeling because a friend told her she could win a bikini contest and she killed it the very first time bringing home the gold and the rest has been history. When girls know Luisa is showing up they simply stay home. Her work ethic is impeccable as she trains Muay Thai daily, jogs 10 miles per day, models 7 days a week and still continues to breeze through college. Her golden tan is sparkling and her personality is as honest and morally sound as one can get. She says Colombian culture is just that way. Her goals are set extremely high and there is no doubt at this pace she will reach every single one. She is truly a role model for men and woman but most of all she is one sexy babe!!!

Check out her exclusive pictures and video inside the member section if you really want to see what sexy is!
Basic Profile
Name: Luisa Olmos

Gender: Female

Age: 25,

Country: United States
Appearance
Body: Normal

Ethnicity: White

Weight: 55kg (121 lbs)

Height: 167cm (5'5")

Hair Length: Long

Hair Color: Blonde

Eye Color: Brown

Orientation: Straight
Luisa Olmos – The Colombian Princess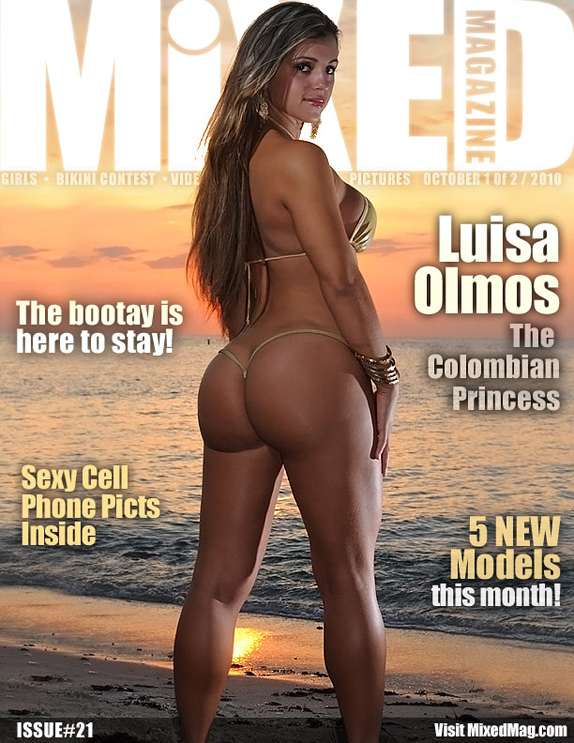 An interview with Luisa Olmos:
Where were you born, and how was life growing up?
Medellin, Colombia. I had a great upbringing, surrounded by family love and happiness.
What nationality are you?
Colombian
Do you go to college?
Florida Atlantic University
What would the average person say about you?
Friendly, always on the go, independent, Strong minded, goal orientated.
Are you a good dancer?
Of course, I am Colombian.
Do you like the nerdy type, UFC fighter guy or the regular joe?
Depends more on the guys personality.
Do you have any secret weaknesses or guilty pleasures?
McDonalds' fries are my guilty pleasure.
What's your biggest turn on?
I like guys who are Intelligent and have a sense of humor.
What's one thing about yourself that everyone should know?
I like to work hard and treat myself .
What do guys compliment you most on?
My personality and I occasionally get the nice booty compliment.
Do you consider yourself more of a "giver" or a "taker"?
I am more of a giver.
If you could have any car you wanted, what would it be?
I love Mercedes.
Do you have any hidden talents?
I can do many tricks with a yo-yo.
What do you like best about being a model?
I enjoy Socializing, networking, and location. I also like when hard work pays off
What would you consider your strongest attribute?
I am a very dedicated, positive, and happy person.
If you could go anywhere in the world, where would you go and who would you take with you?
I would love to go to Jamaica with my sister.
What is your favorite food?
I never get tired of eating Colombian food.
What do you do for fun?
I like to watch movies with a good wine, and go clubbing.
What are your dreams and goals?
Continue growth in the modeling industry; receive my Bachelor degree in accounting from FAU, and one day start my own business.
How did you get your start in modeling?
From advice of a friend who suggested I try modeling.
Do you have a website?
https://www.LuisaOlmos.com
Favorite Sports Team:
Miami Heat.
First Job: At a photo shoot in New York City, for a photographer personal project.
How does someone contact you for a modeling project?
Please send all booking inquiries at my website https://www.LuisaOlmos.com . Thank you!