Jenn Scott
Age:
27,
United States
Jenn Scott is your thick thighed blue eyed sex symbol from Los Angeles, California. Discovered by Miami photographer Angelo Lumas when he took a west coast photoshoot tour. As soon as her photos hit his instagram page it was a wrap. We instantly sent out the text to book her for the cover and one week later she was on the plane flying to Miami. It only took 1 nano second peak of this girls legs and we were sold. There is just something about a woman with thick legs that does it every time. Jenn Scott is all about modeling. She loves every second of it and is always busy doing something. She shoots constantly and is always seeking out new and exciting opportunities. She is launching her own website as well as her own brands. It's business first for this LA chick. Her personality is just awesome also. She is very fun to hang out with and has one of the biggest hearts. She is always professional and expects nothing less when it comes to making it happen. Angelo Lumas shot Jenn for the cover in a sexy Miami hotel and we were right there with the video camera to capture the whole behind-the-scenes shoot.
Basic Profile
Name: Jenn Scott

Gender: Female

Age: 27,

Country: United States
Appearance
Body: Thick

Ethnicity: White

Weight: 145kg (320 lbs)

Height: 166cm (5'5")

Hair Length: Long

Hair Color: Black

Eye Color: Green

Orientation: Straight
Jenn Scott – Thick Thighs & Blue Eyes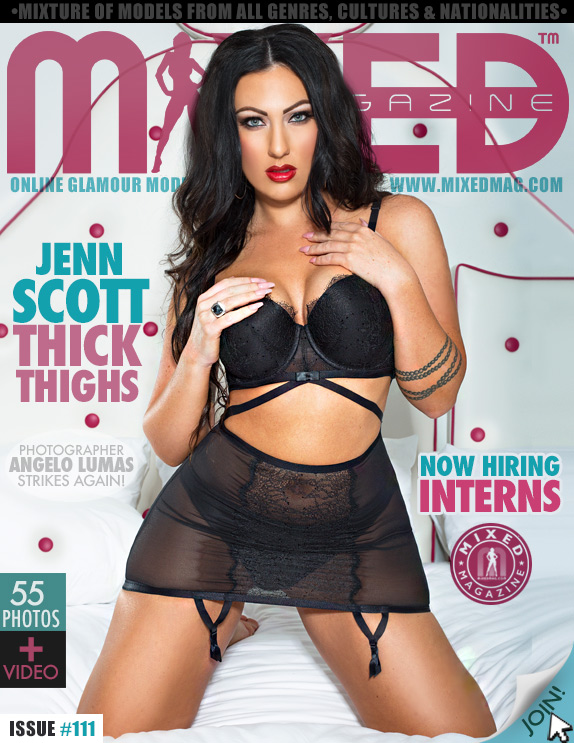 An Interview with Jenn Scott:
Where were you born, and how was life growing up? Lajolla California Life growing up for me was great. I had both parents at and I grew up on the beach. I moved to Utah and kept both homes so I got the best of both world. I grew up loving the hip hop culture.
How did you get your start in modeling? I shot for Show magazine for black lingerie.
What has been your most memorable experience as a model? Definitely the photoshoot with Angelo Lumas in the desert. It was jokes all day long.
What would the average person say about you? I'm fun creative and spontaneous. But most of all I'm a loving person.
Describe your most embarrassing moment. I was late for a beauty pageant and while running threw a crowd my ass was hanging out because my dress was ripped.
What's your biggest turn on? A man that is super confident and smells good
What do guys compliment you most on? My butt, legs then eyes
What do you normally sleep in? sweats
If you could go anywhere in the world, where would you go? Praugeu
We know you're a model and all, but you must have a favorite food. What is it? steak
What are your dreams and goals? I dream to live very comfortable to feel free
Would you prefer a guy to pursue you, or do you like to be the aggressor? I like to be pursues
First Job: waitress
Would you date a guy that you met on social network? yeah
Do you have a passport? Yes
Who is your favorite photographer? Angelo Lumas
What is the biggest ever offered for a date? I was offered $500 to have my booty rubbed
How does someone contact you for a modeling project? officially.jennscott@gmail.com