Marine Smezz
Age:
24,
United States
Check out this fitness model Marine Smezz! When I first saw this babe I was on South Beach walking towards her and couldn't believe my eyes. She had me shook. She had these little jean shorts on and her tan thick thighs were busting out of them. I had to take a triple and when I finally got my bearings together I decided to race back to her to see if she would be interested in modeling. Low and behold she was walking away from a beach photoshoot that I was actually going to at that time. So our model scout already beat me to it. The next thing you know this bad babe was in front of my camera for the next month. She was brand new to modeling at the time but her body and sex appeal was so perfect she moved right into modeling like it was second nature. Marine quickly became the hottest model in Miami while she did her thing in the gym to keep her rocking body in tip top shape. She continues to stay focused on fitness modeling and is still shocking everyone that walks by her.
Basic Profile
Name: Marine Smezz

Gender: Female

Age: 24,

Country: United States
Appearance
Body: Thick

Ethnicity: White

Weight: 62kg (137 lbs)

Height: 162cm (5'3")

Hair Length: Long

Hair Color: Blonde

Eye Color: Brown

Orientation: Straight
Marine Smezz – Super BAD!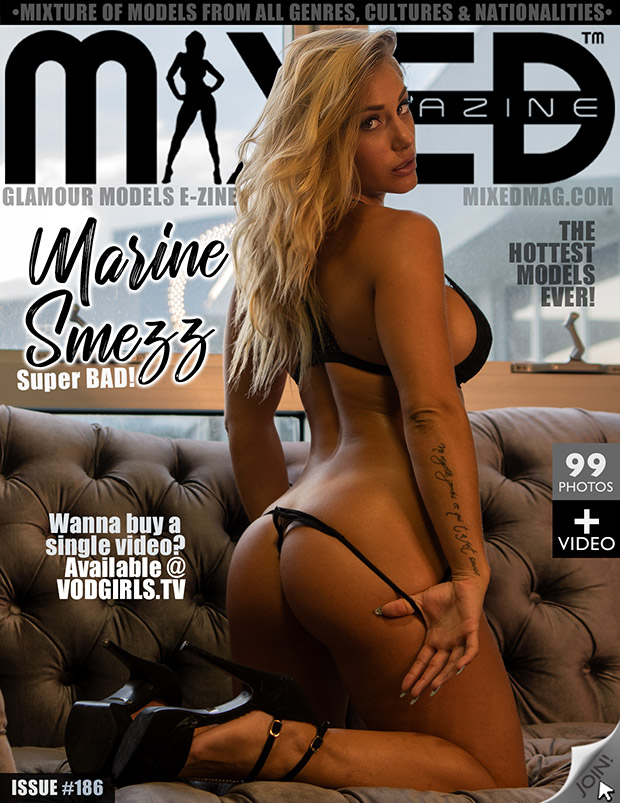 An Interview with Marine Smezz:
Where were you born? France
In a few words, describe growing up in your hometown? I moved a lot being a kid, and never stayed in the same town more than 3 years. I got used to make friends quickly and adapt myself to new environments. Always a good student and never did anything crazy. Until I got to Miami lol
What has been your most memorable experience as a model? I was pretty impressed the first time I shot with Mike (Ohrangutan) but I have a good memory of pretty much all my shoots.
What is your dream modeling job? Being a brand ambassador for L'Oréal would be a dream
What would the average person say about you? That I speak up my mind and I have a big heart
What are you most attracted to in a man? His charism and personality.
What do guys compliment you most on? My eyes, my legs
If you could go anywhere in the world, where would you go? Thailand and Hawaii are my next destinations
What is your favorite food dish? No idea. I'm a food lover
What are your dreams and goals? Being successful in everything I want, my career and my love life as well
What is the best and worst thing about modeling? The best is to get dope pictures and see how fine you actually look
Sometimes you feel like you're doing the same thing over and over
How can a guy get your attention? Just be natural and don't over do
How does someone contact you for a modeling project? Through Instagram or email
What is the best pickup line you've ever heard? I hate pick up lines lol
Do you have any hidden talents? I use to run 100m pretty fast
Who is your favorite model? I don't really have a favorite. I get inspired by all types of women, models or not
Do you have a favorite photographer? I love sophisticated pictures, possibly with a theme
How would you like to be remembered? As an inspiring woman, that never gave up and worked hard for everything she wanted