Moonya Elabas
Age:
28,
United States
Meet the Swiss made model Moonya Elabas! This sexy flight attendant from Switzerland has moved to Miami to be a model. As soon as she landed it was pretty much game on. Moonya always knew she was sexy because of the massive attention she received as a flight attendant for nearly 8 years. She says that the Swiss people love curvy women and they always treated her like a queen. Her treatment is the same in Miami which is the city filled with exotic curvy women. Moonya brings style and extreme sexy appeal to every shoot with her sultre style, voluptuous body and exotically beautiful face. Her golden colored silky smooth skin will have you melting. Moonya is very active with modeling projects ranging from club hosting events, music videos, photoshoots and more. She frequently takes trips to LA where she likes to relax from Miami's on-the-go lifestyle. She is also very intelligent and speaks 7 different languages. She is very professional and gives each project 110%. Her personality is sweet and is very enjoyable to work with. Her Mixed Magazine photoshoot was very sexy as she modeled on the sexy beach of Fort Lauderdale and posed in a few lingerie outfits and an all white hotel room overlooking the beautiful stretch of Fort Lauderdale's beach in the background.
Basic Profile
Name: Moonya Elabas

Gender: Female

Age: 28,

Country: United States
Appearance
Body: Normal

Ethnicity: White

Weight: 135kg (298 lbs)

Height: 170cm (5'6")

Hair Length: Long

Hair Color: Black

Eye Color: Brown

Orientation: Straight
Moonya Elabas – Swiss Made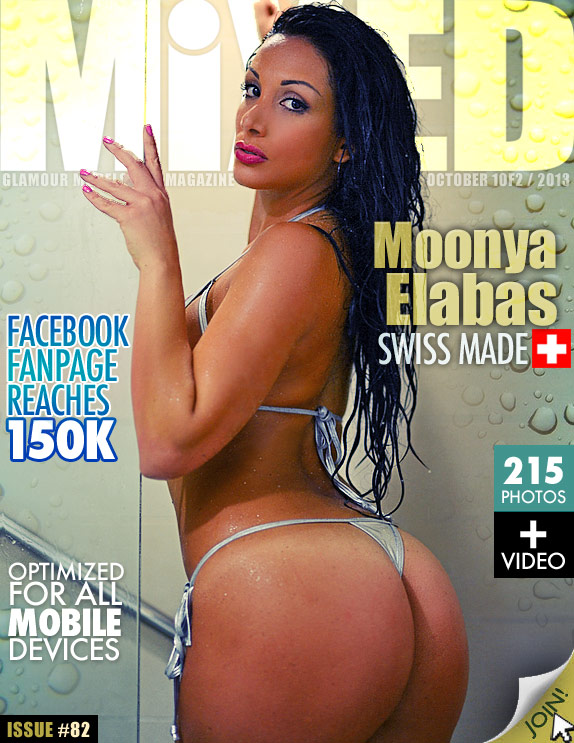 An Interview with Moonya Elabas:
Where were you born, and how was life growing up? I was born and raised in Switzerland. My parents were divorced so I was between 2 cities and the same time but otherwise I had just a normal life.
What nationality are you? My mom is Spanish and Arabic and my dad is Swiss German
What would the average person say about you? that I am very spontaneous and down for anything
Are you a good dancer? Yes! I used to be a belly dancer
Do you like the nerdy type, muscle guy or the regular joe? The regular Joe
Do you have any secret weaknesses or guilty pleasures? I would say I'm a sexy addict.. oop's
Describe your most embarrassing moment. My first shoot I was so shy
What has been your most memorable experience as a model? My first cover for the most famous French magazine! I had my face everywhere in the street! It was So amazing and So Crazy!
What's your biggest turn on? A guy who loves family and kids turn me on
What's one thing about yourself that everyone should know? That I'm a sweetheart
What do guys compliment you most on? my lips
Do you consider yourself more of a "giver" or a "taker"? I'm a giver
If you could have any car you wanted, what would it be? Bentley
Do you have any hidden talents? I'm a pretty good painter
What do you like best about being a model? I always get to be a glamour model always
What would you consider your strongest attribute? my independence
If you could go anywhere in the world, where would you go and who would you take with you? I would go to Maurities with my mom
We know you're a model and all, but you must have a favorite food. What is it? My Mom's food!
Besides modeling, what do you do for fun? Clubbing, shopping and traveling
What are your dreams and goals? I want to own my own company and start a family
Would you prefer a guy to pursue you, or do you like to be the aggressor? I prefer for him to pursue me
How did you get your start in modeling? I was in a few music video in Europe
What is your favorite social network? Instagram
What's the craziest thing you've ever done? I had sex on a plane
Do you have a website? NO
Relationship Status: Single
Favorite Sports Team: Real Madrid
Favorite Comedian: Eva Mendez
First Job: Flight Attendant
Piercings/Tattoos (How many? Where?): 1 belly button piercing and 2 Tattoos on my arm
What fun fact or talent should guys know about?: I'm know how to twerk my booty very well
How does someone contact you for a modeling project? email me: manoomoon05@gmail.com