Damaris Lopez
Age:
18,
United States
You are probably asking yourself "How does Mixed Magazine continually find these diamonds in the rough?" Well the answer is simple. Our focus is only designed to feature the best of the best and Damaris Lopez is clearly as perfect as they get. Damaris is a relatively new model, but you would never be able to tell because her instagram has already soared to 18k+ fans and her portfolio continues to rise almost daily. She has already shot with some of the top photographers and she is always finding herself in the seat of Miami's top makeup artist – Nina's Makeup as she prepares for new photoshoots, music videos and much more. Damaris not only has a perfectly beautiful face and an outrageously sexy curvy body but she is also very witty and can handle herself in any situation. She is always enjoying herself and loves to help others and this is what makes her the ideal Mixed Magazine Cover Model for June 2013. Damaris has a very bright future and it will be exciting to watch her do big things. Make sure you join our members section where she showcases her voluptuous sex appeal in front of the exclusive Mixed Magazine cameras. Just click here if you dare!
Basic Profile
Name: Damaris Lopez

Gender: Female

Age: 18,

Country: United States
Appearance
Body: Petite

Ethnicity: Hispanic / Latina

Weight: 55kg (121 lbs)

Height: 167cm (5'5")

Hair Length: Very Long

Hair Color: Black

Eye Color: Brown

Orientation: Straight
Damaris Lopez – Dominican Perfection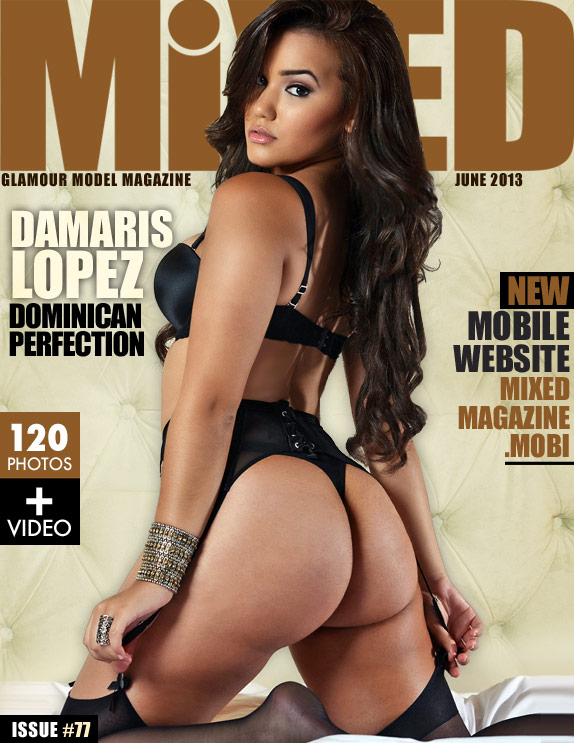 An interview with Damaris Lopez:
Where were you born, and how was life growing up? I was born in Lawrence, MA. Growing up life was interesting.. I grew up in what one would call "the hood" & my mother played both roles. I was definitely exposed to things an average child wouldn't be exposed to.
What nationality are you? Dominican
What would the average person say about you? The average person would definitely say I'm weird.. a bit odd. I personally take that as a compliment, out of the ordinary unusual.
Are you a good dancer? I have been told I am. Put some merengue/bachata & you'll have me dancing for hours.
Do you like the nerdy type, muscle guy or the regular joe? To be honest, I don't have a type. If the intellect and energy is right, then one can be under consideration. It's all about laws of attraction.
Do you have any secret weaknesses or guilty pleasures? Coffee or tea.. It has my heart, let me drown in either!
Describe your most embarrassing moment. When I was 16 I walked into my crushes sliding door … Twice. Don't judge me. Shoutout to Windex, y'all do miracles!
What has been your most memorable experience as a model? Doing charity work in the Dominican Republic and being acknowledged by my people, blessing moment.
What's your biggest turn on? A man that can seduce my mind
What's one thing about yourself that everyone should know? I'm huge on soul searching and chakras.. love being in touch with my inner self
What do guys compliment you most on? Besides my buns, my face. I consistently get told I have a unique face.
Do you consider yourself more of a "giver" or a "taker"? Definitely a giver. It's not only about donating money or volunteering necessarily, but looking to help others by making an introduction, giving advice, providing mentoring or sharing knowledge, without any strings attached.
If you could have any car you wanted, what would it be? Antique cars are forever the dopest to me! 1961 Jaguar XKE Series 1 Roadster .. 1960 Jaguar XK 150 Roadster
Do you have any hidden talents? I'm made of rubber… Lol jk but I'm actually very flexible.
What do you like best about being a model? There's lots of perks of being model.. I love everything about it. Especially when I give life to a designers piece.
What would you consider your strongest attribute? hmm.. I am very humble.. and I always take initiative
If you could go anywhere in the world, where would you go and who would you take with you? Paris & I'll bring a homeless person with me.. expose to them to a different environment
We know you're a model and all, but you must have a favorite food. What is it? Mexican anything… What is a diet to Mexican food?
Besides modeling, what do you do for fun? I'm a traveling junkie, planes are my second home. If not traveling then you'll most likely catch me doing charity work.
What are your dreams and goals? Build a charity in my country and expand it all throughout other foreign countries.
Would you prefer a guy to pursue you, or do you like to be the aggressor? Switch it up, to spice it up. Taking turns … you know?
How did you get your start in modeling? Modeling always caught my eye.. 10 year old little damaris modeling for local boutiques in Orlando, FL
What is your favorite social network? I'm the mother of networking.. but I'm not fond of social networks. Although Instagram has became a money maker for me lately
What's the craziest thing you've ever done? Street racing + highway + NO lights … Dominican Republic 2012
Do you have a website? Not yet! Stay tuned everyone
Relationship Status: Single
Favorite Sports Team: quite neutral when it comes to sports team
Favorite Comedian: Ruperto Vanderpool
First Job: She-Chiq (Boutique)
Piercings/Tattoos (How many? Where?): 3 Piercings (ears + belly) 0 tattoos
What fun fact or talent should guys know about?: Fun fact 101: I'm a Leo.. Study us lions
How does someone contact you for a modeling project? Bookdamarislopez@gmail.com