Elizabeth Christine
Age:
23,
United States
Meet the prettiest little Miami model Elizabeth Christine! Isn't she just a little buttercup!? It's always great to know there are still models that are just right. This model tries to stay low key but we don't think that is possible. Her face and body are just tooo perfect. Club b.e.d. of Miami is the featured Club of the month of May and they were honored to let us shoot Elizabeth in there Miami Nightclub that fills out each night with the hottest rappers, movie stars, models and so many other wild and crazy perfect people. Elizabeth Christine loves to be in front of the camera. She recently has been featured in some of the biggest magazine such as Low Rider, Show Magazine and now the hottest of them all Mixed Magazine! Make sure you check out more of Elizabeth Christine's photoshoot and video in our Exclusive Members Sextion.
Basic Profile
Name: Elizabeth Christine

Gender: Female

Age: 23,

Country: United States
Appearance
Body: Petite

Ethnicity: White

Weight: 119kg (262 lbs)

Height: 172cm (5'7")

Hair Length: Long

Hair Color: Dyed (Other)

Eye Color: Brown

Orientation: Straight
Elizabeth Christine – Elegantly Beautiful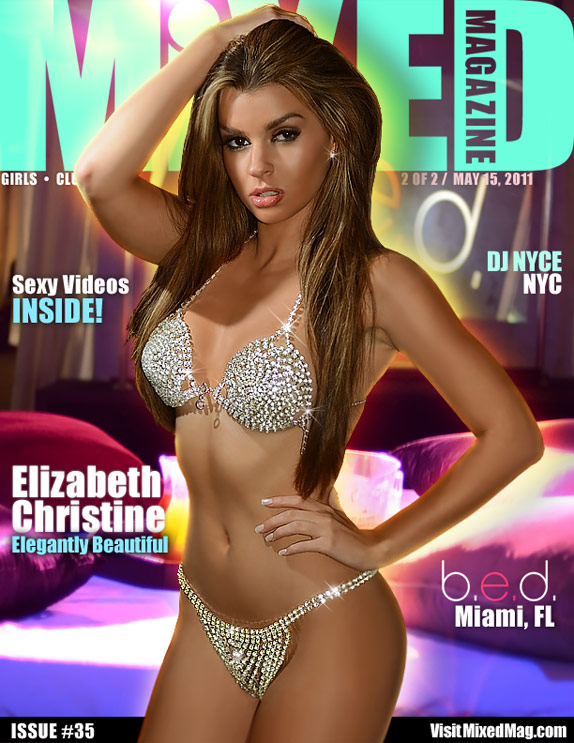 An Interview with Elizabeth Christine:
Where were you born, and how was life growing up? I was born and raised in Miami, FL. Life growing up was amazing, I had a very good childhood and a close family by my side.
What nationality are you? I'm half Cuban from Havana and half Spanish from the Canary Islands and Madrid.
Do you go to college? Yes, I graduated in 2009 and studied Pre-Law and Paralegal Studies.
What would the average person say about you? That I'm very ambitious and hardworking, down-to-earth, and sweet.
Are you a good dancer? Well that depends on how many drinks I've had ;)
Do you like the nerdy type, UFC fighter guy or the regular joe? My type is tall, dark, and handsome with a good personality and a sense of humor. I like a man's man, someone who stays active and takes care of themselves. Also swagger is a must and a sense of style.
Do you have any secret weaknesses or guilty pleasures? Beautiful expensive shoes, baking homemade chocolate chip cookies, and pizza.
What's your biggest turn on? A man who's confident in himself and lives a productive life accomplishing his goals.
What's one thing about yourself that everyone should know? I'm not one to be underestimated, don't mistake my kindness and sweetness as a weakness.
What do guys compliment you most on? My hair, lips, and booty.

Do you consider yourself more of a "giver" or a "taker"? I'm definitely a giver, I enjoy pleasing but at the end of the day it must be an equal thing.
If you could have any car you wanted, what would it be? White on white with black trim Mercedes G550 AMG during the week and Aston Martin Virage on the weekends. You said any car so why not have 2? ;)
Do you have any hidden talents? I'm a great cook! If I had the time I would totally cook lavish meals all day. I also draw and paint, play piano, graphic design, and my trainer taught me how to beat you up in a boxing match LOL ;)
What do you like best about being a model? The cool opportunities and offers in the industry I've had after having put so much energy into creating my portfolio and expanding my resume.
What would you consider your strongest attribute? My brain and go-getter attitude.
If you could go anywhere in the world, where would you go and who would you take with you? I've been to many places around the world, but I could stay forever in St. Barths and St. Tropez. Getting a tan on a yacht in sunny weather with a rediculous view… can't beat that. I would have to take the man of my dreams :)
What is your favorite food? Filet Mignon
What do you do for fun? Any outdoor activities, going to the gym or boxing class, and traveling whenever possible.
What are your dreams and goals? My dreams are much bigger than just modeling, but building a household name and brand. I am confident that with my dedication and talent I can take it to the next level.

How did you get your start in modeling? I was a successful child model and discontinued modeling in my teen years actually. During college I decided I wanted to pick it back up again because I had missed my passion so I shot a whole new portfolio, signed with a few agencys and boom here I am.
Do you have a Facebook Fan Page? https://www.facebook.com/pages/Elizabeth-Christine/163374527013048 and www.facebook.com/elizabethchristineonline
Do you have a Twitter? www.twitter.com/elizabethchris
What do you use more facebook or twitter? I prefer twitter, but I use both just about the same.
Do you have a website? www.modelmayhem.com/elizabethchristine COMING SOON elizabethchristine.com
Favorite Sports Team: Miami Heat of course, love basketball! Football too, I'm a Patriots fan.
Favorite Comedian: Katt Williams and George Lopez
First Job: Working at a medical center taking vital signs. I thought I wanted to be a doctor growing up then I realized I wouldn't last a day because I would faint when I saw blood.

How does someone contact you for a modeling project? elizabethchristinemodel@gmail.com