Sarah MacDonald
Age:
25,
Canada
Here we go again! Another bad bitch from Canada. What on god's green earth are the feeding these Canadian girls!!? I don't think I've ever seen an average looking model from Canada. Check out this all natural monster tittay babe named Sarah MacDonald. She is straight up perfect from head to toe. Beautiful face, perfect tan, perfect bubble butt and monster boobs and yeah and she has a personality. Sarah showed up out of nowhere last year to Miami to check it out and we were lucky enough for her to come through the South Beach studio for an all natural photoshoot so you can get a true representation of her beauty. She was completely comfortable showing off her assets. She shot with several well known photographers and they were all in shock when they saw her show up. She now dabbles in modeling here and there but she likes to do other things and is currently exploring her options. She is a super cool chick and I'm sure she will be setting the world on fire if it's modeling or not. Check out her sexy photos and videos from her shoot below.
Basic Profile
Name: Sarah MacDonald

Gender: Female

Age: 25,

Country: Canada
Appearance
Body: Petite

Ethnicity: Pacific Islander

Weight: 61kg (134 lbs)

Height: 168cm (5'6")

Hair Length: Short

Hair Color: Black

Eye Color: Brown

Orientation: Straight
Sarah MacDonald – Monster Tittays!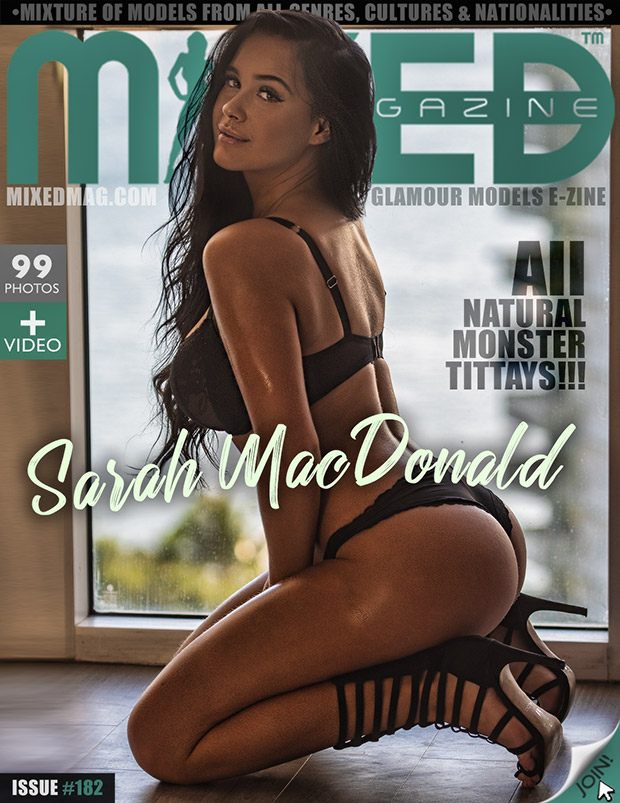 An Interview with Sarah MacDonald:
Where were you born, and how was life growing up? I grew up in Canada and life was always fun. I have no complaints.
How did you get your start in modeling? I took a trip to Miami to work with a booking agent and started doing some shoots and liked it.
Favorite Sex position? Doggy
Have you ever kissed a girl? Yes
What has been your most memorable experience as a model? Shooting with Mixed Magazine in Miami was amazing because. The photographer knows how to make things fun!
What would the average person say about you? That I'm a chill
Describe your most embarrassing moment. I don't normally get embarrassed
What's your biggest turn on? confidence
What do guys compliment you most on? they say it's my eyes but for some reason they are never looking at them
What do you sleeping in? Nothing.
If you could go anywhere in the world, where would you go? Thailand
We know you're a model and all, but you must have a favorite food. What is it? I love seafood!
What are your dreams and goals? Happiness forever.
Would you prefer a guy to pursue you, or do you like to be the aggressor? Pursue me 100%
Would you date a guy that you met on social network? ummm maybe