Krissy Mechelle
Age:
26,
United States
Krissy Mechelle has that thang! This big booty beauty was hiding in Idaho until she decided to go big and move to LA and it's been all uphill from there. She recently came to Miami to work and we were lucky enough to get her over to shoot for the cover. This fresh face model has a laid back style and loves to model. She is always active whether she is shooting with a top photographer or she is making a viral video. She has personality and loves to show it off in her acting. Since we love to showcase a model greatest assets we spent a lot of time focusing the camera on her booty. Her eyes are also amazing with a very sexy baby blue color that will have you falling in love the second she looks at you. She has it all and it's all natural!
Basic Profile
Name: Krissy Mechelle

Gender: Female

Age: 26,

Country: United States
Appearance
Body: Normal

Ethnicity: White

Weight: 65kg (143 lbs)

Height: 170cm (5'6")

Hair Length: Long

Hair Color: Blonde

Eye Color: Brown

Orientation: Straight
Krissy Mechelle – ASS MASS!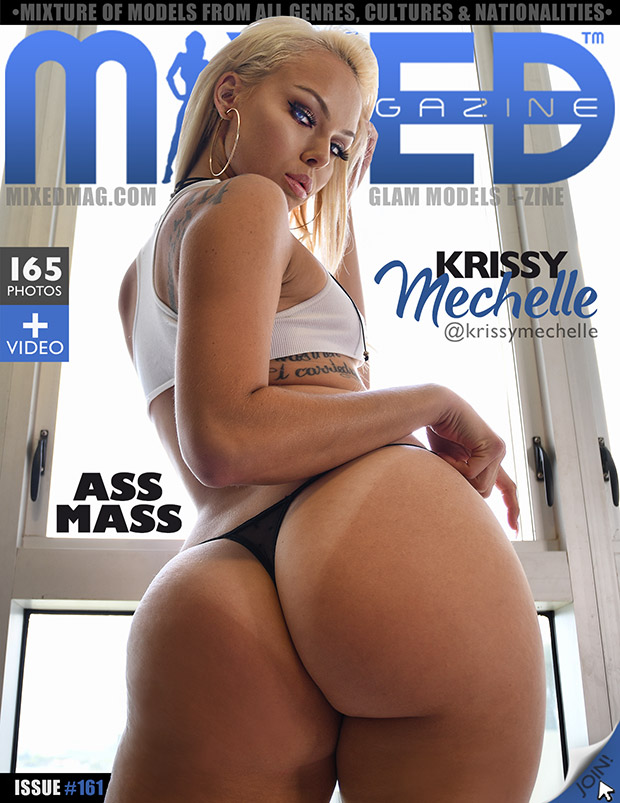 An Interview with Krissy Mechelle:
Where were you born, and how was life growing up? Idaho and it was very boring. I'm from a small town so I couldn't wait to get away and move to LA.
How did you get your start in modeling? Through a friend who booked me for a music video
Favorite Sex position? On top
Have you ever kissed a girl? No
What has been your most memorable experience as a model? Wild n out
What would the average person say about you? I'm very caring
What's your biggest turn on? Basketball players
What do guys compliment you most on? my ass
What do you sleeping in? t-shirt
If you could go anywhere in the world, where would you go? Paris
We know you're a model and all, but you must have a favorite food. What is it? Fries
What are your dreams and goals? I would like to be an actress
Would you prefer a guy to pursue you, or do you like to be the aggressor? They need to pursue me because I'm too shy
First Job: tanning salon
How does someone contact you for a modeling project?
What is the largest gift offered to go out on a date with you? I've been offered 30k before but didn't take it
Would you date a guy that you met on social network? yes
Do you have a passport? yes