Sarai Lezcano
Age:
21,
United States
Meet the super beautiful Colombian and Cuban all natural model Sarai Lezcano from Tampa, Florida. This is probably one of the most perfect marriage material models of all time. She is one calm, cool and collected woman. Her eyes put you in a trance and her body is simply flawless. There is just something about Sarai that is simply amazing. Born and raised in sunny Tampa, Florida she has embraced the vibrant city. Sarai is at total peace with herself. She is currently studying towards a wildlife biology degree and works as one of the beautiful bottle service model at one of the Tampa's finest clubs and models regularly. Shooting with Sarai was a dream come true and her photos prove that.

Check out her photos and exclusive video inside the VIP Sextion by CLICKING HERE!
Basic Profile
Name: Sarai Lezcano

Gender: Female

Age: 21,

Country: United States
Appearance
Body: Normal

Ethnicity: Mixed

Weight: 62kg (137 lbs)

Height: 162cm (5'3")

Hair Length: Long

Hair Color: Black

Eye Color: Brown

Orientation: Straight
Sarai Lezcano – All Natural Beauty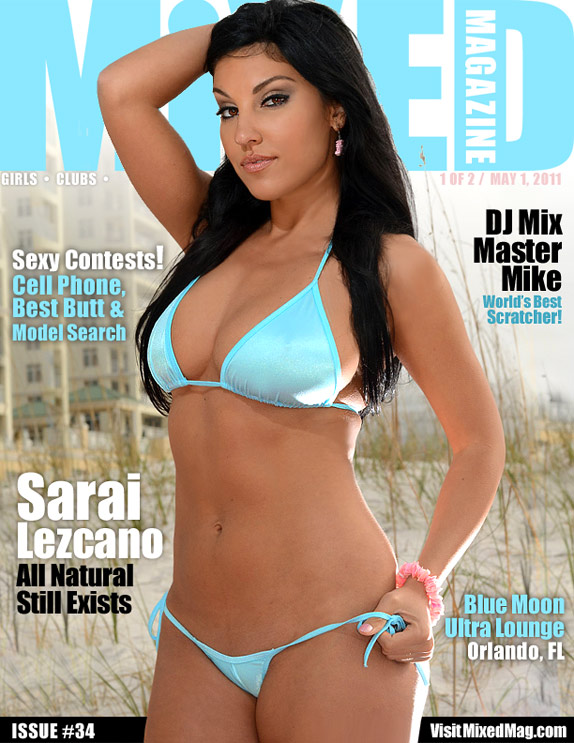 An interview with Saria Lezcano:
Where were you born,and how was life growing up?
I was born in Tampa Florida. growing up here was great! lots of sunny beach days :)
What nationality are you?
im colombian and cuban.

Do you go to college?
yes i do. im studying wildlife biology.
What would the average person say about you?
that im sweet and funny :)
Are you a good dancer?
after a few drinks, im the best!! haha
Do you like the nerdy type, UFC fighter guy or the regular joe?
i like a mix of tough guy/smart guy
Do you have any secret weaknesses or guilty pleasures?
sweets are my weakness
What's your biggest turn on?
confidence and a pretty face :)


What's one thing about yourself that everyone should know?
im very easy going, but i dont take crap from anyone! ;P
What do guys compliment you most on?
my eyes.
Do you consider yourself more of a "giver" or a "taker"?
definitely a giver.
If you could have any car you wanted, what would it be?
white bmw convertible :)
Do you have any hidden talents?
i can draw, sing, and im a pretty good snow boarder :)
What do you like best about being a model?
i love getting glamed up and being sexy :)
What would you consider your strongest attribute?
my brain :)
If you could go anywhere in the world, where would you go and who would you take with you?
i really want to backpack across europe. i would take my brother.
What is your favorite food?
coldstone ice cream! lol
What do you do for fun?
anything outdoors….going to the beach, roller blading, snow boarding, working out.
What are your dreams and goals?
i want to finish school, start a clothing line, travel the world, and have a family :)
How did you get your start in modeling?
someone saw my myspace and asked me to shoot for their clothing catalog. i used those pics to make a model mayhem page and started booking jobs :)
Myspace or Facebook?
twitter!! @SaraiLezcano
Do you have a website?
you can check me out on ArabelleModeling.com
Favorite Sports Team:
manchester united
Favorite Comedian:
daniel tosh
First Job: i worked at McDonalds for O.J.T. when i was 15. I walked out after a few days! lol
How does someone contact you for a modeling project?
email me at SaraiLezcano@gmail.com