Zelia is straight fire! Who knew Rhode Island was hiding this gem? For all the people that knew about Zelia and did not send her to Mixed Magazine – SHAME ON YOU! But don't worry all you hot chick lovers, we got you covered. This fresh face model came on the scene a few months ago and has been turning heads ever since. Zelia is the real deal with her firery red hair, porcelain doll face, incredibly busty curves and her sweetheart personality. There is no stopping this bombshell from going straight to the top. She don't cause no trouble and don't bother nobody. She stays sexy at all times. She has already blown the minds of top glamour photographers from New York to Miami. If you want to watch a model set the world on fire just keep an eye focused on this fresh face babe!
Basic Profile
Name: Zelia

Gender: Female

Age: 25,

Country: Italy
Appearance
Body: Normal

Ethnicity: Hispanic / Latina

Weight: 127kg (280 lbs)

Height: 167cm (5'5")

Hair Length: Long

Hair Color: Blonde

Eye Color: Brown

Orientation: Straight
Zelai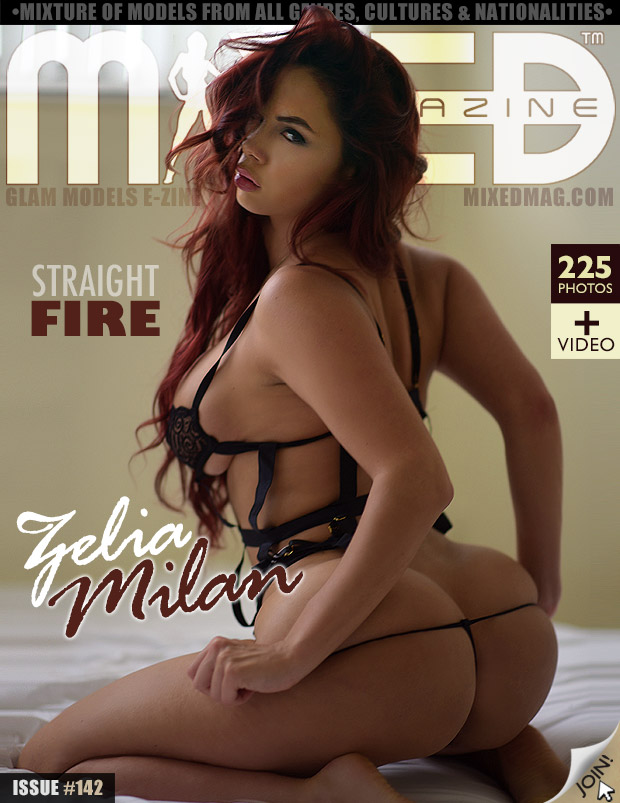 An Interview with Zelai:
Where were you born, and how was life growing up? I was born in Rhode Island. I came from a big affectionate Italian family where cooking and gathering where a priority.
How did you get your start in modeling? As a hobby
Favorite Sex position? On top
What has been your most memorable experience as a model? Hosting big events
What would the average person say about you? That knows me… that I am honest, kind, and caring.
What's your biggest turn on? The attention a man demands from me and the attention he gives me.
What do guys compliment you most on? My mind
What do you normally sleep in? My skin
If you could go anywhere in the world, where would you go? Portugal
We know you're a model and all, but you must have a favorite food. What is it? Organic and seafood
What are your dreams and goals? To be my own brand and own multiple businesses.
Would you prefer a guy to pursue you, or do you like to be the aggressor? I like to be courted
First Job: Cosmetologist
How does someone contact you for a modeling project? zeliamgmt@gmail.com
What is the largest gift offered to go out on a date with you? A trip to Turks and Caicos
Would you date a guy that you met on social network? I don't know
Do you have a passport? Yes