Veronica Molina
Age:
25,
United States
Veronica Molina is the super sexy 100% Puerto Rican model residing in Orlando, Florida. Veronica exudes sexiness everywhere she goes. She is very new to modeling in fact this is her first professional photoshoot. She got involved because one of her good friends knew she had what it takes to grab peoples attention and obviously that person was very right. Veronica from the very first second took over the photoshoot as she dove into every pose like she had been doing it for years. It always makes the photographers job easy when a model knows how to move and pose properly. She says she owes every ounce of her sex appeal to growing up in Puerto Rico where they spend most of their time partying, dancing and being sexy. Her personality is very care free and she is simply put, a breath of fresh air. If you are looking for a model who knows how to work it then book Veronica Molina!
Basic Profile
Name: Veronica Molina

Gender: Female

Age: 25,

Country: United States
Appearance
Body: Petite

Ethnicity: White

Weight: 129kg (284 lbs)

Height: 165cm (5'4")

Hair Length: Long

Hair Color: Black

Eye Color: Brown

Orientation: Straight
Veronica Molina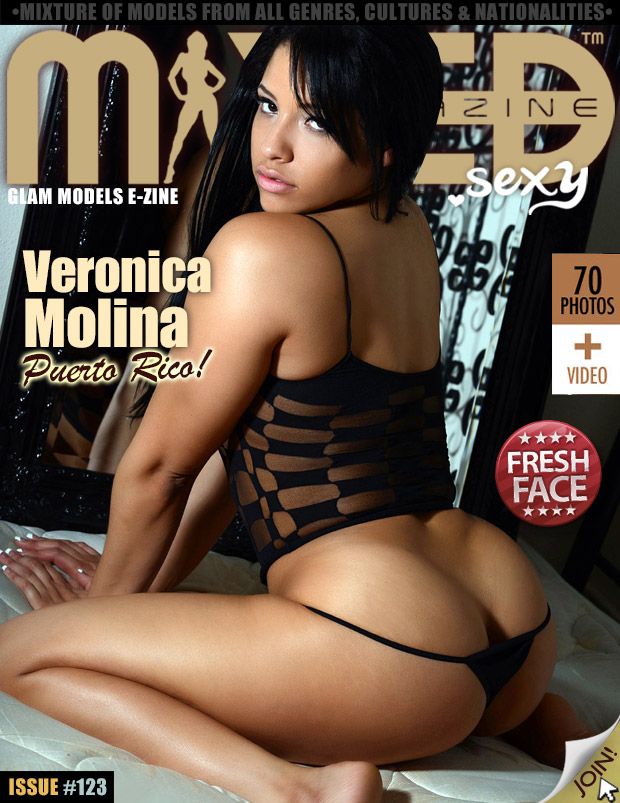 An interview with Veronica Molina:
Where were you born, and how was life growing up? Catalina, Puerto Rico. Puerto Rico is one big party always. Everything is great from the music, food, beaches and parties.
What nationality are you? 100% Boricua! (Puerto Rican)
What would the average person say about you? That I'm a fun loving person that loves to have a great time.
Are you a good dancer? Of course! I'm an exotic dancer and I feel very sexy when I'm dancing.
Do you like the nerdy type, muscle guy or the regular joe? It doesn't matter. As long as you are cute.
Do you have any secret weaknesses or guilty pleasures? Chocolate and strawberries
Describe your most embarrassing moment. I don't really get embarrassed. sorry ;)
What has been your most memorable experience as a model? Modeling for Mixed Magazine was very hot and sexy
What's your biggest turn on? A guy who smells good and a smile with white teeth.
What's one thing about yourself that everyone should know? I am always horny
What do guys compliment you most on? my ass
Do you consider yourself more of a "giver" or a "taker"? giver
If you could have any car you wanted, what would it be? Porsche
Do you have any hidden talents? I can do splits
What do you like best about being a model? I love being sexy and the attention it brings.
What would you consider your strongest attribute? My face and my ass
If you could go anywhere in the world, where would you go and who would you take with you? Italy and I would go alone
We know you're a model and all, but you must have a favorite food. What is it? mofongo
Besides modeling, what do you do for fun? I love to go four wheeling..I love to be in the mud
What are your dreams and goals? I would love to model more and do exciting projects that allow me to travel.
Would you prefer a guy to pursue you, or do you like to be the aggressor? I love to be pursued
How did you get your start in modeling? My friend/trainer referred me to Mixed Magazine
What is your favorite social network? Instagram xo_vero_ox