Trophy Deniro
Age:
21,
United States
Trophy Deniro is the African American model located in Dallas, Texas. She is a fresh face to the modeling world but that will not be for long because this choco body is all real and thick thick thick! Her adorable face and innocent personality has everyone drooling over her. She has been an exotic dancer for a few years now and everyone has been begging her to get into modeling so she can begin branding herself. That is when she decided to apply to Mixed Magazine. As soon as the editor opened the email and saw Trophy it was a done deal. She was on the next flight to Miami to shoot her cover photoshoot. Trophy is a complete natural in front of the camera. She knows how to move and knows how to get those extremely sexy shots that every guy wants to see. Her body is all natural and her skin is silky smooth.
Basic Profile
Name: Trophy Deniro

Gender: Female

Age: 21,

Country: United States
Appearance
Body: Thick

Ethnicity: Black

Weight: 150kg (331 lbs)

Height: 157cm (5'1")

Hair Length: Long

Hair Color: Black

Eye Color: Brown

Orientation: Straight
Trophy Deniro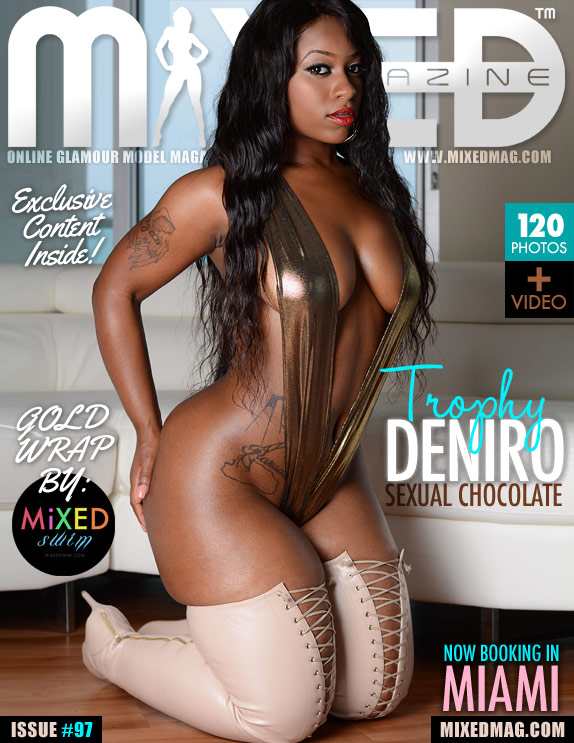 An Interview with Trophy Deniro:
Where were you born, and how as life growing up? New Orleans, Louisiana. I came up in public housing, but I was always spoiled because I was the only girl. After hurricane Katrina, I relocated to Dallas, Tx. It was rough growing up without my brother whom I lost due to the hurricane.
What would the average person say about you? I'm honest, trustworthy, dependable, outgoing, and hilarious. Basically I'm good people.
Are you a good dancer? Yup
Do you like the nerdy type, muscle guy or the regular joe? In between nerdy and the regular joe
Do you have any secret weaknesses or guilty pleasures? Shopping and cleaning with lots of cleaning products
Describe your most embarrassing moment. When my momma found out I was having sex.
What has been your most memorable experience as a model? Seeing myself on a video that is featured on BET and MTV Jams and doing my first magazine cover with Mixed Magazine.
What's your biggest turn on? Seeing a man in Nike ankle socks and a honest man
What's one thing about yourself that everyone should know? Im a simple girl.
What do guys compliment you most on? My smile, my natural body.
Do you consider yourself more of a "giver" or a "taker"? I'm a giver.
If you could have any car you wanted, what would it be? Lamborghini
Do you have any hidden talents? Tennis
What do you like best about being a model? Taking pretty pictures.
What would you consider your strongest attribute? My honesty
If you could go anywhere in the world, where would you go and who would you take with you? Africa. My momma, brothers and boyfriend
We know you're a model and all, but you must have a favorite food. What is it? Italian food and Thailand beef salad.
What are your dreams and goals? To become a Pharmacist and own my own Pharmacy.
Would you prefer a guy to pursue you, or do you like to be the aggressor? I like for the guy to pursue me
How did you get your start in modeling? A couple of Photographers seen me and wanted to shoot with me.
What is your favorite social network? Instagram
Do you have a website? No
Relationship Status: In a relationship
Favorite Sports Team: New Orleans Saints
Favorite Comedian: Mike Epps
First Job: Home Healthcare Agency
Piercings/Tattoos (How many? Where?): No piercings, five tattoos-hand, arm, two on upper back and lower back
What fun fact or talent should guys know about?: I like to watch sports and play sports games on XBOX and Playstation
How does someone book you for modeling? Contact me by phone at 504-535-1708 or email trophydeniro@gmail.com