Tiffany Upshaw
Age:
21,
United States
Tiffany Upshaw is the black and white mixed fitness model from Fort Myers, Florida. This is one fitness model that got some junk in the trunk. Mixed Magazine time and time again brings you the most insanely perfected models that don't need any photoshop adjustment whatsoever because we take the time to scout perfection across the world and Tiffany continues the tradition. Tiffany is lives the best life is on top of the world traveling from city to city doing modeling projects, going to concerts, partying with friends and simply living life to the fullest. She recently has signed a contract to be the spokes model for Optimum Nutrition. The photoshoot with Mixed Magazine took place on the beautiful beaches of Clearwater, Florida. It was pure perfection shooting with Tiffany and at one point it was if time stood still because of her amazing beauty. I've seen some pretty woman but Tiffany is just in a whole class by herself with beauty, brains and BOOTY!
Basic Profile
Name: Tiffany Upshaw

Gender: Female

Age: 21,

Country: United States
Appearance
Body: Petite

Ethnicity: Mixed

Weight: 125kg (276 lbs)

Height: 165cm (5'4")

Hair Length: Long

Hair Color: Black

Eye Color: Brown

Orientation: Straight
Tiffany Upshaw – Bootyful Fitness Model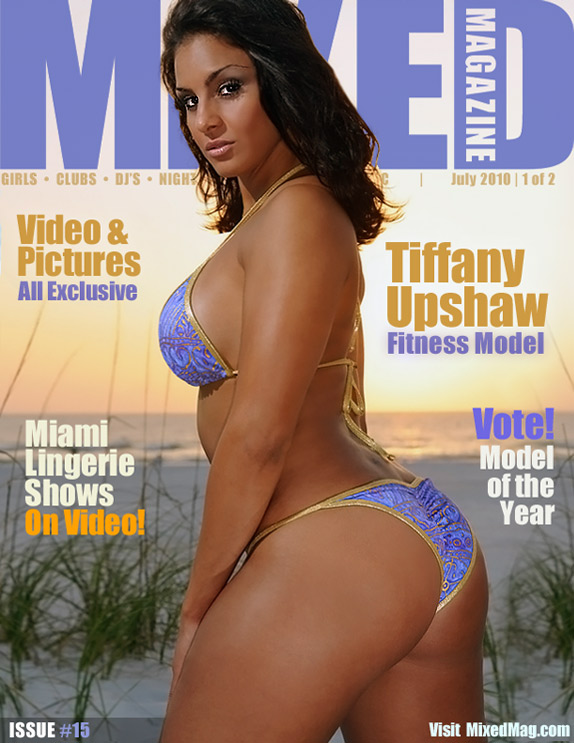 An interview with Tiffany Upshaw:
Where were you born, and how was life growing up?
I was born and raised in Fort Myers, FL and life was adventurous growing up! I was the only child and with a lot of time growing up alone, I had to find things to do to keep myself entertained.
What nationality are you?
African-American + Caucasian = Oreo Cookie.
What would the average person say about you?
"Wow." – There is a lot to me and my mental make-up ;)
Are you a good dancer?
BEST believe it! I was in cheerleading all my life! I also love dancing on my treadmill at home…lol…yes, it is a skill. Plus – it burns a lot of calories!
Do you like the nerdy type, UFC fighter guy or the regular Joe?
I really don't have a type. If you asked me 2 years ago I would have said the UFC/Bodybuilder type but after growth and maturity, I realize that it's all about the person as whole – mentally, physically, spiritually and emotionally.
Do you have any secret weaknesses or guilty pleasures?
Well, if I told you, it wouldn't be a secret…would it? LOL! …I am obsessed with office supplies. NO idea why! I also am a secret techy nerd. I know wayy too much about technology!
Describe your most embarrassing moment.
I was working at a restaurant one day and I was carrying a lot of plastic cups and went behind the bar with non-skid shoes on….hence, "non-skid"…I slipped on water literally cups went flying in the air and I slipped right on my back in front of customers at the bar….I've heard that they still talk about that incident to this day…nice.
What has been your most memorable experience as a model?
It's actually an ongoing memory that I carry in my mind all the time…the endless and positive support that I get from my family, friends and fans!
What's your biggest turn on?
One having ambition and motivation for more than the basics of life.
What's one thing about yourself that everyone should know?
I am ambitious. I am a business oriented female who is a hard networker, goal-seeker and independence craving sweetheart.
What do guys compliment you most on?
…the greatest 'ass'et I was born with and my personality. Not just a pretty face and not stuck up. Once you get to know me, you'll love me!
Do you consider yourself more of a "giver" or a "taker"?
Definitely a giver – I enjoy making people happy and seeing the gratitude on their face.
If you could have any car you wanted, what would it be?
Maserati GranCabrio
Do you have any hidden talents?
I can tie a cherry stem with my tongue.
What do you like best about being a model?
The fact that it's a career that has endless opportunities – the sky is the limit. Literally!
What would you consider your strongest attribute?
My personality.
If you could go anywhere in the world, where would you go and who would you take with you?
I would love to visit Greece! I would definitely take my parents and a lucky guy or one of my girl-friends!
We know you're a model and all, but you must have a favorite food. What is it?
Healthy: Chilean Sea Bass & Veggies – Fatty: Rib City Cheese Fries or Italian Food
Besides modeling, what do you do for fun?
Go to the beach, run outdoors, shop, and pamper myself, read…anything!
What are your dreams and goals?
My dreams and goals are infinite. I have soOo much that I want to accomplish and do – I can't list them all. One for certain is to be successful in modeling/fitness modeling, finish college and make the best of life.
Would you prefer a guy to pursue you, or do you like to be the aggressor?
I tend to be the one that goes after a guy if I want them….however, this last time, I was pursued and it felt amazing! For once, someone pursued me!

How did you get your start in modeling?
I used to be in beauty pageants and I loved that so much that it all kind of rolled into modeling.
MySpace or Facebook?
Facebook! https://www.facebook.com/tiffanyupshaw
What's the craziest thing you've ever done?
In a past relationship, we had broken up and I obviously had to do something to get him back…SO…I text him earlier in the day and told him that a Fed-Ex package was going to be at his house at a certain time and that he needed to be there to sign for it. I dressed up in a school-girl outfit and had a huge poster board that said, "I'm your Fed-Ex package, do you accept?"…he accepted ;) Needless to say, his neighbor caught me walking up to his house and just stared like "wtf!?"
Do you have a website?
Sure do! https://www.tiffanyupshaw.net
Relationship Status:
Single lika' Pringle but ready to mingle!
Favorite Sports Team:
Football: Tampa Bay Buccaneers
Basketball: N/A yet, lol.
Soccer: Inter Milan & Portugal – Only because of Ricardo Quaresma…so HOT!
Baseball: New York Yankees
Favorite Comedian:
Joe Coy, Madea/Tyler Perry, Dane Cook, Chelsea Handler & Joel McHale.
First Job:
Flints Family Restaurant – Hostess

Piercings/Tattoos (How many? Where?):
Piercings: Single Point/Dermal/Surface piercing under my right collarbone, Belly Button, Ears.
Tattoos: Teal outline of a star (looks airbrished), Lower back "La Bella Vita" and umm..yeah..uhh..red kissy lips on my left "cheek" w/ a skull imprinted on the side of the lips.
What fun fact or talent should guys know about?
I have ants in my pants and fly by the seat of them! I love going and doing things from putt putt golfing to just relaxing and watching movies to sky-diving. I'm interested in living life to the fullest!
How does someone contact you for a modeling project?
Email me – tiffanyupshaw@gmail.com